A Curious Mind: Summary Review
This is a quick summary review of A Curious Mind containing key details about the book.
What is A Curious Mind About?
"A Curious Mind: The Secret to a Bigger Life" is a book by Brian Grazer and Charles Fishman, published in 2015. It is a non-fiction book that explores the concept of curiosity and how it can be harnessed to enrich our lives and careers. The book is an inspiring homage to the power of inquisitiveness and the ways in which it deepens and improves us. Whether you're looking to improve your management style at work or you want to become a better romantic partner, this book—and its lessons on the power of curiosity—can change your life. The authors provide a brilliantly entertaining peek into the weekly "curiosity conversations" that have inspired him to create some of America's favorite and iconic movies and television shows—from 24 to A Beautiful Mind.
What are the key summary points from A Curious Mind?
Here are some key takeaways from the book:
Curiosity is a valuable trait that can lead to personal and professional success. Grazer credits his curiosity with helping him to achieve success in his career as a Hollywood producer.
Curiosity is an essential human trait that can drive us to learn new things, seek out new experiences, and solve problems. It is a powerful tool for learning and personal growth. It allows us to explore new perspectives and can lead to new insights and opportunities.
Curiosity can be cultivated and nurtured. By making an effort to ask questions and seek out new experiences, we can train our minds to be more curious. Asking questions and seeking out new information can lead to unexpected insights and opportunities.
Curiosity can help us connect with others and build meaningful relationships. By showing an interest in others and their passions, we can build stronger relationships and deepen our understanding of the world.
Curiosity is essential for creativity and innovation. It helps us to generate new ideas and to think outside the box. By fostering a culture of curiosity in our work and personal lives, we can drive innovation and creativity.
It's important to maintain a balance between being open to new ideas and being grounded in reality.
Curiosity should be a lifelong pursuit. It is never too late to start exploring new ideas and learning new things.
Grazer believes that everyone has the potential to be curious, and that cultivating curiosity can lead to a bigger and more fulfilling life.
Who are the authors of A Curious Mind?
Brian Thomas Grazer is an American film and television producer and writer. He founded Imagine Entertainment in 1986 with Ron Howard. The films they produced have grossed over $15 billion. Grazer was personally nominated for four Academy Awards for Splash, Apollo 13, A Beautiful Mind, and Frost/Nixon.
Charles Fishman is the author of "The Wal-Mart Effect," a "New York Times," "Wall Street Journal," and "Business Week" bestseller. Since 1996, he has worked for the innovative business magazine "Fast Company."
Book details
Print length: 320 pages
Genre: Nonfiction, Self Help, Psychology
What are the chapters in A Curious Mind?
Chapter 1: A curious mind and a curious book
Chapter 2: There is no cure for curiosity
Chapter 3: The police chief, the movie mogul, and the father of the H-bomb: Thinking like other people
Chapter 4: The curiosity inside the story
Chapter 5: Curiosity as a superhero power
Chapter 6: Every conversation is a curiosity conversation
Chapter 7: Good taste and the power of anti-curiosity
Chapter 8: The golden age of curiosity
What is a good quote from A Curious Mind?
Top Quote: "We are all trapped in our own way of thinking, trapped in our own way of relating to people. We get so used to seeing the world our way that we come to think that the world is the way we see it." - A Curious Mind Quotes, Brian Thomas Grazer
What do critics say?
Here's what one of the prominent reviewers had to say about the book: "To have a great life, you need to be curious. Curiosity is what makes us human and moves our world forward. Brian Grazer tells this story in an exceptional way and demonstrates how everyone can tap into curiosity to live a bigger life." — Eric Schmidt, CEO of Google
* The summary points above have been concluded from the book and other public sources. The editor of this summary review made every effort to maintain information accuracy, including any published quotes, chapters, or takeaways
Chief Editor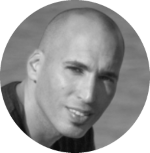 Tal Gur is an author, founder, and impact-driven entrepreneur at heart. After trading his daily grind for a life of his own daring design, he spent a decade pursuing 100 major life goals around the globe. His journey and most recent book, The Art of Fully Living, has led him to found Elevate Society.