AJ Leon: Living the Life Your Are Destined to Live
AJ Leon used to be an unremarkably average financial executive in Manhattan until December, 2007, the day he decided to stop living the life he was supposed to live, and start living the life he was destined to live.
Now, he spend most of his time changing the world. AJ nomads around the world and makes things happen. He is currently traveling around the world in 1,080 days primarily by land and sea. He is a writer, designer, entrepreneur and humanitarian that has initiated social projects in South Sudan, Kenya, Ethiopia, Tanzania, Malawi, The Philippines and England. He is the author of The Life and Times of a Remarkable Misfit and publishes weekly articles at Pursuit of Everything about living with intention, doing work that matters and changing the world.
AJ's background is extremely unique. He has been a Shakespearean actor with his own theater company, a Financial Controller, and even the Director of a non-profit organization. Both his creativity and business-sense has allowed him to be successful in what he does, integrating the arts with the Internet and finance. AJ is most certainly a person who exercises both sides of his brain on a regular basis.
Enjoy my interview with this remarkable and fascinating change maker!
1. Hey AJ, You have such a varied background. Tell us a little bit about how it all fits together: finance/accounting and religious studies, theater/poetry and business.
Most of what I do that helps me as an entrepreneur has nothing to do with business. As an business person, you are only as good as the ideas and solutions you can come up with. As a human, you are quite literally a portfolio of your experiences. Those experiences color and inform every other aspect of your life. I travel, I eat new foods, I attend art shows, I go on photo walks, I write poetry, I read novels and classics and memoirs (basically everything but business books) - I see the world and I ingest every last drop of light I can from it.
These activities naturally permeate into my work.
2. You live a nomadic life. What do you like about it? Do you miss calling one particular place "home"?
Well, first and foremost, I am a New Yorker from the East Village. And no matter how frequently I nomad around, I always return home there. Melissa and I have always had and will always have our apartment in the East Village, which we return to in between adventures.
I enjoy being a nomad because adventure is intoxicating. We live on a beautiful planet, and I plan to experience and ingest as much of it as I possibly can while I am blessed to be on it.
3. As a nomad, what has been your favorite place to live so far?
I love the African continent, and I return there often.
4. Have you ever lived in a place more than once? If so, which one and why? If not, would you go back to one that you've already visited?
Stratford-upon-Avon in England, where I am writing from at the moment. We return here quite frequently, particularly in between jaunts to/from Africa and Asia. I adore Shakespeare. Through the last couple years, Melissa and I have managed to maintain a little flat across the street from where Shakespeare was born, which makes returning here to stay for long periods very easy. Misfit has also done a great deal of work with The Shakespeare Birthplace Trust, which is headquartered here. I think more clearly and write with a greater degree of velocity while I am here than any other place in the world. There is magic in the air here in Stratford.
5. You are the CEO and Creative Director of Misfit. What is it and how did the it come about?
Misfit is a company I founded four years ago with Melissa and Dino. It is a creative shop that is effectively a reflection of the types of things I enjoy working on. From a client services side we essentially specialize in brand repositioning and design. We also have a great deal of internal projects that we launch into the world, like the Misfit Quarterly, a creative arts journal as well as many humanitarian projects like The Big Dig.
6. As a professional speaker, what type of audience is your favorite to stand up in front of at an event?
A room full of world changers.
7. What gave you the idea of making the Misfit logo a Japanese Anime version of Henry V?
Henry V is famous for having defeated the French at The Battle of Agincourt, a fray in which he was outnumbered 5 to 1. Facing those insurmountable odds, Shakespeare (in his play) has him turn to his men to deliver once of the most inspirational speeches in the history of the English language. "We few, we happy few, we band of brothers..". It is a speech about togetherness and unity of spirit in the face of certain annihilation. It has always stuck with me, and it has always been a fundamental element of what we do at Misfit.
8. Does your love for Shakespeare ever play a role in your daily work? If yes, how?
I believe it does. As a small business owner, you cannot help but permeate a bit of who you are into your work. There is a depth to Shakespeare's work, particularly with respect to the human condition, that I try to be cognizant about it my work. Shakespeare has had a profound influence on my life. I learned most of what I know about how to manage people and make deals from running a Shakespearean Theatre Company years ago.
9. It sounds like you had a great time with your Shakespearean theater company. What is your best memory about that time in your life?
Having no money and a grand vision. And not allowing the former to affect the latter.
10. You spend quite a bit of time giving back to society in a variety of ways. How do you decide where to channel your energy philanthropically?
I partner with change makers. People who are inches from remarkable, from making a dent in the universe and they just need a little bit of help I know Misfit can provide. We've partnered with several small to large NGO's as well as individuals working on social and humanitarian projects in Kenya, Ethiopia, Tanzania, Malawi, the Philippines as well as England.
11. You travel and work with your wife. What are the pros and cons of doing everything with your significant other?
We were very deliberate about crafting life and work around our ability to be with each other. Melissa and I have been together since we were 15. We are best friends and we work incredibly well together. I can't think of any negative consequences of getting to work and travel with one another.
12. What is next in the next chapter of your life?
Well, currently I am traveling around the world in 1,080 days primarily by land and sea. I recently published The Life and Times of a Remarkable Misfit, which has been downloaded over 40,000 times, and I am publishing daily over at Pursuit of Everything about living with intention, doing work that matters and changing the world.
Thank You
-----
AJ Leon is a writer, entrepreneur, and humanitarian who has initiated social projects in various parts of the world. You can connect with him on his blog at PursuitofEverything.com or on Twitter @ajleon
Chief Editor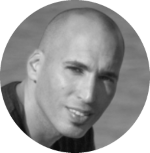 Tal Gur is an author, founder, and impact-driven entrepreneur at heart. After trading his daily grind for a life of his own daring design, he spent a decade pursuing 100 major life goals around the globe. His journey and most recent book, The Art of Fully Living, has led him to found Elevate Society.