Who Is Arnold Schwarzenegger
Just a glance at Arnold Schwarzenegger in his peak performances, his body chiseled into almost superhuman form, will strike you as strength embodied.
But what we learn from Arnold's journey—from bodybuilding to film acting to political office and beyond—is that muscle is only as strong as mind; in this hero's own words, strength comes from enduring pain and difficulty:

ELEVATE
Free Resource: A step-by-step blueprint to help you set and realize big dreams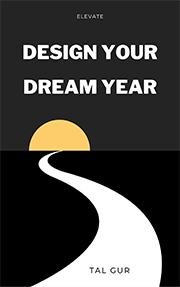 "Strength does not come from winning. Your struggles develop your strengths. When you go through hardships and decide not to surrender, that is strength."
Arnold teaches us that it takes as much humility as determination to build strength. Read more of this champion's story about pumping yourself up as you pursue your dreams—every one of them…
Arnold Schwarzenegger Life Story
Arnold Schwarzenegger describes his upbringing in post-WWII Austria as "uptight," yet he credits this tough childhood for the strong ambition that he developed from an early age.
Both parents, poor and Catholic, were very strict, but Arnold's father was brutal: a bitter Nazi member, police chief, and alcoholic, he did not spare Arnold any of his anger, and he even favored his older, more athletically endowed son.
Despite the lack of parental support and his scrawny appearance, Arnold pursued sports with a relentless passion. His soccer training prepared him for what he saw as the ultimate athletic achievement, bodybuilding. Arnold dreamed of joining the ranks of muscular winners as he hustled to make ends meet.
Starting at the unusually young age of 15, Arnold took weightlifting to the extremes of what his body could do. He tracked his process with precision, writing down his reps in chalk on the wooden walls of his gym. Nothing could stand in the way of his goal, not even the army, which he deserted at the age of 18 to compete in his first major competition, Mr. Europa Junior. He had to spend two years in jail for going AWOL, but this setback didn't slow him down; when he was 20 years old, he became the youngest Mr. Universe in history, won the title again the following year, and then went on to be the youngest Mr. Olympia at age 23.
Arnold's athletic ambition opened another opportunity when a muscle entrepreneur sponsored his immigration to America. Having grown up on Hollywood films as a form of escape, Schwarzenegger saw himself making the American Dream his own— if he could only get there.
After moving to the U.S., he not only continued his winning streak, picking up 12 more titles, but also brought attention to the sport, helping to bring bodybuilding into the mainstream with his story of triumph.
It took a few tries, but Arnold finally put his competitive training aside to pursue another dream: becoming a Hollywood film star, just like those fantastic images that filled his head as a poor boy in Austria.
He appeared in several low-budget films until finally getting his break in Stay Hungry, which earned him a Golden Globe for Best Acting Debut in a Motion Picture. This acclaim paved the way for his memorable cult films, such as the Conan and Terminator series.
With all his proven success in action movies, Schwarzenegger tested his versatility, starring in comedies and family-friendly films as well. His acting career spans 40 years, dozens of films, and remains true to his catchphrase, "I'll be back": Arnold returns to the screen in 2 films coming out in 2017.
Loving America from the time it was a fantasy in his head, Arnold wanted to serve his country–not just as a citizen (which he became in 1983). He stepped away from his prolific film career in 2003 to enter the race for governor of California, and despite the odds against a foreign-born athlete-turned-actor candidate, he won in a special election.

ELEVATE
Free Resource: 1000+ SMART goal ideas to inspire you create your life goals list.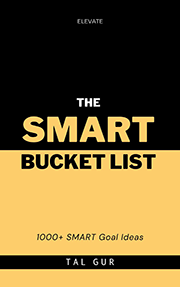 Governor Schwarzenegger struggled to help California recover from a budgetary disaster. He was re-elected in 2006 because, even as a Republican working with a mostly Democratic legislature, he was able to get enough policies in place before the recession set in, making his agenda nearly impossible. By the time he left office, his approval rating had plummeted from 65 to 23, and California's debt was three times larger. Arnold's response to this disappointment is to focus on the "enormous amount of things [he got] done."
Somehow, at almost 70, Arnold manages to juggle his multiple accomplishments. He still keeps up his training at Gold's Gym, still stars in a variety of roles, and still gives his time and money to the causes he supports. He is a predominant environmental activist and investor in climate solutions and innovation, and he started a policy center, through which he continues to generate ideas for improving his state and to advocate for education, immigration reform, and water management, among other issues.
And he shows no signs of stopping any one of his pursuits. That's one of the lessons that stands out in Arnold's story: to live fully, you can't allow yourself to be pigeon-holed on one path, or to peak in one climb to achievement. You never know how one dream may lead to another inspiration or a set of challenges requiring creative solutions and committed energy.
What we also learn from Arnold's rise to greatness is that strength comes from struggle. If young Arnie had not felt trapped in his circumstances, we may never have thrown himself wholeheartedly into his vision of building himself up into the youngest world champion in his sport, moving to America, and becoming a Hollywood film star. There would be no "Governator" or celebrity activist if Arnold had not responded to the challenges facing his state and the planet, because he is inspired by difficulties to find ways to get things done. This is what winning looks like.
Photo by: Gage Skidmore
Arnold Schwarzenegger Short Biography
Arnold Schwarzenegger is an Austrian-American actor, filmmaker, businessman, and former professional bodybuilder and politician. He was born on July 30, 1947 in Thal, Austria. He began weightlifting at the age of 15 and won the Mr. Universe title at age 20. He then moved to the United States and won the Mr. Olympia contest a record seven times.
Schwarzenegger began his acting career in the 1970s, starring in a number of action films such as the "Conan the Barbarian" and "Terminator" franchises. He also appeared in comedies, such as "Twins" and "Kindergarten Cop".
In 2003, Schwarzenegger was elected as the Governor of California, serving two terms until 2011. He has also been a vocal advocate for environmental issues and renewable energy.
In addition to his acting and political career, Schwarzenegger is also a successful businessman and philanthropist. He has written several books on bodybuilding and fitness, and has also invested in various companies, including fitness equipment and real estate.
Arnold Schwarzenegger is considered as one of the most influential figures in the fitness industry and one of the most iconic figures in Hollywood.
Arnold Schwarzenegger Fast Facts
* Arnold Schwarzenegger is an Austrian-American actor, businessman, and politician.
* He was born on July 30, 1947, in Thal, Austria.
* He began weightlifting at the age of 15 and won the Mr. Universe title at age 20.
* He went on to win the Mr. Olympia title a record seven times.
* Schwarzenegger moved to the United States in 1968 to pursue a career in bodybuilding, acting, and business.
* He began acting in the 1970s, starring in films such as "Conan the Barbarian" and "The Terminator."
* He served as the 38th Governor of California from 2003 to 2011.
* He is also known for his philanthropic work, particularly in the areas of after-school programs and environmental protection.
* In 2020, Schwarzenegger announced that he would run for governor of California again in 2022.
Arnold Schwarzenegger Life Highlights
1947 - Early Life and Family Background
Arnold Alois Schwarzenegger was born on July 30, 1947, in Thal, Austria, as the second son of Gustav Schwarzenegger and Aurelia Jadrny. Gustav was a police chief who joined the Nazi Party and served in various military capacities during World War II. His father's background attracted attention during Arnold's political career. Arnold's parents were strict and his father favored his older brother, Meinhard. Arnold struggled academically but stood out for his cheerful personality. Money was tight in their household, but Arnold's interest in sports and fitness began to develop.

ELEVATE
Free Resource: A step-by-step process for a better relationship with social media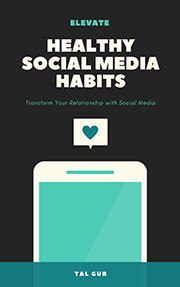 1960s - Entry into Bodybuilding
In 1960, Arnold began weight training and at 14, he chose bodybuilding over football as a career. He trained at local gyms and was inspired by bodybuilding idols like Reg Park and Steve Reeves. Arnold's dedication to training led him to break into gyms on weekends and pursue his passion relentlessly. He became mentored by Alfred Gerstl and achieved his first significant victory at the Junior Mr. Europe contest in 1965. Arnold's commitment to bodybuilding led to multiple wins in various competitions, including Mr. Universe and Mr. Olympia titles.
1968 - Moving to the United States
Arnold's dream was to move to the United States, which he achieved in 1968 at the age of 21. He settled in Los Angeles, trained at Gold's Gym, and became a prominent figure in the bodybuilding world. He also ventured into other pursuits, including writing columns for bodybuilding magazines and making connections in the fitness industry. His charismatic presence and achievements in bodybuilding made him a recognizable figure, setting the stage for his later endeavors.
1970s - Acting and Mr. Olympia Wins
During the 1970s, Arnold's career expanded beyond bodybuilding. He pursued acting and became a global star with roles in movies like "Conan the Barbarian" and "The Terminator." Despite his acting career, Arnold continued to participate in bodybuilding competitions and won several Mr. Olympia titles. He faced controversies in his victories, and his decision to compete in the 1980 Mr. Olympia competition after a brief retirement was met with criticism and debate.
1980s - Continued Success and Citizenship
Arnold's acting career reached new heights in the 1980s with iconic roles and blockbuster movies. He also continued to maintain his physique and bodybuilding involvement. He earned a bachelor's degree in business administration and marketing, and in 1983, he became a United States citizen.
2000s - Political Career and Legacy
In the early 2000s, Arnold transitioned into politics and became the Governor of California. His bodybuilding legacy and success as an actor contributed to his popularity and recognition in this new role. He advocated for fitness and health initiatives while in office. Arnold's achievements in bodybuilding, acting, and politics solidified his place as an influential and multifaceted public figure.
Arnold Schwarzenegger Acting Highlights
Early Roles
Arnold Schwarzenegger's journey from bodybuilding to acting began with his role in "Hercules in New York" (1970), where he was credited as "Arnold Strong." However, his thick accent led to his lines being dubbed after filming. He faced initial challenges due to his unique physique and accent, but eventually gained recognition for his performance in "Stay Hungry" (1976), winning the Golden Globe Award for New Star of the Year – Actor. Despite being told that he had no chance, Schwarzenegger persevered in his pursuit of an acting career.
Action Superstar
Schwarzenegger's breakthrough came with "Conan the Barbarian" (1982), followed by a sequel and the iconic role of the Terminator in James Cameron's "The Terminator" (1984). He capitalized on the 1980s' demand for action films and competed with Sylvester Stallone in a rivalry that saw them challenging each other on-screen. Schwarzenegger's roles stood out for their humor and character, distinguishing him from more serious action stars. He starred in successful films like "Commando" (1985), "Predator" (1987), and "Twins" (1988). His commercial peak came with "Terminator 2: Judgment Day" (1991).
Transition and Decline
Schwarzenegger's later roles included a diverse range of films such as "Total Recall" (1990), "Kindergarten Cop" (1990), and "True Lies" (1994). He took a brief foray into directing and saw mixed success in various projects. Following his return as the Terminator in "Terminator 3: Rise of the Machines" (2003), he faced challenges in his film career, with critical failures like "Batman & Robin" (1997) impacting his box office prominence. Despite this, he continued to star in movies like "End of Days" (1999) and "Collateral Damage" (2002).
Retirement and Return
After becoming the Governor of California, Schwarzenegger's film appearances were sporadic, including brief cameos and voice roles. He made a comeback with "The Expendables 2" (2012) and starred in "The Last Stand" (2013), "Escape Plan" (2013), and "Terminator Genisys" (2015). He also explored other ventures, such as a proposed Terminator statue and a comic book character collaboration. In 2018, he announced his involvement in the TV series "Outrider."
The Celebrity Apprentice
Schwarzenegger stepped into the role of host for "The New Celebrity Apprentice" (2016–2017), succeeding Donald Trump. Using catchphrases from his famous roles, he engaged in a humorous exchange with Trump. However, following criticisms from Trump, Schwarzenegger announced his departure from the show and exchanged playful remarks with Trump on social media.
Return to Acting and Later Projects
Schwarzenegger made a return to the Terminator franchise with "Terminator: Dark Fate" (2019) and worked on various projects, including a scripted TV series titled "Outrider." He continued to demonstrate his versatility as an actor, showcasing a dynamic career that spanned multiple decades and encompassed action, comedy, drama, and even TV hosting.
Arnold Schwarzenegger Politics Highlights
Early Politics
Arnold Schwarzenegger, known for his iconic roles in Hollywood, also has a notable political journey. He began his political involvement as a registered Republican with views that diverged from the left-leaning Hollywood community. At the 2004 Republican National Convention, Schwarzenegger explained his Republican alignment, stemming from his distaste for the socialist rhetoric he heard from Democrats in the 1960s. He reminisced about his arrival in the United States in 1968, mentioning how he was drawn to Republican ideals such as free enterprise, limited government, lower taxes, and a strong military, which led him to adopt the Republican party.
Early Engagements
Schwarzenegger's early political engagements included appearances in anti-drug campaigns during the Reagan administration and his introduction of the PBS series "Free to Choose" in 1990, where he advocated for individualism and free-market capitalism. He served as chairman of the President's Council on Physical Fitness and Sports from 1990 to 1993 and championed causes related to health and fitness. However, his political ambitions became more apparent in 2003 when he announced his candidacy in the California recall election for Governor. He campaigned with the nickname "Governator" due to his association with the Terminator movies.
Governorship and Political Positions
Schwarzenegger was elected as the Governor of California in the 2003 recall election, succeeding Gray Davis. He positioned himself as a moderate Republican with fiscally conservative and socially liberal views. He supported gay rights, domestic partnerships, and even officiated a same-sex marriage. However, he vetoed bills aiming to legalize same-sex marriage and implement a single-payer healthcare system. During his time as governor, Schwarzenegger aimed to address political gridlock and introduced the term "girlie men" to criticize Democratic politicians.
Challenges and Re-election
Schwarzenegger's early successes included repealing unpopular vehicle registration fee increases and opposing driver's licenses for illegal immigrants. However, he faced backlash from state unions and experienced defeats in a special election he called in 2005. Despite these challenges, he was re-elected in 2006 with a more moderate approach, even winning over some Democrats due to his shifting political stance towards the center.
Controversies and Environmental Advocacy
Schwarzenegger's tenure was not without controversy. He faced allegations of sexual misconduct from several women during his initial campaign for governor, for which he later apologized. He also commuted the sentence of a close friend's son, sparking criticism. On a positive note, he demonstrated a commitment to environmental issues by signing the Global Warming Solutions Act of 2006, introducing carbon emission reduction initiatives, and advocating for sustainable energy solutions.
Legacy and Impact
Despite leaving office with lower approval ratings, Schwarzenegger's impact on California politics and his advocacy for climate change remain noteworthy. He continued his involvement in environmental causes after his governorship, establishing initiatives like the R20 Regions of Climate Action and the Austrian World Summit. While his political journey was marked by successes, challenges, and controversies, Schwarzenegger's transition from Hollywood action hero to political figure left an indelible mark on both realms.
What is Arnold Schwarzenegger's ethnicity?
Arnold Schwarzenegger's ethnicity is Austrian. He was born in Thal, Styria, Austria, and he grew up in Austria before coming to the United States to pursue his career in bodybuilding and later in acting and politics.
Did Arnold Schwarzenegger come from a wealthy family?
No, Arnold Schwarzenegger did not come from a wealthy family. He was born in a small village in Austria and grew up in a modest household. His family was not affluent, and they lived in relatively humble circumstances. Schwarzenegger's father was a police officer, and his mother worked as a homemaker. Despite his humble beginnings, Schwarzenegger's determination, hard work, and success in bodybuilding, acting, and other endeavors eventually led him to achieve fame, wealth, and a prominent position in various fields.
At what age was Arnold a millionaire?
Arnold Schwarzenegger became a millionaire at a relatively young age due to his success in bodybuilding and subsequent ventures. He achieved financial success in his early 20s, primarily through his bodybuilding career, business ventures, and investments in real estate. By the time he was in his mid-20s, he had amassed a significant amount of wealth. His financial success laid the foundation for his later accomplishments in acting, entrepreneurship, and politics.
Arnold Schwarzenegger Best Quotes
"Strength does not come from winning. Your struggles develop your strengths. When you go through hardships and decide not to surrender, that is strength." (Meaning)
"Milk is for babies. When you grow up you have to drink beer."
"The last three or four reps is what makes the muscle grow. This area of pain divides the champion from someone else who is not a champion. That's what most people lack, having the guts to go on and just say they'll go through the pain no matter what happens." (Meaning)
"The resistance that you fight physically in the gym and the resistance that you fight in life can only build a strong character." (Meaning)
"Help others and give something back. I guarantee you will discover that while public service improves the lives and the world around you, its greatest reward is the enrichment and new meaning it will bring your own life." (Meaning)
"Bodybuilding is much like any other sport. To be successful, you must dedicate yourself 100% to your training, diet and mental approach."
"I think that gay marriage should be between a man and a woman."
"You know, nothing is more important than education, because nowhere are our stakes higher; our future depends on the quality of education of our children today."
"Government's first duty and highest obligation is public safety."
"I think Americans are very patriotic."
"For me life is continuously being hungry. The meaning of life is not simply to exist, to survive, but to move ahead, to go up, to achieve, to conquer."
"The worst thing I can be is the same as everybody else. I hate that."
"The future is green energy, sustainability, renewable energy."
"My body is like breakfast, lunch, and dinner. I don't think about it, I just have it."
"It's simple, if it jiggles, it's fat."
"I knew I was a winner back in the late sixties. I knew I was destined for great things. People will say that kind of thinking is totally immodest. I agree. Modesty is not a word that applies to me in any way - I hope it never will."
"No matter the nationality, no matter the religion, no matter the ethnic background, America brings out the best in people."
"If it bleeds, we can kill it."
"If you work hard and play by the rules, this country is truly open to you. You can achieve anything."
"My relationship to power and authority is that I'm all for it. People need somebody to watch over them. Ninety-five percent of the people in the world need to be told what to do and how to behave."
"Learned helplessness is the giving-up reaction, the quitting response that follows from the belief that whatever you do doesn't matter." (Meaning)
"I have a love interest in every one of my films: a gun."
"I just use my muscles as a conversation piece, like someone walking a cheetah down 42nd Street."
"When you campaign and have to participate in so many debates just to the win the nomination of your party, you've had a lot of practice. You get to figure out as you go from one debate to another where you made your mistakes. By the time you get to the big debate you're pretty polished."
"You can scream at me, call me for a shoot at midnight, keep me waiting for hours - as long as what ends up on the screen is perfect."
"You can't climb the ladder of success with your hands in your pockets." (Meaning
"The mind is the limit. As long as the mind can envision the fact that you can do something, you can do it, as long as you really believe 100 percent." (Meaning)
"Money doesn't make you happy. I now have $50 million but I was just as happy when I had $48 million" (Meaning)
"If it's hard to remember, it'll be difficult to forget." (Meaning)
― Arnold Schwarzenegger Quotes
***
* The editor of this short biography made every effort to maintain information accuracy, including any quotes, facts, or key life events. If you're looking to expand your personal development, I recommend exploring other people's life stories and gaining inspiration from my collection of inspiring quotes. Exposing yourself to different perspectives can broaden your worldview and help you with your personal growth.
Chief Editor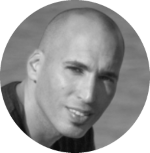 Tal Gur is an author, founder, and impact-driven entrepreneur at heart. After trading his daily grind for a life of his own daring design, he spent a decade pursuing 100 major life goals around the globe. His journey and most recent book, The Art of Fully Living, has led him to found Elevate Society.