Can You Learn to be Lucky?: Summary Review
This is a summary review of Can You Learn to be Lucky? containing key details about the book.
What is Can You Learn to be Lucky? About?
Can You Learn to be Lucky? is a rollicking journey through the land of luck—an entertaining tour of stories and science that explores the origins of luck, why some people are luckier than others, and how we can all raise our chances of becoming luckier by design.
Who is the author of Can You Learn to be Lucky?
Karla Starr has written for O The Oprah Magazine, The Atlantic, Slate, Popular Science, the Guardian and the LA Times. She has appeared on CBS Sunday Morning.
How long is Can You Learn to be Lucky?
What genre is Can You Learn to be Lucky?
Nonfiction, Self Help, Personal Development
What are some of the main takeaways and summary points of Can You Learn to be Lucky?
Takeaway 1: A lot of lucky outcomes have predictable causes. For example, sociability is a predictor of opportunity (i.e. the less shy you are the more opportunities can come your way).
Takeaway 2: Good first impression can increase your luck; That's because we instinctively use first impressions as a guide to making decisions. For example, our estimation of a person's trustworthiness is usually based on a gut feeling mental assessment.
Takeaway 3: Luck often depends on being last. In other words, when a number of people or objects are judged against each other, being among the last to be judged increases your luck and chances of success. This is due to how the human brain works and its tendency to compare options.
Takeaway 4: We like things we're familiar with (i.e "The exposure effect") and we're usually most familiar with whatever we regularly get physically close to.
Takeaway 5: We favor attractive people which means that beautiful people tend to get more luck. Beauty is not as subjective as we think. According to many studies, people of different cultures tend to agree on who's attractive and who's not.
Takeaway 6: Confidence creates opportunities for luck. Confidence is about focusing more on the potential reward (get a date, ask for a promotion, etc) than the risk (e.g. rejection, failure, etc).
Takeaway 7: Our behavior usually conforms to our perceived place in the hierarchy. In other words, perceived low standing in the social hierarchy can mean low confidence and, thus, less luck. The way to escape this trap is to ongoingly remind yourself of your strengths, your achievements, and your potential. It's also helpful to step into a new identity using visualization, habits and action.
Takeaway 8: Self-control, willpower, and mental toughness can elevate luck. This means relentlessly focusing on improvement and not quitting so easily. It also means investing time, effort, and energy in activities that are rewarding in the long term. The key is self-discipline and your ability to decline short-term rewards that are not beneficial for your long-term vision.
Takeaway 9: Staying curious and embracing the unknown increase your luck. As humans, our default is to stick with the familiar. However, by going into the unknown and being less cautious you can be more successful.
Takeaway 10: Making the right social connections can increase your luck. In other words, building a bigger, better network by being less shy, showing more interest in other people, smiling, and other welcoming gestures. We are all social animals instinctively drawn to friendly and welcoming body language.
What are the chapters in Can You Learn to be Lucky?
Chapter 1: Best in Show
Chapter 2: The Charlie Brewer Principle
Chapter 3: Bitches in Glasses
Chapter 4: How Sara Palin Happened
Chapter 5: I Got This
Chapter 6: Find Your Thing
Chapter 7: Check Yourself Prior to Wreacking Yourself
Chapter 8: You Had Me at Hello
Chapter 9: My Future's So Bright, I Gotta Wear Shades
Chapter 10: Yes, and
* Key sources: LibraryThing, Amazon, Wikipedia
Chief Editor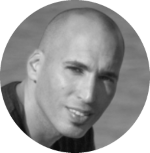 Tal Gur is an impact-driven entrepreneur, author, and investor. After trading his daily grind for a life of his own daring design, he spent a decade pursuing 100 major life goals around the globe. His journey and most recent book, The Art of Fully Living - 1 Man, 10 Years, 100 Life Goals Around the World, has led him to found Elevate Society and other impact-driven ventures.