Choosing the Right Website Platform
Over a decade ago, when I first started my online journey, I built websites from scratch by writing code in a plain text editor. Thankfully the online world has progressed a long way since then and now there are a wide variety of incredible free software solutions out there.
At the heart of it all is the widely popular WordPress.Org platform - close to fifth of the top one million websites in the world are powered by WordPress (P.S don't get confused with WordPress.COM which is a hosted service and does not provide the same freedom. You want the self-hosted WordPress.ORG that provides you with full ownership and control of your site)
Now, WordPress has become widely known as simply "blog" software but that is too limiting in my opinion. In fact, you can use WordPress for your entire online business and the blog part can be made only optional.
Here are some of the main benefits of adopting WordPress as a platform:
1. Inexpensive and Affordable - The basic platform is free and there are no charges in acquiring the software. You can install the default version of WordPress yourself or have someone else do it relatively inexpensively.
2. Widely Used - WordPress is the most widespread content management software in the world. This means that it will not disappear or become obsolete anytime soon. It has a massive user base and ever-expanding library of add-ons. It is also built on the popular PHP programming language which is non-proprietary (unlike .ASP) and as a result is free, widely used, and has excellent support and documentation.
3. Highly Customizable - With the built in themes features and plugins, it's easy to switch your theme or install a plugin in a matter of seconds without the need for any programming skills.
4. Simple Content Publishing - Once you've got your blog set up it is very easy to publish new content. You basically just have to hit the publish button and it's good to go. Too easy!
5. Built in Syndication - Content can be automatically converted to RSS feeds and syndicated to other sites. This allows you to make your content portable and reach a much larger audience than you could do on your own.
6. A Two-way Communication - With a blog you can engage and converse with your readers through the comments section below each post, something that helps to develop a deeper connection and a more loyal following.
7. Search Engine Friendly - WordPress is loved by search engines. Its architecture is optimized for Google and creates a solid foundation for better search rankings over time. Plus, with the right setup, you're able to customize every page you make.
8. Multi-User Capability - WordPress is a multi user system which enables you to assign other contributors to your site who can login and publish content under their own user name.
9. Free Upgrades – Unlike traditional Web site software, upgrades to WordPress are made available for free when newer versions are released. Beside the benefit of new features, it also enhances the site's protection from new security vulnerabilities.
10. Powerful Admin Panel - With minimal training you can easily setup your site via the user-friendly admin interface. You can add new pages, links and menus, as well as upload images and seamlessly integrate new side column widgets.
There are obviously more benefits for adopting a blog platform, but these are the main ones that came to my mind. The important aspect to consider here is that WordPress and blogging are the simplest and least expensive ways to start your journey online.
Now that I've (hopefully) convinced you that WordPress is the way to go, you have another choice to make:
Where to host your new website
There are thousands, if not more, of hosting companies out there. They come in all price ranges, and with all kinds of bells and whistles.
It can often be a bit intimidating deciding which one to choose; especially for those taking their first step in the online world, but for the most part it's quite an easy and straightforward process.
Here are the main things you want to look for in a hosting company:
Support – This is by far the most important aspect of a hosting company I believe. If something goes wrong, a quick, courteous and reliable customer support can make a huge difference. You want a hosting company with 24/7 live and phone customer service. No less than that.
Storage space - Most hosting companies provide more than enough storage space but If you plan to store video or audio files, you might want to consider a hosting plan that offers significant storage space.
Bandwidth - The more traffic to your blog, the more bandwidth is consumed. Bandwidth is usually not a problem for a small-to-medium blog, but if you start to get a high amount of traffic, you'll want to have a host that provides high bandwidth and can easily upgrade your plan if your web traffic grows unexpectedly.
Domains - If you anticipate that at some point you'll want to host more than one blog, then it's best to make sure you have the option to so in the future. Also, some hosting companies offer a free domain name when you sign up; however, this should be a small factor in your decision, as saving ~$10 on buying a domain isn't as important as the above factors.
Extras - This includes ASP, SSL, CGI scripts, and such. Some of these you might need in the future, depending on the type of blog you are building, but in most cases you won't need them at all. The most essential thing is that the hosting company supports WordPress and will make it easy to install.
----
BlueHost and HostGator are two of the most reputable hosting companies around. I can't provide a definite recommendation as I'm using my own dedicated server due to the high amount of traffic my sites generate (very expensive option for the novice user), but I can definitely say that a number of high-profile bloggers recommend BlueHost as the best web hosting for WordPress.
* Update - I stared to use BlueHost for one of my software site, and I can report that it's excellent. My site's response time has improved dramatically since switching to Bluehost and the customer service is unmatched.
Take Action
Head over to BlueHost or wherever you feel comfortable and buy the most basic WordPress hosting plan (if you have not already) - You can always upgrade later.
Here's a short step-by-step tutorial on how to start an account with BlueHost:
1. Click the 'Get Start Now' button on BlueHost.com
* If you signup for BlueHost through my link, I earn a small affiliate commission, so thank YOU!
2. Enter your desired domain Name
* Your first priority is to get yourself a killer name that you absolutely love. If the ".com" domain is available then good for you. If not, check the ".net" extension as a second option, or explore other avenues. ".com" domains have more prestige than the other extensions but having a great name with another extension is much better than sacrificing for a mediocre ".com" brand name. Online users are more likely to Google your brand name anyway rather than type it in the address bars of their browsers.
3. Type in your account information
* I highly recommend you get the backup option. It's extremely inexpensive and it will give you "peace of mind" knowing that all your hard work is safe.
When you're done, press the Next button and pick a strong password.
That's it. Fairly easy isn't it?
In the next step, we're going to take a look at how to set up a new website in less than 10 Minutes. Stay tuned!
***
* If you're seeking extra motivation and inspiration on your journey of personal growth, I recommend taking a look at my SMART growth goals page, This page offers thousands of goal ideas that can assist in the establishment of new aspirations and the attainment of greater heights in one's life. In fact, it was instrumental in my creation of a list of 100 goals, which I pursued for a decade.
Chief Editor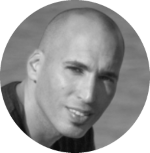 Tal Gur is an author, founder, and impact-driven entrepreneur at heart. After trading his daily grind for a life of his own daring design, he spent a decade pursuing 100 major life goals around the globe. His journey and most recent book, The Art of Fully Living, has led him to found Elevate Society.