Choosing the Right Email Service Provider
The first and one of the most essential steps in building a successful email marketing campaign is to invest in a reliable email service provider (ESP).
Now, it may be tempting to use your own email program such as Gmail, Yahoo, or Outlook to send your mass-emails to your subscribers. After all, it's free. But don't just rush to do it. There are good reasons why you'd want to subscribe to an ESP. Below are 5 of them.
Why Use an Email Service Provider?
1. Statistics - Every major ESP has statistics built right in which allows you to see how many people have opened your email or clicked on a link you sent them. This is extremely useful for evaluation, planning, and decision-making.
2. Email Deliverability - Sending bulk emails from your free gmail or yahoo accounts can result in many of your messages ending up in recipients' spam folders for what looks like spammy practices. ESPs tackle this problem by maintaining their email reputation within the email community.
3. Autoresponders - An autoresponder automates the development of a relationship with your new subscribers, allowing you to leverage your time...
4. Ability to Unsubscribe - The ability to unsubscribe is a very important feature from the perspective of end users. It's also a mandatory requirement of many spam acts around the world.
5. Pre Designed Templates - Pretty much every ESP provides email templates that you can use to catch your readers' eyes , or you can easily use your own template. All you have to do is type in your text, upload your images, and – voila! – you have a professionally designed email ready to go.
Which Email Service Provider Should You Use?
So, now that you're (hopefully) convinced that subscribing to an email service provider is the way to go, the big question is which one should you subscribe to.
After evaluating numerous email service providers, we strongly recommend one of two companies: Aweber or MailChimp.
Both Aweber and MailChimp are widely used, extremely reliable and feature rich. MailChimp's no-cost entry level service is an attraction, however, the online community generally leans in favor of Aweber when it comes to the most essential aspects of email list management, such as autoresponder, tracking and spam management.
My recommendation (and that of many others) is if you are just starting out then you may want to test the waters with MailChimp. Remember though there is no autoresponder or spam filter diagnostics for the free option.
However, if you're someone who really wants to tap into the power of building a big email list, then head over to Aweber and take advantage of their $1 offer for the first month.
In fact, when it comes to the big names in the online world, they are almost always using Aweber. They see it as an investment and important part of their business model rather than an expense.
In any case and whatever you decide, know that your decision isn't etched in stone - You can always switch to the other at later stage.
Take Action!
Head over to Aweber (or MailChimp) and sign up for an account.
In the next step we're going to learn how to correctly setup your list.
***
*To obtain more inspiration and motivation to achieve your goals, you definitely want to check out my extensive list of growth goals. This page contains SMART goal ideas that can help you establish new aspirations and attain greater heights in your personal growth journey. I utilized this page myself to create my own list of 100 life goals, which I dedicated a decade to pursuing.
Chief Editor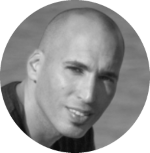 Tal Gur is an author, founder, and impact-driven entrepreneur at heart. After trading his daily grind for a life of his own daring design, he spent a decade pursuing 100 major life goals around the globe. His journey and most recent book, The Art of Fully Living, has led him to found Elevate Society.