Chris Guillebeau: Biography, Interview & Quotes
What would it be like to live life according to your own rules, following your own path, forging your own way?
Chris Guillebeau has done this his entire life. The author of the book and website titled The Art of Non-Conformity, Chris radiates non-conformity and it looks like success!
According to Chris, you don't have to live life according to someone else's definition of success. You don't have to follow the status quo or play by rules created by someone outside of yourself. What you can do if you want to live an extraordinary life of happiness and purpose is look within yourself for what motivates you, what brings you pleasure, what you can do, and what has meaning for you. Then make active decisions to create that reality in your life.
I use the metaphor of world domination (ruling and changing the world at the same time) to highlight all the things we can achieve when we choose to live with gratitude and purpose." Chris Guillebeau
Chris likes to spread his enthusiasm for living life unconventionally through his writing on his website, in his books The Art of Non-Conformity and The $100 Startup, in his Unconventional Guides (created to help others looking for advice and encouragement); through his lifestyle of travel, a passion he enjoys; through a limited number of speaking engagements; and on a grand scale through his World Domination Summit, a yearly convention where thousands of like-minded individuals gather to hear speakers, take breakout sessions, watch film screenings, and participate in activities and independent meetings.
Chris spent some of his early adult years as a volunteer executive for a medical charity in West Africa, pursuing a graduate degree in International Studies at the University of Washington, importing coffee from Jamaica as an entrepreneur, working on search engine optimization, and building a small publishing company while volunteering in Africa.
Recently having completed his ten year long travel quest to visit every country in the world, Chris is currently planning on writing a book about his travels and what he has learned from them and experienced along the way.
Reaching out to his worldwide readers, Chris arranges to meet people where and when he can on his $100 Start Up world tour.
A truly inspiring individual himself, Chris Guillebeau doesn't just advocate for making your own life happy, but for actually influencing the world you live in to make it better for everyone really. He hopes his writing can help show "how to change the world by achieving significant, personal goals while helping others at the same time."
***
1. Chris, you are a successful writer, world traveler, entrepreneur, and you are also a source of inspiration for others. To what do you attribute your success? How do you measure your success?
Chris Guillebeau: That's kind of you to say. I'm pretty sure whatever external success I've had thus far is due largely to my readers. Of course, I realize I have to be responsible for producing and creating—I have to write books, blog posts, host events, and so on—but for that I think the greatest attribution is sheer persistence. I have a lot of flaws and weaknesses, but I don't give up. I measure success by influence and relationships.
2. In your early adult years you spent some time as a volunteer executive for a medical charity in West Africa. What prompted you to do this instead of taking a more traditional job here in the United States?
Chris Guillebeau: I was depressed and trying to figure out my place in the world. Being overseas, especially in Sierra Leone and Liberia, was a great way to spend a few formative years. I'd certainly recommend volunteering and traveling to anyone looking for their next step.
3. What made you decide to visit every country in the world? How old were you when you realized you had a passion for travelling?
Chris Guillebeau: The passion for travel largely began during that time in West Africa. As I traveled, I gained confidence, along with the desire to see more of the world. After I returned to the U.S. (in 2006) I took on the idea of a quest to go "everywhere." I've been working on it ever since.
4. Now that you have travelled to every country, where will you travel? Do you plan to revisit some favorite places? In a recent blog post you mentioned that running out of countries to visit has created a sort of identity crisis for you 🙂
Good question! Indeed, it does feel like an identity crisis of sorts. I definitely plan to keep writing and traveling. I like the idea of revisiting favorite places, and I'm also doing a lot more global meetups wherever I go. But there's no doubt that the model will change, since I no longer need to fly to places like Tuvalu (last week) or Guinea Bissau (last month).
5. Can you tell us a little more about your book, The $100 Startup: Reinvent the Way You Make a Living, Do What You Love, and Create a New Future? This book has been touted as a true guide to starting your own entrepreneurial business with only a small financial investment. What does it have to offer that they aren't finding elsewhere?
Chris Guillebeau: Most business resources are vague and unspecific, and most of them deal with managing employees or trying to gain funding for a bigger startup. The $100 Startup is not a business book—it's a manual for everyone seeking more freedom in their lives. We undertook a three-year study to understand how 1,500 ordinary people had created freedom for themselves by making something of value and sharing it with the world. Then we created a blueprint that readers can follow in their own journeys.
6. You also publish Unconventional Guides, which are available via your website and blog. These guides have helpful advice in different areas such as selling your art, using frequent flyer miles, and building a business. Do you write all of these yourself or do you also publish other writers guides that fit with your philosophy? What inspired you to offer guides to people?
Chris Guillebeau: I wrote most of the first ones myself. We now work carefully with a few other writers who can cover specific topics better than me. I began the project because I kept hearing the same questions from readers over and over: "How do you fly so affordably? How can I create my first microbusiness project?" and so on.
7. The World Domination Summit is a large convention in Portland, Oregon that hosts thousands of people and provides speakers, films, breakout session, activities, and more. How did that get started? What prompted you to start a convention and how did it grow to be what it is today? Also, Who would you say is the average person who attends the World Domination Summit?
Chris Guillebeau: WDS is a global gathering of creative, unconventional people from many different backgrounds. It came to be after my first book tour, where I visited every U.S. state and Canadian province. I wanted to do something to bring like-minded people together, not just from one location but from many. We have no average people at WDS. 🙂
8. These days you write a book about your ten year experience travelling the globe. Can you give us a sneak peak of what readers can look forward to in this future book?
Chris Guillebeau: Yes, I'm very excited to begin work on this project. It's not only about my journey; it's about the nature of a quest and the study of many other people who have undertaken them. I've been meeting a lot of fascinating people who have chosen to pursue quests, and I'm just now starting to outline the lessons and narrative.
9. If you could give just one piece of advice to other people who are struggling to find their happiness, what would that advice be?
Chris Guillebeau: My one piece of advice would be the same as the mission statement for AONC: You don't have to live your life the way other people expect. You can do good things for yourself and for others at the same time.
Also: you are not alone.
***
Biography: Who is Chris Guillebeau?
The unconventional is the new conventional. No one wants to produce the run of the mill anymore, but doubts are second-guesses that stop you from going all out. Chris Guillebeau stands out because of his firm stance against allowing the pre-conceived notions of the world from stopping him from doing what he desires.
Choosing the "unconventional" over the "conventional" is just like choosing a coat tailored for you over the mass produced coat that is ill-fitting. The unconventional way of life is simply when you exercise your basic human right to make your own decisions and follow your whims and wishes as long as you do not hurt anybody else in the process.
Chris Guillebeau, the author or the ultra-popular blog The Art of Non-Conformity and a best-selling book by the same title, encourages his readers to not allow the words of their societies dissuade them from realizing their dreams. The mission of The Art of Non-Conformity, in Chris' words, is to "help people live unconventional lives, make their own choices and change the world."
Chris Guillebeau was called a rebel by some and a visionary by others. The man proudly declares that he has been challenging authority since the year of his birth, choosing at every step to do only what he was passionate about. Today Chris is best known for being a great entrepreneur, author, speaker who addresses business tactics, and personality development, and churning out travel blogs.
Chris loves to travel and thoroughly enjoys all that that comes with an adventure – thrill, challenge, exhaustion, sleeping on airport floors, mosquitoes… the works. Even as a college student Chris took the time out to travel to various places, and he converted this passion into a lifelong ambition, thereby ensuring that success greets him out there.
In 2002, at the age of 24, Chris volunteered to take on the responsibilities of a volunteer executive for a medical charity in West Africa. During his 4-year stint there, Chris interacted with war lords, presidents, and everyone in-between, and he credits this experience as the spring board of his mission to travel to every country in the world.
Following his stint in West Africa, Chris went to Seattle to do a graduate program in International Studies, and he did added to the university knowledge provided with personal efforts of his own, learning for his trips to Uganda, Burma, Macedonia, Jordan and at least 20 other cities across the world during his graduation course.
Guillebeau is a versatile man with diverse skills, and what truly makes him a genius is that he cleverly uses his skills to his advantage. A staunch non-conformist, Chris prides himself in successfully dodging the 9-5 job menace for more than 10 years now, and being able to announce that he hasbeen self employed all his adult life.
Chris' blog The Art Of Non-Conformity has an Alexa ranking of under 30,000 – i.e., his blog is among the top 30,000 most frequented sites across the globe, and it ranks in the top 15,000 most visited sites in the United States of America, his native land. A Brief Guide to World Dominion is a book that has captured the interest and imagination of all those who have chanced across it. This manifesto expounds on Chris' principles of helping people take over their worlds by making choices that are born of passion and not of the obligation to conform to popular norms.
Chris has set himself a deadline of April 7th, 2013 to complete his quest to visit every country in the world, learn from their peoples, and to spread his own message. Of the 193 countries listed with the United Nations, Chris has already been to 177, and he has set himself a 2-year deadline to finish his mission. Sans a deadline, any action can take forever to be completed, and it is important to plan out your calendar to achieve anything.
Chris is also an entrepreneur; he has tried his hand at a wide range of businesses from importing coffee from Jamaica, to dabbling with search engine optimization in the early days of its market life, Google Adwords and Adsense arbitrage, and setting up a publication house. Chris currently writes for his blog, besides authoring books on a plethora of issues, and writes guest entries for numerous traditional and new media outlets like Business Week, Entrepreneur, USA Today, LifeHacker, Zen Habits, Inc.com, International Affairs Quarterly, Unclutterer, Get Rich Slowly and ProBlogger. His travels are syndicated on thw Huffington Post, CNN.com, Abu Dhabi National and Oregonian, among others.
Guillebeau is clearly a man on a mission, and his success is due to the fact that he challenged the ways of civilization to meet his personal needs. Every human being is inherently a curious creature, but the zest to quench the thirst for knowledge is stamped out by the infectious love for monetary security. Lethargy bred the comfort of routine and other materialistic comforts. For example, Chris points out that the cost of visiting 100 countries, if carried out economically, would add up to the price of a luxurious four wheeler. Yet many would prefer the car over trips to a 100 countries across the world, an opportunity that would allow them to broaden their horizons and enrich their minds.
Chris has penned several books on entrepreneurship, personal development and travel. They all share the common thread of promotion of non-conformity and the benefits of shrugging off the ill-fitting mass-produced coats passed down from generation to generation. He writes from personal experiences, and the candid style of his writing wins over audiences as they instill the courage to stand up for what they believe in. To be a non-conformist, one is not required to cry "no" at everything that society tells them, it simply means that not allowing the "practicalities" advocated by others to trample one's passions, and to follow their heart and mind to find true success and happiness.
***
Chris Guillebeau: Biography Facts
Here are a few quick facts about Chris:
* Chris Guillebeau was born on April 4, 1978, in Augusta, Georgia.
* He graduated from the University of Washington with a degree in International Studies.
* Guillebeau is the author of several books, including "The Art of Non-Conformity," "The $100 Startup," "Born for This," and "Side Hustle."
* He is also the founder of the World Domination Summit, an annual gathering of creative, unconventional people from around the world.
* Guillebeau has visited every country in the world, a feat which he accomplished by the age of 35.
* He is a regular contributor to numerous publications, including The New York Times, The Wall Street Journal, and Entrepreneur magazine.
* In addition to his writing and speaking work, Guillebeau is also a consultant and advisor to entrepreneurs and small business owners.
* He currently lives in Portland, Oregon with his wife Jolie and their two cats.
* Chris Guillebeau started his first business when he was still in high school, selling hand-painted t-shirts to his classmates.
* He worked for a few years as a volunteer aid worker in West Africa (Medical charity, Mercy Ships, 2002 to 2006)
* When he was six years old, he and his mother moved to the Philippines and lived there for 2 years
* As a teenager, Guillebeau dropped out of high school, but began attending college classes at age 16
* He has a Master of Arts degree in International Studies from the University of Washington (2008).
* Guillebeau's blog, The Art of Non-Conformity, has a large following and has been named one of the Top 100 Websites for Entrepreneurs by Forbes.
* His book "The $100 Startup" was a New York Times and Wall Street Journal bestseller and has been translated into over 25 languages.
* He is a frequent traveler and has visited all 50 US states as well as every province in Canada.
* Guillebeau is a strong advocate for living a life of purpose and following your dreams, and he encourages others to take risks and pursue their passions.
* Guillebeau is also a philanthropist and has donated a significant portion of his earnings to charity, including supporting clean water projects in developing countries.
* Found something wrong? Please let us know!
Photo Credit: Janet Bark
Chris Guillebeau is a successful writer, world traveler, and an entrepreneur. Visit his inspiring website at chrisguillebeau.com or find him to twitter @chrisguillebeau
Chief Editor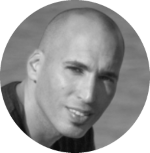 Tal Gur is an author, founder, and impact-driven entrepreneur at heart. After trading his daily grind for a life of his own daring design, he spent a decade pursuing 100 major life goals around the globe. His journey and most recent book, The Art of Fully Living, has led him to found Elevate Society.