Content Inc.: Summary Review
This is a summary review of Content Inc. containing key details about the book.
What is Content Inc. About?
Content Inc. reveals a new model for entrepreneurial success. Simply put, it's about developing valuable content, building an audience around that content, and then creating a product for that audience. The author flips the traditional entrepreneurial approach of first creating a product and then trying to find customers. It's a reverse-engineering of a model that rarely succeeds. The radical six-step business-building process revealed in this book is smart, simple, practical, and cost-effective.
Who is the author of Content Inc.?
Joe Pulizzi is one of the world's top content marketing authorities. He has founded three companies, including the Content Marketing Institute (CMI), launched dozens of events, including Content Marketing World.
Favorite Quote: "A blog post is like a miniskirt … it needs to be long enough to cover the essentials but short enough to keep it interesting." - Content Inc Quotes, Joe Pulizzi
Book Details
Print length: 353 pages
Genre: Business, Nonfiction, Entrepreneurship
What are some of the main takeaways and summary points of Content Inc.?
Takeaway 1: In entrepreneurship, there is indeed no need for complete uniqueness. Instead, you can focus on building an audience and creating content first. A oroduct can come much later. This approach will help you learn your prospects' deepest wants and desires.
Takeaway 2: The traditional approach to marketing focuses on advertising – but these days, advertising is not as effective due to the number of ads people are bombarded with. This is where content marketing comes in as it can attract an audience more effectively. Studies show that people are more likely to buy a product when relevant content is provided.
Takeaway 3: Find your sweet spot: the combination of something you are skilled at and something you are passionate about. Don't underestimate the importance of being passionate about what you do. It will allow you to maintain consistency, stand out, and position yourself as an expert.
Takeaway 4: Choose the right platform (e.g. a blog, a podcast, a YouTube channel, etc) and have a content calendar to keep your channel active. Keeping the long-term vision in mind is key. Additionally, choose how you want to contact your target audience. In general, email subscribers are more important than social media followers;
Takeaway 5: Diversify your income. While most aspiring entrepreneurs have one source of income, a successful entrepreneur builds multiple sources of income. Additionally, diversification is key not just with income. For example, you can add different channels or platforms.
What are the chapters in Content Inc.?
Chapter 1: Beginning With the End in Mind
Chapter 2: The Content Inc. Opportunity
Chapter 3: Knowledge or Skill + Passion
Chapter 4: Adding Audience To Your Sweet Spot
Chapter 5: Understanding The Power Of The "TILT"
Chapter 6: Discovering Your Content Mission
Chapter 7: Ways To Unearth Your Content TILT
Chapter 8: Selecting Your Platform
Chapter 9: Content Ideation
Chapter 10: The Content Calendar
Chapter 11: Content Staffing
Chapter 12: The Collaborative Publishing Model
Chapter 13: Planning for Repurposing
Chapter 14: The Metric That Drives The Model
Chapter 15: Building For Findability
Chapter 16: Stealing Audience
Chapter 17: Social Media Integration
Chapter 18: The Three and Three Model
Chapter 19: Building Out Extensions
Chapter 20: Acquiring content Assets
Chapter 21: Waiting For Revenue
Chapter 22: Building The Revenue Model
Chapter 23: Putting It All Together
Chapter 24: Join The Movement
* The summary points above have been concluded from the book and other public sources. The editor of this summary review made every effort to maintain information accuracy, including any published quotes, chapters, or takeaways
Chief Editor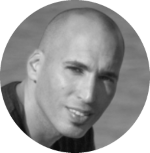 Tal Gur is an author, founder, and impact-driven entrepreneur at heart. After trading his daily grind for a life of his own daring design, he spent a decade pursuing 100 major life goals around the globe. His journey and most recent book, The Art of Fully Living, has led him to found Elevate Society.