Corbett Barr: Rewriting The Rules
Every child is encouraged to pick out a role model so they he / she has some person to look up to when motivation is required to keep pushing ahead in life. There is, however, a misconception associated with the purpose of having a role model in the first place – you translate "guidance" here to emulating every action and decision taken by the inspiration. This is where failure is seeded. By emulating the literal actions of another person, you are trying to place yourself in another person's shoes, and needless to say, you find yourself ill fit to live your own life happily. What you should look up to is the brave and undying positivity of your role model, and you must script your life to suit yourself.
Corbett Barr is a person who believes that rewriting rules that govern life is the most important part of your life. The society presents you with "tried and tested" notions that will make a productive person out of you – as productive as any other machine in a factory. To be able to make your life meaningful and have a sense of achievement, you will want to tweak around with rules to exploit your strengths and weaknesses to your advantage and enjoy your life.
Corbett is a self-made man who inspires thousands to lead their lives on their own terms by blogging to discuss various issues, and providing readers with pointers and tips that they can use to base their thought processes on corbettbarr.com, insanelyusefulmedia.com, thinktraffic.net and expertenough.com are four websites that are founded and managed by Corbett. Each site has a specific agenda but none of them stray away from his central beliefs.
Corbett earned the title of a digital nomad, a respected one at that, by following his heart. Corbett likes to travel and observe the lifestyles of different populations. He found a way to satiate his love for travel, his need to be his own boss and to earn himself a decent living, all in one shot. This was the result of careful consideration and knowing where his strengths and weaknesses lay. It has been reported that his day starts at 9:30am – a happy benefit of being an entrepreneur with no authority to report to but himself. Six hours of steady hours are invested each day, and an additional four to five hours are added at nights.
Among the principle beliefs that Corbett works by is that your career must be tailored to fit with your life. Other equally important aspects of your life must not be compromised to make space for your work. Corbett schedules his day such that he makes the breakfast for himself and his wife (even as she takes their dog for a walk in the morning), arranges dinner with friends, travels around the world and a range of other activities of personal and professional importance, including communicating with entrepreneurs from across the world.
Corbett Barr comprises numerous articles that address simple and conversational terms that become major roadblocks in the development of a person. Expert Enough is another bold initiative wherein Corbett and his team strive to be different from other self-proclaimed experts and question expertise in their own way. The site has tips from experts to help lead a better life, but it also reinforces Corbett's belief that listening and following experts' advices to the last "t" can be a big mistake as advices are generic and your needs are specific.
Corbett's Think Traffic is probably his most commercial enterprise wherein he concentrates on helping social media managers attract greater traffic towards their sites. Being a tech enthusiast, Corbett keeps himself abreast of the latest developments in the cyberspace. One of the most important makings of a successful entrepreneur is to be market conscious. The needs of the market are constantly evolving and to be able to sell your products and services, you need to know to strike the iron when it is hot. And the knack of knowing the right time to strike comes with keen observation skills and the ability to gauge market trends. The success of Think Traffic indicates that Corbett got it right.
Insanely Useful Media is another niche – specific website that arms readers with the knowledge and tools required to reach out to millions of netizens, and to use the Internet to meet your needs.
Corbett Barr and other like-minded people who write to inspire fellow human beings to dare to be different and question set norms may be labeled fresh blood. All the same, fact remains that there is nothing contemporary about people striving to break free of the chains of conformity. A retrospective glance at the history of man will show you that the rise and fall of mankind, humanity, ideas, revolutions and evolution came about because of various individuals who epitomize the age old struggle of man to be free from the bindings of the obligation to conform with the expectations of the society.
We see that a startling majority of the world's population is afraid to live life to the hilt, fearing sanction emotionally, physically and psychologically. You need to acknowledge that the very trailblazers that you are advised to emulate achieved that coveted status of being legends because they dared to follow their hearts. So long as you do not consciously hurt any other person in your quest for self-actualization, there is no reason for you to compromise on your abilities.
Self-actualization is being compromised to meet materialistic ends, and this is exactly what Corbett Barr and a host of other motivational speakers are struggling to change. They say, rightfully so, that there is more to life than to build an obscenely huge bank balance. Being a realist, Corbett will never suggest that money is not important – it sure is. Only, you must acknowledge that there are other factors that are equally important such as job satisfaction, personal goals, family and friends. A happy life is a balanced one where you accommodate all these components.
Photo Credit: Randy Stewart, blog.stewtopia.com
Chief Editor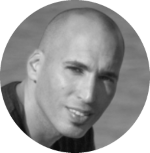 Tal Gur is an author, founder, and impact-driven entrepreneur at heart. After trading his daily grind for a life of his own daring design, he spent a decade pursuing 100 major life goals around the globe. His journey and most recent book, The Art of Fully Living, has led him to found Elevate Society.