How to Create an Attractive Opt-in Offer
The direct value you offer in exchange for your subscriber's email address is one of the most critical components in determining the success and growth rate of your email list.
Whether it's to learn something, get inspired, or simply to be entertained, people visit your site because they expect to find some value in it. The more value you provide, the more time people will invest on your site.
Your goal, therefore, is to meet their expectation with great value. This goes without saying, but always make sure your site's content is extremely useful and high quality.
That's not all, if you want people to give you their email, and more importantly - their attention, you must HIGHLIGHT the incredible value you offer for those who choose to subscribe.
Instead of just having a little box in your side bar, that says "Sign Up for Updates", express specifically the BENEFITS you offer.
For example, "Free Weekly Strategies to help you Achieve Your Life Goals - Sign Up Here"
Here's another example - It's my opt-in offer on PassivelyFree.com:
Free Financial Freedom Email Series
Covering the most important strategies to FASTRACK your journey to Freedom
(Note: The exact strategies that allowed me to travel for 4 years non-stop)
100% FREE!
+ Get The Online Business Checklist guide
20 Crucial Questions You MUST Ask to Make your Journey Successful

As you can see my offer is a little bit more detailed than the average opt-in form. Yours does not have to be that long of course. One line is often enough - However, your offer does have to be specific and benefit oriented to attract higher conversion rates.
Now that we have made this important point clear, you might want to consider a few more strategies. To illustrate them, let's break my example down further, shall we?
First, my opt-in offer is designed as an email series (e.g "Ultimate financial freedom series"), something which leads people to expect and open emails regularly.
Second, it's directly related to one of the main problems or desires that the website addresses in the first place (e.g "Becoming financially free").
Third, and as mentioned above, it explicitly implies specific benefits (e.g "FASTRACK your journey to Freedom").
Fourth, it emphasizes credibility (e.g. "The exact strategies that allowed me to travel for 4 years non-stop"), which is a key component necessary to build trust.
Fifth, it reduces objections (e.g. "100% free").
And last, it includes a free downloadable resource (e.g. "+ Get The Online Business Checklist guide") to encourage people to sign up even more.
You can use one or combine a few of the above strategies to increase your opt-in rate. The important part is that whatever you choose resonate with you and your offer.
Another important part is TESTING. Don't make your conclusions unless you test - an online business can never succeed on blind guesses and general advices.
In my testing for example, I found out that adding a resource guide to my offer almost doubled the opt-in rate. And when I say a resource guide, I don't necessarily mean a long eBook. I mean a relatively short downloadable PDF containing a list of tools, strategies, or resources that will benefit your audience.
Here are some great examples I've seen online:
- "The top 5 tools to reduce, prevent and cope with your teacher stress and tension. (Hint: They work immediately and cost nothing!)"
- "Baby Sleep Guide: The 5 essential things you need to do to help your baby sleep more! (Hint: It does not take an entire book to explain!)."
- "Top 5 resources to get you from a complete beginner to an expert web developer. (The best part: It won't cost you cent!)"
You get the point. Give it a try and let the results speak for themselves!
Take Action!
Your firs task is to create an opt-in form and publish it on your site. Opt-in forms provide you with a means to automatically capture email subscribers so you can generate a responsive list to send your messages to.
If you're already feeling overwhelmed, don't worry - it's easier than it sounds. Almost every email service provider provides you with pre-designed templates for your web form. All you have to do is to choose one of the existing templates and embed its code on your website. (Note that you'll be able to edit your form later, either through your email service provider control panel or, if you have some programming skills, directly through the code).
Here's how to do it in Aweber, my recommended email service provider:
The main thing I want to emphasize in this topic is that having a solid form design is key so you might want to hire someone to customize it to your overall website's look and feel.
Perhaps even more critical in the early stages, is to decide what information you should collect via your newly embedded web form. Collecting an email address is a must, of course, but you can go beyond that and collect almost any type of data about your subscribers.
My recommendation - keep it minimal. The less fields on your form, the higher the conversion rate. In fact, my forms often contain only the email address field. If I want to be more personal, I also collect the subscriber's first name. But that's it - anything more than that and you're at risk of hurting your conversion rate.
Your next task is to brainstorm and write an attractive opt-in offer that people will find difficult to refuse. Ask yourself, "how can I highlight more value in my offer in order to get people on my email list?". Once you have the answer edit your opt in form to reflect your new offer.
That's it! You are now ready to start driving traffic to your site. To learn how to further build your brand and how to create more freedom in your life, make sure you subscribe to my email list below.
Chief Editor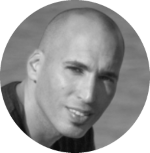 Tal Gur is an author, founder, and impact-driven entrepreneur at heart. After trading his daily grind for a life of his own daring design, he spent a decade pursuing 100 major life goals around the globe. His journey and most recent book, The Art of Fully Living, has led him to found Elevate Society.