The lives of the successful are increasing over dramatized and people like to believe that one has to undergo a great tragedy or survive pitiful childhood experiences to achieve great things. It is true that numerous legends have found motivation from the unflattering experiences they underwent, but it is equally true that many more have scaled great heights by enjoying nurturing lives. David Copperfield, a man who has infused faith into the phrase "nothing is impossible", is one such example.
The biography of David Copperfield reveals for all to see the power of true talent and passion. The importance of pursuing one's strengths and knowing oneself are potent tools to unlocking the immense potential locked within. Every person has a set of strengths and weaknesses, and it is up to you to discover them and make the most of your abilities.
Another vital lesson to be learnt from the life and times of Copperfield is to realize that each individual is blessed with a unique perception and the frame of reference differs from person to person. What really makes a person unique is his perception, the information he chooses to pay attention to and how he uses the knowledge gained to his advantage. If David did not value his intuitions and perception, he would not have developed to be the ultra successful illusionist that he is today, and neither would he have boasted of an empire of accolades that place him several leagues ahead of any performer, dead or alive.
David Copperfield was born David Kotkin on 16 September 1956 in Metuchen, New Jersey, to Hy and Rebecca. Hy was the owner of Korby's Men's Shop and Rebecca was employed in the insurance sector. David was a shy kid who found his innate ability to perform magic as a means of overcoming his shyness. Displaying his laudable talent as a kid aged 10 David gained self-confidence from his achievements and waged a successful battle against his shyness. As a teenager, David also used his magic to popularize himself among the fairer sex. However, what matters is the fact that he respected the art form and soon perfected his art to make himself competent.
Aged all of 12, David Copperfield was already an accomplished conjurer. At 16, he signed on as an adjunct professor at the New York University, teaching the "Art of Magic" course to students. As an 18-year-old, David starred as the lead in a musical comedy named "The Magic Man" that was received ethusiastically and went on to be one of the longest shows in Chicago's history.
Over the years, David performed in front of live audiences and slowly evolved to be the man he is today – performing at least 4 shows a day and giving 500 shows each year. After The Magic Man, David went back to New York and soon launched "The Magic of ABC, Starring David Copperfield", a TV show that became a echoing hit among viewers. The shows that he will be remembered by decades later are those belonging to his annual TV special series named "The David Copperfield Show".
David is a brand by himself and is renowned for awing millions across the globe with fresh illusions every year. Of his illusions, a few that stand elevated above the others include the vanishing act of a jet plane, the disappearance of the statue of Liberty, walking through the Great Wall of China, freeing himself from shackles even as he plunged over Niagara Falls, surviving the confinement of a safe in an imploding building, escaping from Alcatraz prison, flying through the air, vanishing an Orient Express train car that weighed 45 tonnes, escaping a nerve-wrecking fate of being shredded by flaming steel spikes when hanging 10 stories above them upside down from a burning rope and standing in the centre of a tornado of fire that hit 2,000 degrees. The fact that has people bowing down to David in awe is that he performed all these stunts in front of live audiences, with no TV editing or camera trickery present to share credit for the illusions.
David Copperfield has been named the Magician of the Century and the Magician of the Millennium, and the list of accolades and records credited to him would take a few days to be listed out. Copperfield is hailed as the performer to have the most number of tickets to solo shows, pipping even Elvis Presley, Madonna, Lady Gaga and Michael Jackson. 21 Emmys and 11 Guinness world records also tip scales heavily in his favor.
David Copperfield is dedicated to his art, and this is what takes him through the trials of practicing the highly uncertain and dangerous acts of magic that put the life of the performer at peril. David nearly drowned to death when practicing for an act in 1984. He got entangled in chains in a sealed water tank and was taken out of the tank 1 minute and 20 seconds later. He suffered from shock and was regaled to a wheelchair for a week, and had to support himself with a cane for many days. He once accidentally cut off his own finger when practicing.
David is also a man of principle and the fact that he behaves as a human being before a performer is another factor that contributes to this success. He cancelled a show when his assistants was sucked into an industrial fan that he was to walk through and suffered multiple injuries, and even refunded the tickets of his audience.
A historian of the art of magic and the owner of 11 commercially successful islands that also boast of a museum for magic show David's loyalty and love for his art and his passion for the survival of the same. It is this degree of dedication that makes a man a legend who will be remembered by several generations to come. David Copperfield is today a man who rubbishes the "impossible" and stands as an example of how faith in one's work can boost him to scale great heights.
Photo Credit: Wikimedia Commons
***
David Copperfield Best Quotes
"The real secret of magic lies in the performance."
"Dreams are illusions, and we can't let go of them because we would be dead."
"Marriage is like a formality for me."
"Demonic figures and occult themes have disappeared from modern magic."
"It is the unspoken ethic of all magicians to not reveal the secrets"
"Magic and new technology have always walked hand in hand - even back in the days of Robert Houdin."
What is Your Elevation Level?
TAKE THE TEST
"When you're a guy and meet a girl the first time, you do whatever it takes."
"You have to learn certain skills to present magic."
"But Vegas is really my first home."
"I discovered Musha Cay and the islands around it in the Exumas."
"No, I think marriage is a great thing."
"The first trick I bought at Macy's was a little wooden board where a quarter would appear and disappear."
"Magic came very easy for me when I was a kid. When I was 8 years old I started doing it, and by the time I was 12, I was already published in magic books."
"For me to grow, I have to know about the foundation that came before."
"I need a form of escape even when I'm working really hard."
"Magic is my paint."
"My show is constantly evolving... new tricks are added, old ones are dropped... so it stays fresh. But it's the randomly selected participants from the audience that make it fresh and provide some of the best comic relief."
"Magic really helped me."
"Physical rehab is often very, very hard work."
"There is a safe spot within every tornado. My job is to find it."
"If I was gay, why would I hide it?"
"No self-respecting gay guy would have ever made some of the hair and clothing choices I am still trying to live down."
"My uncle's house burned down when I was 6 years old. We got out safely. But ever since, I've had a nightmare of dying in a fire."
"It's okay for me to be gay, but God didn't make me that way."
"I find revealing the secrets of magic quite reprehensible."
Chief Editor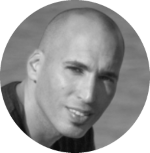 Tal Gur is an impact-driven entrepreneur, author, and investor. After trading his daily grind for a life of his own daring design, he spent a decade pursuing 100 major life goals around the globe. His journey and most recent book, The Art of Fully Living - 1 Man, 10 Years, 100 Life Goals Around the World, has led him to found Elevate Society.