Family. Biggest Supporters. Biggest Critics.
Family. My biggest supporters. My biggest critics.
Why is it that we often judge and criticize those who are closest to us?
Is it because it's "easier"? Or perhaps because the influence on our feelings is greater?
I don't have the answer, but one thing I know: whether I like it or not, my family was there through it all — the beautiful, the ugly and the in between.
I still remember how my sisters, one on each side, were holding my hands while I was lying in hospital at death's door, suffering like I've never before.
Or my parents who stopped their vacation to be with me, cook for me, clean after me...
We may not meet for weeks or even months on end, but when we do meet, the love is there and the bond is strong.
And because we are so close, we are able to hit each other nerves better than anyone.
It used to bother me - the criticizing and judgement and all - but now I see it as a gift.
Because whichever way I look at it, family is one of the best mirrors we have.
They help us grow,
they make us stronger,
they allow us to identify where we truly stand.
A gift, true gift.
In fact, as broken or as connected our families are, they may be the greatest gift we'll ever receive.
--
Next share: The most important relationship in life
Founder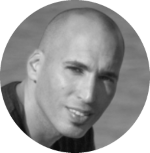 Tal Gur is a location independent entrepreneur, author, and impact investor. After trading his daily grind for a life of his own daring design, he spent a decade pursuing 100 major life goals around the globe. His most recent book and bestseller, The Art of Fully Living - 1 Man, 10 Years, 100 Life Goals Around the World, has set the stage for his new mission: elevating society to its abundance potential.