Hitting a wall.
Often, when I try to make big changes in my life, I find myself constantly "hitting the wall"- that point in the journey when you feel you can't go on any longer.
And each time it's usually for the same reason:
I'm not willing to give up on my identity.
Here's the thing. Our brain is wired to behave in ways that are consistent with our identity - with how we see ourselves.
When I went to study in Australia, for example, I didn't feel very Australian.
I was speaking Hebrew with my roommates and haunting the same few humdrum university hangouts, always within the narrow world of other foreign students.
No matter how many times I tried to immerse myself in the culture, I always hit the wall so to speak.
My identity held me back - I saw myself as as a foreign student.
It was only when I decided to jump into the deep end, give up on my foreign student identity, and be Australian in every real sense, that I was able to transform.
Now, looking into the future, I'm wondering what identity shifts will I need to make for my big dreams.
Who do I need to become?
what do I need to believe about myself?
What behaviors do I need to let go of?
Identity. It may be the only thing standing between us and our dreams. .
-
Previous share: Always a Student
Chief Editor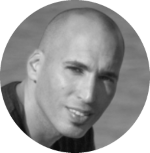 Tal Gur is an impact-driven entrepreneur, author, and investor. After trading his daily grind for a life of his own daring design, he spent a decade pursuing 100 major life goals around the globe. His journey and most recent book, The Art of Fully Living - 1 Man, 10 Years, 100 Life Goals Around the World, has led him to found Elevate Society and other impact-driven ventures.