There's always a defining moment: A moment that divides life into "before" and "after." A moment that fundamentally changes everything.
In that moment, there's no doubt, no ambiguity—nothing but clarity on what lies ahead.
One such moment occurred for me on the night of July 4th, when I laid in the ER, fighting for my life after a snake bite.
My eyes were closed, but my mind was awake. The only thought running through my head was: "It can't end. There's so much more I can give."
As I was gasping for air, I realized how much I was holding myself back, how much I was standing in my own way.
At that point, I was standing at a crossroads and had a choice to make: give up, or give it all I've got.
Darkness crept closer. Each and every breath was precious, hard-won. Part of me wanted it to end. But another part wasn't ready to give up.
It was that moment when I decided I wanted to give it all I've got.
And with that decision, every breath was worth more than all the treasures of the world.
Every breath became a reason to carry on, a win, a pathway to something greater.
This was my defining moment, and I was not going to squander it.
We all have defining moments. But we don't have to wait for a life-altering event to make life count.
It can be decided right here, right now, with each and every breath.
Let's make today the defining moment of our life.
-
Previous share: Designing a life we don't need to escape from
Founder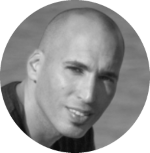 Tal Gur is a location independent entrepreneur, author, and impact investor. After trading his daily grind for a life of his own daring design, he spent a decade pursuing 100 major life goals around the globe. His most recent book and bestseller, The Art of Fully Living - 1 Man, 10 Years, 100 Life Goals Around the World, has set the stage for his new mission: elevating society to its abundance potential.