Over the last decade, I've hired coaches and mentors for almost every big journey I've taken from the Ironman Triathlon, to surfing, to doing online business. And I myself have acted as a coach for others.
A hero's journey is often seen as an independent quest; in reality, however, it is a shared victory and the result of combined effort.
No matter how independent or self-reliant we consider ourselves to be, we are better off with a strong, reliable support system.
Nadav Wilf is one of those guys you want to have on your side. Within a few moments of being in his presence, I knew he'd not only be a great support, but also a friend and a brother.
Today, I felt inspired to share the work of those who deserve to be noticed.
Nadav Wilf is the first on my list. Check out his work at Lifestyle Perfected.
-
Previous share: Always Abundant
Founder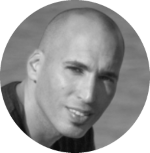 Tal Gur is a location independent entrepreneur, author, and impact investor. After trading his daily grind for a life of his own daring design, he spent a decade pursuing 100 major life goals around the globe. His most recent book and bestseller, The Art of Fully Living - 1 Man, 10 Years, 100 Life Goals Around the World, has set the stage for his new mission: elevating society to its abundance potential.