Struggling is the result of resisting change.
Whether we like it or not, change is inevitable. It's going to find us one way or another.
For years I had resisted change. I built a fixed identity and held onto the past. I searched for certainty in the uncertain. And I tried to control the uncontrollable.
There was only one outcome to this: the feeling of struggling with life.
I struggled big time. I wasn't prepared to let go. I was too proud to admit I was hurting.
To live fully, I had to learn to embrace change and grow with it. I had to stop fighting with life and instead flow with it.
That didn't feel good at first. But after a while something strange happened: I began to like change and accept the temporary pain that it sometimes brings.
As someone wise once said: change is not something that we should fear. Rather, it is something that we should welcome. For without change, nothing in this world would ever grow or blossom...
Change is coming. Are we ready?
-
Previous share: Somewhere to belong
Founder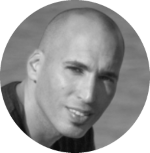 Tal Gur is a location independent entrepreneur, author, and impact investor. After trading his daily grind for a life of his own daring design, he spent a decade pursuing 100 major life goals around the globe. His most recent book and bestseller, The Art of Fully Living - 1 Man, 10 Years, 100 Life Goals Around the World, has set the stage for his new mission: elevating society to its abundance potential.