Follow your inspiration at all times
Since my near-death experience early July, making decisions has become considerably simpler.
The only rule I have: Follow inspiration at all times.
This, as well as using my intuition and gut feelings, answers all my dilemmas - big or small: Where should go? how should I spent my time? What will I eat?
Following inspiration makes the decision making process simpler but not necessarily easier.
Fear constantly creeps in. Around money, around believing, around deserving.
But instead of letting fear cripple me, I constantly bring myself to center and into alignment and flow.
Fear creeps in 1000 times, and I bring myself to center and flow 1001 times.
It's a never-ending process, like working out.
Being in Flow means you are not swimming against the tide. It creates space for synchronicities to happen, opportunities to arise, people to show up.
Jackie Knechtel is one of those beautiful people who just showed up in my life. Not only she is a visionary leader, she's also one of pioneers in the area of flow. Jackie is the founder of the Conscious Collective which holds retreats, leads workshops and delivers transformational experiences worldwide.
If you want to learn more about the concept of creating flow, follow this incredible master.
We don't need to wait for flow to arrive, or have a near death experience like myself, in order to awaken to life. We just need to commit to follow inspiration and then trust...
-
Previous share: Letting go of future worries
***
* If you're looking for more inspiration to help you on your personal development journey, you may want to check out my extensive list of SMART goals. This page is packed with thousands of different goal ideas that can help you set new aspirations and reach higher heights in your life. Personally, this page helped me to create my own 100 life goals list, which I pursued for over a decade.
Chief Editor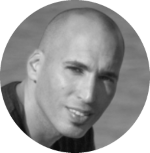 Tal Gur is an author, founder, and impact-driven entrepreneur at heart. After trading his daily grind for a life of his own daring design, he spent a decade pursuing 100 major life goals around the globe. His journey and most recent book, The Art of Fully Living, has led him to found Elevate Society.