Yesterday, I arrived to the Canary Islands and checked in into one of the most beautiful apartments I've ever stayed in. But instead of feeling joy, I felt a bit of sadness.
WTF??
"You should be happy" a voice inside of me muttered. " look at all of this beauty...". However, I couldn't help myself but feeling some kind of sadness.
In the past, I may have ignored the feeling or go for a run, or drink a glass of wine, or something. This time, however, I stayed with the sadness until it dispersed.
When the emotion began to fade away, clarity kicked in. This beauty wanted to be shared. Not just a photo but in person too.
Although there were still a lot of question marks scribbled on my map, the overall message was pretty clear: Life is more meaningful when shared.
And for that I am grateful for the sadness that befell me.
-
Previous share: Wherever you go, there you are
***
* If you're seeking extra motivation and inspiration on your journey of personal growth, I recommend taking a look at my SMART growth goals page, This page offers thousands of goal ideas that can assist in the establishment of new aspirations and the attainment of greater heights in one's life. In fact, it was instrumental in my creation of a list of 100 goals, which I pursued for a decade.
Chief Editor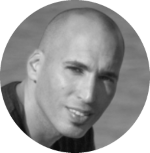 Tal Gur is an author, founder, and impact-driven entrepreneur at heart. After trading his daily grind for a life of his own daring design, he spent a decade pursuing 100 major life goals around the globe. His journey and most recent book, The Art of Fully Living, has led him to found Elevate Society.