Flight mode on the ground
I love flying. Even the long 10+ hours flights. Even the screaming kids.
I know, weird. But that's me.
There are many reasons why I like flying but a big one is that it kind of forces me to be with myself. To switch my mobile into flight mode and unplug.
Yesterday, while flying across Europe, it hit me that I don't have to wait until my next flight to enjoy a prolonged digital time-out. I can do it while I'm on the ground.
The world can wait each morning until I land. .
-
Previous share: Disconnected to be connected
***
*To obtain more inspiration and motivation to achieve your goals, you definitely want to check out my extensive list of growth goals. This page contains SMART goal ideas that can help you establish new aspirations and attain greater heights in your personal growth journey. I utilized this page myself to create my own list of 100 life goals, which I dedicated a decade to pursuing.
Chief Editor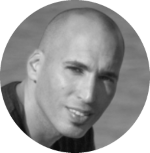 Tal Gur is an author, founder, and impact-driven entrepreneur at heart. After trading his daily grind for a life of his own daring design, he spent a decade pursuing 100 major life goals around the globe. His journey and most recent book, The Art of Fully Living, has led him to found Elevate Society.