Facing Challenges Together
Call it coincidence or call it fate, but precisely one year apart, both my mom and my sister were diagnosed with the exact same cancer.
Yesterday, a year after my mom was operated for breast cancer, my sister was in the operating room for the same surgery, in the same hospital, operated by the same surgeon.
Whatever you choose to call this constellation of coincidences, it sucks. Flat out sucks. Just hearing the word "cancer" changes a family forever in a heartbeat.
At the same time, however, it can bring a family together in a heartbeat. Facing this challenge together helped form stronger bonds and stronger relationships within our family.
When I started my 100 days of sharing journey I was not sure how much sharing would come into light but seeing the impact it can make, my sister and my mom voluntarily consented.
Because we are all in this together. And together, we can heal.
-
Previous share: Life is fleeting. All we really have is now
Founder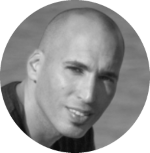 Tal Gur is a location independent entrepreneur, author, and impact investor. After trading his daily grind for a life of his own daring design, he spent a decade pursuing 100 major life goals around the globe. His most recent book and bestseller, The Art of Fully Living - 1 Man, 10 Years, 100 Life Goals Around the World, has set the stage for his new mission: elevating society to its abundance potential.