Choose Your Teachers Wisely
I met Zoe Taylor almost 2 weeks ago. I arrived to Lisbon and looked for a Yoga stuido to feel grounded. The minute I entered Zoe's yoga studio I knew I had found my space. Zoe was so welcoming that I literally signed up to all of her weekday classes. Monday to Friday, each and every day.
After a couple of weeks of daily Yoga at Ministry of Yoga, I noticed that my relationship with yoga itself started to change. I had no more demands from my yoga practice, no more demands for feeling relaxed, at peace, or any other special state of of mind. I just came to do the work and allowed whatever feeling I had on the day to surface.
There's nothing more inspiring than a great teacher, weather it's with yoga, business, or life. In a great teacher's presence, the flow is different, the mindset is different, the whole feel is different.
Great teachers are passionate about what they teach. They are so incredibly committed to the work and their students, not because of external incentives, but because there's no other way for them. It's simply who they are.
Zoe, Thank YOU. You've not only inspired me to take my Yoga practice to a deeper level, but to also apply it to life off the matt. Besos.
-
Previous share: Peace is Already Here
***
* If you're looking for more inspiration to help you on your personal development journey, you may want to check out my extensive list of SMART goals. This page is packed with thousands of different goal ideas that can help you set new aspirations and reach higher heights in your life. Personally, this page helped me to create my own 100 life goals list, which I pursued for over a decade.
Chief Editor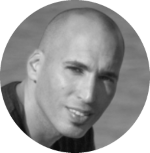 Tal Gur is an author, founder, and impact-driven entrepreneur at heart. After trading his daily grind for a life of his own daring design, he spent a decade pursuing 100 major life goals around the globe. His journey and most recent book, The Art of Fully Living, has led him to found Elevate Society.