Alan gave up his successful "city life" and moved with his wife and two children out into the country. They simplified their lives and downsized their home so that they could spend more time at home with their children. Alan was always baffled by the fact that people work so hard to raise their families and then when the children leave, the parents finally retire – i.e. when it's too late to spend time with them. He wanted to figure out a way to spend more time with his family while they were growing up instead of missing out on most of that due to being at work.
As a result, Alan and Isabelle have successfully moved out into the country and sustain their living with various location-independent ventures. They are able to arrange their schedules so that 'work' only occurs while the children are in school. One of these ventures, particularly on the subject of Lifestyle Design is Life's Too Good where Alan and Isabelle share their experience and help others to make changes in their lives – from small changes in specific areas to complete lifestyle re-design.
1. You created the website, Life's Too Good as a way to learn how to create a website. It evolved, over time, into what it is now: a collection of actionable articles. What makes an article "actionable"?
Good question!
Though it's a little more than a collection of actionable articles these days – it has a business side to it too.
In terms of the articles we try and make the content not only interesting but practically useful too – i.e. 'actionable'. Not every article is actionable but the vast majority are – i.e. they contain something you can take action on for some benefit or other.
This could be a concept we'd like you to take on board (e.g. The Only Two Trends That Matter, The Art of Mindfulness), a whole range of practical advice (12 Kick-Ass Marketing Lessons from Al's Tea Shoppe, 7 Habits of Highly Successful Savers) or an exercise you can use again and again (e.g. Limiting Beliefs, Compelling Future), but the point is, it's all actionable.
2. Your website covers four main topics: a better life, improved health, more wealth, and better results. Where do you get the information for your articles?
The information comes almost entirely from a mixture of our own experience and research where needed to back up anything we're saying (particularly the more 'scientific' stuff).
Plus I have an opinion – so you get that too 😉
I write something like 60-70% of the content with the rest coming from experts and occasional guest posts. Most of the content not written by me is written by my secret weapon and most valued expert, Isabelle. Between us that experience covers a lot of coaching and business qualifications (we're both qualified coaches, have both worked in top organisations, Isabelle also has more qualifications on the health and nutrition side of things and I probably have a little more in terms of business qualifications and experience).
NOTE: We're very strict about accepting guest posts as we care sooooo much about the quality and 'fit' of these, so we have few and tend to invite the same authors back once we find people we like.
3. You were both living the rat race with successful "city" careers. Alan, it seemed you had it all with a 4-day week at a high-paying job. What inspired and motivated you to give it all up and move into the country?
Well, not exactly. Isabelle quit corporate life when we had our son about 8 years before we decided to move to the country so she was already way over chasing a career.
It was really my career 'we' quit: despite having navigated it to quite a good place it still wasn't quite enough in terms of the work/life balance I wanted.
I did get home to see my kids every single day and had Fridays and the weekends completely free, but still felt that this time was very limited and despite having this time, some of it, particularly the evenings I'd be tired from commuting and work and there a little more in body than in spirit.
What actually happened to trigger this thought was when one day I looked down at my son who was aged 9 at the time and it just occurred to me that it felt that it was only a moment ago I looked down at him and he was 5.
It was that moment particularly that persuaded me that even if we just took 1 year (also considering all of the challenges of getting back into work at the level I was at) then it still had to be worth it. In addition we'd be able to test if the reality of the financial viability was the same as it looked on paper.
4. You downsized and simplified your life as you moved out into the country. How did you go about prioritizing what you needed and didn't need?
Well, this was largely dictated by the space we have.
Moving from a large 5-bed house to a small 2-bed cottage is quite a challenge.
I also had to downsize my car because my previous car didn't actually fit on our little driveway here.
The first thing that hits you is how much 'stuff' you actually accumulate.
Then once you get going prioritizing stuff, it becomes very liberating and we're now very keen to keep clutter to a minimum – which actually helps a great deal mentally (and financially) as well as physically.
In the end though, we've made very few compromises I'm not happy with.
5. Isabelle is a life coach. What exactly is life coaching and how does it benefit others?
Actually we both are – but I do tend to leave most of the life coaching to Isabelle and concentrate more on the consulting and business side myself mainly because I only like to keep 3 clients at any one time so we need to split up the work somehow if we get more than that, or politely decline. Plus when it comes to Life Coaching, particularly if it's dealing with health and nutrition, Isabelle has more experience than I do and is an awesome Life Coach (I would say that, wouldn't I?).
Really though – not to harp on about it, she's had some amazing results with some quite tricky cases where people have thought they were 'un-helpable' after turning to many other professionals.
Sorry - to answer your question – you can read this page: What Is Life Coaching which we wrote to answer exactly that question.
6. Now that you have moved out to the country and adjusted to that lifestyle, can you see yourself ever moving back into the city, even though this was initially a 1-year experiment between permanent homes? Will you still move to France?
I don't think we'll move back to the city.
Yes we'll still move to France.
We loved London, but we probably love the countryside even more.
I say probably because, thinking about it, it's not so much the place – though we do like it more here, but it's particularly the lifestyle we have here that we prefer.
There's nothing wrong with cities such as London and there are plenty of things we miss (for me that includes sushi and being able to find what you need 24/7) but we can't have both and the clear winner is this life here in the countryside and the freedom it offers.
We have postponed our move to France but yes, we will still move there.
The advantage of designing our life the way we have is that we are now free to move when we want, and where we want. The current plan is to let our children finish their education here, because they have fantastic friends and schools we're happy with – so we should be here for about another 9 or 10 years (though that could change too in theory).
7. If others want to make a huge move like you have, what are three pieces of advice you would give them?
Sorry but I'm going to cheat and give you 7!
I'll just give you the headlines though so as not to cheat too much then if anyone wants more info on any of these they can just ask me and I'll elaborate...
1. Do plenty of research up front – that's really easy these days
2. Have an exit strategy
3. Exit strategy in place now you can GO FOR IT because if you don't you'll never know
4. Plan the move well in advance and allow more time for it than you think you need
5. Create some overlaps so that you're not left in limbo at any stage
6. Combine things where possible to maximise experience and minimise cost
7. Embrace and enjoy the process
8. If you had to do it all over again, moving from the city to the country, what is one thing you would definitely do differently?
Nada.
The way we did it was actually lots of fun so I wouldn't change anything. We timed our move with the kids finishing school and took some mini-holidays to the place we were moving to so enjoyed the process every step of the way.
Plus the cottage we now live in is really cute so we couldn't wait to move in.
It was a really memorable moment the first night we'd actually moved in and spent the night in the cottage – with a real fire, some board games and hot chocolates – by then we had already bought the place and been visiting for a few weekends so it felt great to finally call it home.
9. You have a schedule laid out where you are spending four days a week, from 9:00am – 3:00pm on "work" to free up the rest of the time for family. How has this worked out so far?
I tend to live my life by setting up little systems and rules – a bit like a game.
This particular 'system' is perfect for me for so many reasons and on so many different levels.
Probably the biggest challenge I've faced is a psychological one. It was harder than I'd expected moving from a busy career to complete freedom. I write about this a little in our book 'To The Country We Go...' but basically it is quite a big step going from having lots of people responsibility in a major corporate to having none, from being challenged and surrounded by people every day to just you and your family, from having a constant to-do list and being busy every day in your job to being just you and your family... having this structure kept me sane and gave me purpose every day.
I could write for ever on this point – so I'll try not to. Other things I could write about which I'll just mention are giving some organisation to everything I want to do, allowing me to try lots of things, keeping things interesting, challenging, motivating... preventing the days from drifting by, whilst still having the flexibility to be able to adapt and adjust as things come up.
Oh – and being able to do all of this whilst being around every moment of my children's lives, seeing all of their schoolwork (and being able to help them with any of it as needed), enjoying all of their projects and interests.
10. Being self-employed, how do you motivate yourself to stay focused on your tasks from day to day?
1. By having lots of interests and giving myself limited time for each (I do a different 'job' each day 4 days/week) – this keeps me challenged and stops me getting bored.
2. By really enjoying everything I do – I now only work on things I enjoy and only work with people I enjoy working with – this keeps me enthusiastic about everthing I'm doing.
3. By living within my means and setting up enough income streams that I don't particularly have to do any one of them – this gives me the flexibility and the ability to adapt my businesses and interests very quickly without any stress or pressure at all (even when things go drastically wrong which they occasionally do).
11. You have been able to work remotely from home successfully. What are the advantages and disadvantages to working from home?
Wow – how long have you got?
Firstly – I try and keep everything I do these days location independent, so I don't see it as working from home, I see it as working from anywhere.
e.g. I can work whilst I'm travelling or on holiday.
Plus I don't really see it as 'work' though I guess it is, I'm working on my businesses.
Advantages & Disadvantages – ooooheeee – I'm going to try not to make this a long answer but it will be a challenge because I'll be leaving so much unsaid.
OK, here it goes...
Advantages: work from anywhere, do what you want, work when you want, flexibility, low overheads, complete control of your schedule, wear what you want, handle interruptions better (e.g. switch days around to go and see a school play), no commuting, office is always there and accessible,
Disadvantages: not many in my case though I did write a guest post about some of the challenges and what to do about them here, but the following can be a challenge: office is always there and accessible ;-), actually stopping when you said you would (particularly when you enjoy your work), motivation, certain corporate skills and experience not being used (less meetings, conferences etc), less validation from co-workers, less social (at least in a physical sense)
12. You clearly feel there is a difference between "rich" and "wealthy". What are the differences? How are each of these words defined in your family philosophy?
Yes there is a HUGE difference between wealthy and rich.
I recently wrote an article on this exact subject: It's Not About The Money, Money, Money.
Is that why you asked that question, or is it just coincidence?
Basically rich makes me think of excess, and we kind of dislike excess.
However much you have, waste is always bad.
Wealth is something that anyone can have. I explain more in the article, but wealth is about finding and appreciating all of the things in your life (some of which you possibly never realized you have) that really mean something to you – which is a lot more and a lot more important than just money.
13. You are in a situation where many of your investments take care of your living expenses and you don't have to worry about car and house payments. What are your current primary expenses living your lifestyle and how do you continue to make sure you are living within your means?
We got rid of lots of expenses.
Our main expenses are simply the ones you kind of have to have. Electricity, Gas, Water...
In general if you pay-as-you-go – just pay for things when you need them, then you have control, you can shop around for the best deals on things (people often offer incentives to get your business for the first time) and you avoid the risk of having any regular payments you don't need.
In the article I mentioned above (It's Not About The Money, Money, Money) I list out what our expenses used to be, and what they are now.
On the subject of living within your means, I try and keep the philosophy that the 'means' come first – so we should always be living within our means.
14. How long do you envision yourself living the way you have been, out in the country, being hands-on parents and greatly involved with family?
Well, we're not really 'hands-on' as our kids have normal schooling etc and a pretty normal life, it's just here in the countryside rather than in a big city.
What we have is total flexibility and more of a commitment to be there for our children every moment of the day (i.e. every minute they're not in school). It doesn't mean we actually spend all of that time with them (as they are often off playing games, over at friends houses, playing in the park etc etc etc).
So, I don't think we are necessarily much more 'hands-on' than anyone else, we just have more flexibility and more time and I can't see any reason why it won't be that way for the rest of our lives.
In fact I was fully prepared to be a lot poorer in order to spend more time with my family, it just turns out in the end that we're not.
15. What is next after the "kids" grow up? Will you stay out in the country or is something else in store for you?
Well, our base will then be between France and the UK – winter months in France and summer months in the UK (currently this is the other way round as the kids are in school and our summer months are restricted to the school holidays).
Having said that, this is just our base (albeit in two places) – we fully intend to explore the world a little – so though it's still quite a way off, I like the idea of trying some 'geo-arbitrage'.
Thank You
--------
You can find Alan at Life's Too Good, a blog about helping you get more out of your life and your business. Alan is also a writer and you can actually watch him write his latest book, 'Lessons From The City' at a new site he just created: www.lessonsfromthecity.com. Follow Alan on twitter at @LTGMonkey.
Chief Editor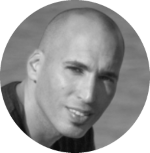 Tal Gur is an author, founder, and impact-driven entrepreneur at heart. After trading his daily grind for a life of his own daring design, he spent a decade pursuing 100 major life goals around the globe. His journey and most recent book, The Art of Fully Living, has led him to found Elevate Society.