40 Digital Nomads Reveal their Top Advice on how to Start a Location Independent Business
Travelling the world, making money online, and enjoying freedom to the fullest might sound like utopia, but this dream has already been manifested by thousands across the globe.
As a part of my "One Year to Freedom" book launch, I asked 42 established digital nomads for their top advice to the person that wants to start a location independent lifestyle business.
Here's what they had to say:
1. Natalie Sisson: My top piece of advice after helping thousands to do this to first figure out if you're cut out for this kind of lifestyle. If you can handle constant change, the uncertain, making decisions on the fly, new cultures, new people and new experiences weekly if not daily, and if you're open minded then you're probably going to love it
2. Niall Doherty: My main piece of advice: it's one thing to run an established business from the road, but it's quite another to build one while constantly on the move. So try stay in one place for a few months and focus exclusively on building your business, without distractions. Once you have some steady income rolling in and some systems in place, then get out there and live the location independent dream.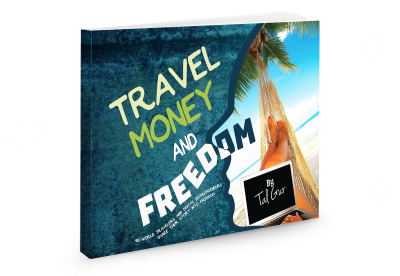 Want in-depth interviews? (It's Free.)
Throughout they years, I met and interviewed dozens of successful freedom entrepreneurs and complied their freedom story into an insightful interview guide.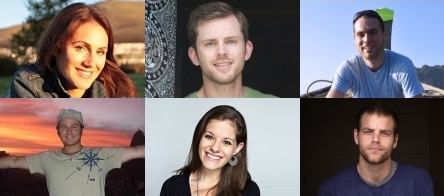 Download it for FREE by pressing the big share button below and learn from the likes of Chris Guillebeau, Natalie sisson, Sean Ogle, Benny Lewis, Jodi Ettenberg, Joel Runyon, and others.
3. Lucian Avadani: Location independence can mean something else, not necessarily constant traveling. It can mean more time with your family who is probably spread around the country, your friends, hobbies, charity work and so forth. If you love traveling and it's already something that you are fond of, then there's a good fit and it will follow naturally. Building a business requires time and patience and the best way to do it is by spending more time in one place, a few good months at least - what you focus on expands. After it has grown, you can switch to a management only mode and use your extra time to either travel the world or do anything else that you feel is worth your time, energy and enhances your overall happiness.
4. Yogev Lifchin: Be work disciplined. It's easy to get lost with new sights, sounds and locations. Traveling does not mean you can stop calling people, send emails or checking stats.
5. Ian Moss: Connect with people in the destinations you visit outside of your work circle.
6. Kasia Gurgul: One thing I've noticed is that it can be hard to stay truly connected when you are working virtually, so having and maintaining strong partnerships is important.
7. Neill Neill: Big advice would be to stick it out in the cheap countries until you have enough money to go to the more expensive countries.
8. Estela Kun: My hint of advice would be to ask your deepest "why" for starting on this journey.
9. Timi Trimmel: Why to start a journey is definitely more important than how to start it. Once you know the reason, once you are really desperate to change, you're going to do it, no matter how to start: even volunteering can be the first step. This means it's not really the question of money or contacts, but truly the willingness to do something else.
10. Gerald Alvin Valentine: There's no right or wrong answer on "how" to do it. You can still be employed and be location independent. You don't even have to be a techie (I'm a musician personally). I've met acrobats, musicians, writers, yoga instructors... the list goes on. None of whom are computer geeks and none of whom had a big stash of cash behind them when they started. The key is the will and drive to do whatever it is you can do, from wherever it is you wish to pursue it. Of course it'll be tough at times. But all life is tough at times. Don't use this as a reason not to pack your bags (the smaller the better, trust me!) and at least give it a shot.
11. Katharina Kunze: Start it without being location independent first. Build a sound business. Then outsource, automate etc. once you know how your business works to allow you to be location independent
12. Tom Colton: Automate by creating systems that don't require you, the business owner, to be present 7 days a week. Another one is get the most important tasks done in the first 15 minutes of the day.
13. Steve Cicalese: Audit yourself and figure what your strengths are... take two quality courses surrounding that strength within a digital niche and start grinding. Be honest with clients about your experience in beginning. Network, network, network
14. Isabel Moser: Choose something you feel a passion for, because your customer's needs go first. Solve their problem and / or make their live easier. But whatever you do, do it with the passion to solve your customer's problems or with the passion about your great product which will help people in some way. Don't focus on the money. Focus about developing a great product or service, and the money will come anyway.
15. Fiona Chan: My main advice: just do it. Stop reading and consuming all you can about a topic or about how others have done it. Get informed and then get going. For me it was, know about 70% of how I can bring my idea to business, and then make up the rest as you go along. It's very easy to spend hours if not days reading online, social media or whatever blog you follow to try and glean some sort of roadmap/blueprint/step by step instructions to get started. Don't fall into the trap of false productivity. It's just another word for procrastination.
16. Dina Pyramid: Get help from a mentor or a coach so you don't waste time going down the wrong path... Wasting time, money and energy on the wrong idea.
17. Matthijs den Hartog: Don't try to become a digital nomad for the sake of traveling. I think you have to be an established freelancer, and the ability to travel should be a side effect of that.
18. Adam Bromby: Don't pursue ventures just for dollars. You'll spend a big part of your life talking about, thinking about and acting on your ideas so make sure they align with your values, strengths and interests.
19. Chris Osborne: Focus on relationships. Work on interesting stuff, side projects. Keep a wide eye open for problems. Get good at solving problems that will save businesses time or money. Forget the consumer market and instead focus on helping businesses. Take design seriously. Know early on what you want from the company. Hire an assistant as quickly as you can. Charge way more than you think you should. Have fun doing it all.
20. Stefan Tasevski: Don't build businesses, build networks. Give those people value and they won't have a reason to not be part of your success.
21. Davide Terrana: Get a basic degree in the field of work you chose and then avoid masters or others courses, and instead spend time in stages or living experiences which can improve your skills. Most of the companies are willing to work with someone remotely only if this person can offer a higher level of experience than anyone they can hire in their city.
22. Sudeep Singh: Increase your network little by little by creating at least one new connection a day, do an informal tie up with people with the same or complimentary skills to cater more work, and have a website to show your portfolio.
23. Sebastian Wolff: Don't figure out how to make money as a nomad while still being at home. Focus, start saving, as soon as you have enough to survive without income for 8 months, relocate to a nomad spot like Chiang Mai and start networking. Opportunities will follow!
24. Sanket Dhume: You need to be honest with yourself about your skill set, the demand for it in the marketplace, and its marketability. You may be a decent shot at a handful of things, but that doesn't make the cut because the competition's fierce. You may be great at a particular skill but that may not have a lot of demand in the freelance/location independent marketplace.
Look, don't get me wrong - skills can be developed and learned, but it's important to narrow down on things you can be really good at, and things people are willing to pay for. Then work towards becoming amongst the best in that field. "Just do it..." Is a wonderful idea, but jumping into it unprepared is asking for trouble.
25. Nikhil Garg: Exhaust all the resources online and start small. Keeping yourself organized in your tasks is the only way to make money while travelling the world. Do not stop learning, ever.
26. Maarten Belmans: My advice for freelancers:
Start with the foundations while you still have a day job. It's not necessary, but from my own experience, I can highly recommend it.
Even though people always make it sound so easy, getting clients is increasingly harder with so many online workers & freelance websites popping up.
It took me a few months before getting my first recurring client that's worth having. Luckily, I started building my website and doing marketing when I was still having a day job.
27. Ine De Baerdemaeker: Offer amazing customer service. The online competition can be pretty stifling. However, if your customers love you and the service you provide, odds are they will recommend you to their peers and friends. As an editor who offers proofreading and re-writing services, I have received a lot of new assignments through recommendations. Since you're not part of a local community, you have to make sure the "global village" finds out what you can do for them and how amazing your service is. Word of mouth is your friend!
28. Annik LaRoche Bradford: Start living as a digital nomad at home. Learn how to do it, and how to do it better when you're at home. Then take it to the road. Some things need to be figured out when you can still fix things, or have access to services. Then, when you've successfully lived as digital nomad at home for a little while, start travelling.
29. Michael Chacon: Figure out monthly recurring revenue. Don't be scared to take the leap.
30. Stuart Lustman: Save your money while you have a job before nomading.
31. James Howitt: Establish a solid financial & emotional foundation before considering throwing the middle finger up to your old life.
32. Adam Lawrence: Establish a certain amount of savings first because income can be very erratic, especially at first. Streamline your expenses to facilitate the above.
Start the ball rolling while you have a regular job
Physical remoteness creates a certain anxiety and detachment with clients especially if they've never seen or heard you. Have a Skype call at least once, respond to emails within hours and show personal interest in correspondence to help bridge that 'gap of empathy'.
33. Vivien Chen: Read, learn, create, budget, spend time on self-development, and most importantly, connect with positive people that will encourage you.
34. Charesse Hagan: Patience. Transitioning into a location independent lifestyle business is very time demanding (evenings and weekends included). Take time during your transition to focus on building your credibility in your new business! It makes things a lot easier when you finally take the leap. When you can finally walk into your boss' office and resign, it is so worth it!
35. Michael Migo Variacion: Just follow your passion. As long as you're passionate about what you do, everything else will follow.
36. Douglas Hope: Think things through, work your network and have a contingency plan. Be sure of your initial source of income, the *real* reasons underlying your choice of location independence, and of the challenges to be faced should you find it's not for you.
37. Tristan Bacon: Focus on building a solid foundation of regular clients, so that you have a minimum recurring income each month.
38. Stefan Lieser: I would first quit my job as an employee and work as a freelancer on my own business. If that works, start travelling and see what you need to learn to be productive. Don't dream about a passive income that needs no work. You may need to work hard to get things going.
39. Vanessa Strasser: Start reading.
40. Sydney Wong: I have been working in the startup industry for the past 6 years and the biggest mistake it to not validate that the business is right for that target customer/ geography/ etc… I would ensure that the product/service would actually sell.
Chief Editor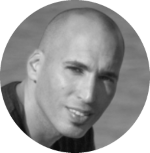 Tal Gur is an impact-driven entrepreneur, author, and investor. After trading his daily grind for a life of his own daring design, he spent a decade pursuing 100 major life goals around the globe. His journey and most recent book, The Art of Fully Living - 1 Man, 10 Years, 100 Life Goals Around the World, has led him to found Elevate Society and other impact-driven ventures.