Courage and Persistence: Ernest Shackleton Story
In the early 20th century, polar explorer Ernest Shackleton gave new meaning to the word "endurance." On his third expedition to Antarctica, Shackleton lost his ship to the perilous ice, but he rescued every member of the "Endurance" crew after 10 months adrift in the arctic.
Shackleton faced insurmountable difficulties in pursuit of his goal, but he continued his journey with courage and persistence. Although he would never complete his trans-Antarctic mission, he achieved greatness as the heroic leader of an extraordinary story of survival.
Choosing Adventure
Ernest Henry Shackleton was born in 1874 in County Kildare, Ireland. His family moved to London, where he was educated until, at age 16, he decided to learn how to master a ship.
Going against his father's wishes that he become a doctor, Shackleton went to Liverpool to work for a shipping company.
His first experience at sea was rough, even for an experienced sailor. Winter storms battered the merchant ship as it rounded Cape Horn, and the men were running out of food and water by the time they returned to Liverpool.
This brutal maritime training fueled Shackleton's passion for exploration and his ambition to reach the furthest points of the globe by sea. Within five years, at age 24, Shackleton had earned enough sailing experience to qualify as a master with unlimited command of the seas.
The Hero's Journey to Success - Failing
Shackleton gained experience as a polar explorer through a failed mission. In 1901, the captain of the ship "Discovery" accepted Shackleton on board for an expedition to the South Pole.
The "Discovery" would never reach its destination; Shackleton's first trip to Antarctica was cut short when he became extremely ill.
He endured sickness in the harsh arctic conditions long enough for the ship to make it closer to the South Pole than any other. Through this grueling trip, Shackleton learned enough to prepare for his own expedition.
After coming even closer to his goal, Shackleton would not make it to the South Pole in time. In 1908, when he returned to Antarctica on his own ship, "Nimrod," Shackleton led his crew to a new record, coming closer but still not reaching the pole.
Three years later, Shackleton would learn that a Norweigan explorer and his former captain had beat him in the endeavor.
He had to redefine his goal to accomplish an ever greater challenge: crossing the Antarctic through the South Pole.
The Hero's Success – Surviving the "Endurance"
Shackleton's next expedition would bring him fame, but not through success; the failure of the first trans-Antarctic expedition would become one of the greatest survival stories in history.
In 1914, Shackleton embarked with a crew of 28 men aboard the "Endurance," named after his family motto, "By endurance we conquer." By early 1915, the ship lodged in the ice, and it drifted for 10 months as the pressure crushed its hull.
A testament to Shackleton's heartening leadership, the journey of the "Endurance" continued even after the ship sank.
What is Your Elevation Level?
TAKE THE TEST
Shackleton and his men abandoned the vessel, taking the meager supplies and three lifeboats that they had managed to salvage. They sustained a camp on the floating ice for five months until they reached enough open water to launch the boats.
Shackleton led a rescue attempt with five other men, sailing 1,300 kilometers in 16 days, then trekking across an uninhabited island, finally finding help at a whaling station on the other side.
In August 1916, Shackleton returned to his stranded crew to find every one of them alive.
Pursuing His Dream to the End
Nothing could stop Shackleton from the next challenge. He set out on his fourth expedition to Antartica in 1919, this time with the new goal of sailing around the continent. But once again, Shackleton would not be able to complete his mission. He died of a heart attack on January 5, 1922, and was buried on South Georgia Island.
Lessons learned from Ernest Shackleton's journey
By pushing the frontiers of exploration further with each attempt, Shackleton prepared the way for future discoveries of the arctic. Yet this celebrated hero came up short on every one of his expeditions. He is not legendary for his accomplishments so much as for his failures, for his endurance.
Shackleton's journey attests to the power of determination. If we propel ourselves to the next challenge, even the most catatrophic defeat can led to a courageous triumph. As Shackleton himself puts it simply, "Difficulties are just things to overcome, after all."
***
Ernest Shackleton Best Quotes
"Difficulties are just things to overcome, after all."
"Superhuman effort isn't worth a damn unless it achieves results."
"We had seen God in His splendors, heard the text that Nature renders. We had reached the naked soul of man."
"The noise resembles the roar of heavy, distant surf. Standing on the stirring ice one can imagine it is disturbed by the breathing and tossing of a mighty giant below."
"If I had not some strength of will I would make a first class drunkard."
"Now my eyes are turned from the South to the North, and I want to lead one more Expedition. This will be the last... to the North Pole."
"I seemed to vow to myself that some day I would go to the region of ice and snow and go on and on till I came to one of the poles of the earth, the end of the axis upon which this great round ball turns."
"I called to the other men that the sky was clearing, and then a moment later I realized that what I had seen was not a rift in the clouds but the white crest of an enormous wave."
"After months of want and hunger, we suddenly found ourselves able to have meals fit for the gods, and with appetites the gods might have envied."
Chief Editor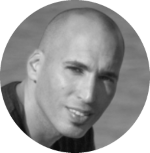 Tal Gur is an impact-driven entrepreneur, author, and investor. After trading his daily grind for a life of his own daring design, he spent a decade pursuing 100 major life goals around the globe. His journey and most recent book, The Art of Fully Living - 1 Man, 10 Years, 100 Life Goals Around the World, has led him to found Elevate Society.