Everything I Know: Summary Review
This is a summary review of Everything I Know containing key details about the book.
What is Everything I Know About?
"Everything I Know" by Paul Jarvis is a book that offers insights and guidance on building a successful business and living a fulfilling life on your own terms. Drawing on his experience as a freelancer, designer, and entrepreneur, Jarvis shares personal stories and practical strategies for building a sustainable and fulfilling career that aligns with your values and priorities. He emphasizes the importance of staying true to yourself, focusing on your strengths, and building meaningful relationships with clients and customers. The book provides a range of tips and advice on topics such as marketing, branding, pricing, and time management, as well as insights into the challenges and rewards of working for yourself. Jarvis also encourages readers to embrace simplicity, sustainability, and creativity in their work and personal lives, and provides practical tools and resources for living a more intentional and fulfilling life. Overall, "Everything I Know" is a valuable resource for anyone who is looking to build a successful and meaningful career on their own terms, offering practical advice and insights on how to navigate the challenges and opportunities of the modern work landscape.

ELEVATE
Free Resource: A step-by-step blueprint to help you set and realize big dreams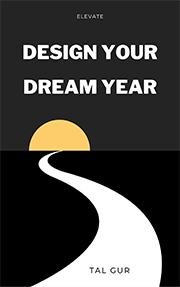 Everything I Know is a no-rules guide through uncharted territory with stories based on the author's two decades of freelancing. This book provides practical ideas and questions to help you conquer fear, overcome inertia, embrace vulnerability, validate your plans and most importantly, launch them.
Summary Points & Takeaways from Everything I Know
Some key summary points and takeaways from the book include:
* Focus on doing meaningful work: To build a successful and sustainable creative career, it's important to focus on doing work that is meaningful and fulfilling, rather than just chasing after money or prestige.
* Embrace your unique strengths and values: By embracing your unique strengths and values, you can differentiate yourself from others in your field and create a unique brand.
* Build relationships and community: Building relationships with other creatives and building a community around your work can be invaluable in terms of support, feedback, and inspiration.
* Embrace experimentation and iteration: To stay relevant and continue growing, it's important to embrace experimentation and iteration in your work, and be willing to take risks and try new things.
* Prioritize self-care: Taking care of yourself is essential to building a sustainable and fulfilling creative career. This means prioritizing rest, exercise, healthy habits, and work-life balance.
* Embrace simplicity and minimalism: Simplifying your life and your work can help you focus on what truly matters and create more space for creativity and growth.
* Overall, "Everything I Know" is a book that encourages creatives to prioritize meaningful work, embrace their unique strengths and values, build relationships and community, experiment and iterate, prioritize self-care, and embrace simplicity and minimalism. By following these principles, creatives can build successful and sustainable careers that are fulfilling and impactful.
Who is the author of Everything I Know?
Paul Jarvis is a veteran of the online tech world, and over the years has had such corporate clients as Microsoft, Yahoo, Mercedes-Benz, Warner Music and even Shaquille O'Neal. He is the co-founder of Fathom Analytics.
What are good quotes from Escape from Everything I Know?
"What if instead of reading, you wrote? Instead of watching TV, you made videos? Instead of listening to music, you learned how to play guitar?"
"A large part of choosing your path is figuring out which values will determine your worth. Once that's clear, it's much easier to decide if the work you're doing will increase or decrease your feelings of worth."

ELEVATE
Free Resource: 1000+ SMART goal ideas to inspire you create your life goals list.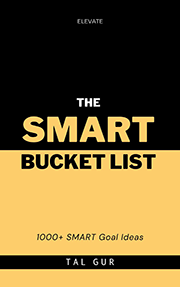 "If we don't let our weirdness rise to the surface, we don't let our work stand out."
"Most reasons to delay are invalid if you get right to the core: no time, no money, no audience. These are all future concerns, which make it hard to start anything. Worry about those things later or not at all. Make small decisions at first, and start moving in a direction that feels right."
"A funny thing happens when you focus on work that you love; more soon starts to appear. Like attracts like. Plus, that intersection between enjoying what you do and getting paid to do it is the sweetest place of all."
"You shouldn't pay attention to things that don't grab your attention. If you do, you're being a pretentious douchebag."
"The most important part of finishing anything is saying no. If I'm working on an idea, I say "no" to almost everything: new projects, new clients, social engagements—basically anything that would take my focus away from what I'm doing. I take breaks, but there's a difference between breaks and things that cut into my ability to get the work done. I say no so I can say yes to what I'm currently doing – or I say yes to what I want to pursue."
"Work means offering a valuable product or service – and that work has to inspire people to pay you for it."
"most people don't get paid for promoting; they get paid for doing actual work."
"Our fear of failure often prevents us from attempting things. It feels safe not to try, but not trying is the only way you're guaranteed to fail. Don't fail in advance by not even making an attempt."
"Sometimes, in order to stay true to yourself and your values, you need to innovate through change. And sometimes that means stopping and stepping back for a while."
"There's no path if you aren't moving. It's just a single point in the road. The view might be great, but stasis never changed the world (or bought a yacht). The only way to see if your work might have traction is to do it and put it out there."
― Paul Jarvis, Everything I Know
Book details
Print length: 142 pages
Genre: Nonfiction, Business, Self Help
What are the chapters in Escape from Everything I Know?
Chapter 1: Choose your Own Path
Chapter 2: Overcoming Obstacles on Your Path to Adventure
Chapter 3: Art, Craft & Passion

ELEVATE
Free Resource: A step-by-step process for a better relationship with social media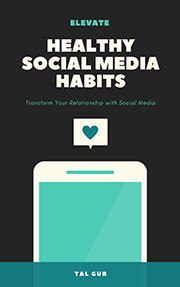 * The editor of this summary review made every effort to maintain information accuracy, including any published quotes, chapters, or takeaways. If you want to enhance your personal growth, I recommend checking out my list of favorite personal growth books. These books have played a significant role in my life, and each one includes a summary and takeaways to help you apply the concepts.
Chief Editor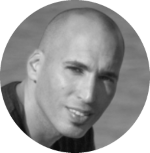 Tal Gur is an author, founder, and impact-driven entrepreneur at heart. After trading his daily grind for a life of his own daring design, he spent a decade pursuing 100 major life goals around the globe. His journey and most recent book, The Art of Fully Living, has led him to found Elevate Society.