Busting 5 Excuses For Pursuing Big Goals
When it comes to committing to a new journey, it's easy to come up with excuses. In fact, we tell ourselves so many excuses (i.e. lies) that if I listed them all, I'd never get to the point.
I do, however, want to touch on the major ones. You see, from my experience, making excuses is normally the main reason why people never start, or commence but later quit.
Excuse #1: "I don't have time."
Translation: "My goal isn't my priority. Sleeping in, watching TV, and browsing Facebook are."
What we choose to trade our time for says a lot about who we are. Why? Because time is our most precious asset. Unlike financial assets, we can never get it back.
So, if you believe the thought, "I don't have the time," what you really believe is, "I don't value my dream as a priority."
Time is a matter of priority, and if your goal is truly important to you, you'll find the time.
Yes, you might have to cure your facebook addiction or say goodbye to your favorite TV shows for a while and enter a world of supreme focus, but the reward down the road far outweighs the sacrifice.
In fact, you won't have to wait for too long; the reward of pursuing your dreams kicks in as soon as you start.
So, prioritization is key, and it works with planning. You'll have to schedule your goal in time slots, and then protect those slots like a dragon guarding treasure.
Your whole time strategy can be summarized in these 3 P's:
Prioritizing.
Planning.
Protecting.
Excuse #2: "I don't have money."
Translation: "It takes money to make money."
Yes, money can help when starting out, but it's your relationships, skills, knowledge, and attitude that are your real capital. As mentioned before, money is the effect, rather than the cause, of wealth.
As a matter of fact, one coach or one relationship is often all you need to generate extra income and lay the foundation for success.
Moreover, the truth is that you don't need to be a millionaire to achieve your life goal. For most people, a saving a few extra dollars each month, or starting a freedom business, can mean freedom.
Put differently, you don't have to accumulate a large sum of money and wait for years and years to attain your big goal.
It can happen next year.
Excuse #3: "I'm too young/old."
Translation: "I believe achieving my big life goal is only possible at a certain age."
If you think you're "too old" or "too young" to pursue a goal, then you want to change your thinking. You're not.
I could go on and on about how, these days, with the internet, the online tools, and the immediate access to millions of people, most goals are possible at any age to anyone who is willing to explore.
Instead, I'll just throw out a few names of successful entrepreneurs and high achiever who got a late or early start.
Colonel Sanders started KFC at 65.
John Pemberton invented Coca-Cola at 55.
Ray Kroc started McDonald's at 52.
Mark Zuckerberg started Facebook at 19.
Bill Gates started Microsoft at age 19.
Richard Branson started Virgin at 17.
And these are just famous people. If you google very young/old successful people, a whole list of people comes up.
Excuse #4: "I don't have the knowledge and skills."
Translation: "I'm too lazy to look for the knowledge and connect with those who have the skills."
We live in an increasingly connected world in which both knowledge and new skills are literally at our fingertips unlike ever before.
"I don't have the knowledge and skills" is really an excuse for "I don't really want to." A wealth of knowledge is out there waiting for you. You just need to look for it and systematically learn each necessary skill.
Now, a word of caution before choosing your knowledge sources. A lot of information can be found fast and easy, but that doesn't mean achievement is fast and easy.
Achieving a goal requires hard work, dedication, and a willingness to invest. You need to possess the courage to try and try again.
In fact, all successful achievers have one thing in common, regardless of age, gender, ethnicity, or circumstances.
They never stop trying.
Excuse #5: "Starting my dream business is risky."
Translation: "I'm afraid to invest time and energy in my dreams."
The common belief in society is that starting a business is extremely risky. While this might be true with some physical businesses, it is not as true with online businesses.
Starting an online business does not require having a large savings account, expensive office, or permanent employees. The investment is far smaller than most people imagine. In fact, the only big risk is not following your dream.
What's more, not starting a side business can actually be risky. Think about it. When you're dependent on a job as your sole source of revenue, you're putting your fate in the hands of one person: your boss.
Not only that, the world is changing. No job is secure anymore. And the older we get, the more rapid economic changes we can expect.
On this point, Scott Gerber, author and successful entrepreneur, expresses the urgency: "How much longer are we going to disillusion ourselves into believing that globalization, automation and the over-abundance of educational institutions haven't forever changed our world?"
It's time to take more control of our lives.
Start Dreaming Big
Do you remember how easy it was to know exactly what you wanted when you were young? How simple it was to dream big and believe without a doubt that you could achieve anything?
Somewhere along the path of life, we all became distracted and lost the vital connection with our dreams. We ended up reacting to circumstances and meeting other people's needs, rather than acting out of conviction and with clear direction.
The truth is that most of us have been settling for less for too long. It is time we got back in touch with our innermost, wildest dreams and devise a route to fulfill them.
I use the word "wildest" for a reason. Small dreams have no power to drive your heart to its desire. There is no magic in small dreams—o fuel for inspiration.
My life experiences support this. When I trained for a mini-triathlon, I found myself literally dragging my feet to the gym with no energy. I missed training sessions, continuously found excuses, and ultimately quit.
The same happened when I tried to save a relatively small amount of money for an uninspiring vacation. I simply didn't have the discipline to follow through.
It was only when I allowed myself to be free of boundaries and truly follow my heart that I was able to stick to my goals and keep moving.
In fact, setting "stretch-of-the-imagination" goals do just that: they are worth striving for, and thus make the process easier, more fun, and very much imaginable.
So my main message to you is this: dream BIG. Don't limit yourself and try to be practical with your choice of dreams.
Possibilities are unlimited and more realistic than you think.
***
* If you're seeking extra motivation and inspiration on your journey of personal growth, I recommend taking a look at my SMART growth goals page, This page offers thousands of goal ideas that can assist in the establishment of new aspirations and the attainment of greater heights in one's life. In fact, it was instrumental in my creation of a list of 100 goals, which I pursued for a decade.
Chief Editor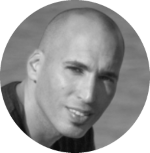 Tal Gur is an author, founder, and impact-driven entrepreneur at heart. After trading his daily grind for a life of his own daring design, he spent a decade pursuing 100 major life goals around the globe. His journey and most recent book, The Art of Fully Living, has led him to found Elevate Society.