Follow your inner moonlight; don't hide the madness.
What's the meaning of this quote?
Quote Meaning: This quote, at its core, is a call to embrace your true, authentic self, regardless of how unconventional or strange it may seem to others. It reminds us that each individual has their own unique "inner moonlight," or essence, which makes them who they are. By following this inner light, one can tap into their creative potential and live a more fulfilling life, instead of repressing their true nature in order to fit societal norms. The quote encourages us to celebrate and express our "madness," the quirks and idiosyncrasies that make us stand out from the crowd, rather than hiding them away out of fear of judgment. When we are true to ourselves, we can live a life that is genuine and meaningful, rather than one that is dictated by the expectations of others.
Who said the quote?
The quote "Follow your inner moonlight; don't hide the madness." was said by Allen Ginsberg (Bio). Allen Ginsberg was an influential poet and leading figure of the Beat Generation known for his work "Howl."
Chief Editor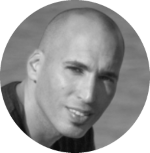 Tal Gur is an author, founder, and impact-driven entrepreneur at heart. After trading his daily grind for a life of his own daring design, he spent a decade pursuing 100 major life goals around the globe. His journey and most recent book, The Art of Fully Living, has led him to found Elevate Society.