Recently, I made a small change: I changed my personal website's domain name from Talgur.Me to Talgur.Org - A small change, but one that signals a mindset shift.
For more than a decade, I've worked on developing myself. I've contributed and helped others along the way but the focus was very much ME, MY life, MY journey.
The truth, I've come to realize, is that "I," "me" and "my" provide a limited perspective at best. The underlying interconnectedness and non-separation of life is not mere metaphor but a living truth.
Perhaps more importantly, if there's one thing I've learned over the years, it is this: true fulfillment arises from contributing to the fulfillment and welfare of others, in which our own fulfillment and welfare reside.
In other words, fulfillment means being of service to something much bigger than our own singular life.
Similarly, true security is not found in achievement, status, or material possessions, but in a loving and trusting relationship with ourselves, with our extended circles, and ultimately, with life. This is where I believe most of my un-learning needs to take place.
As human beings, we are all self-centered to some extent. We are conditioned to believe that securing the outer comforts of life will give us enduring joy and lasting fulfillment. Whereas in reality, everything is impermanent and transient. The only changeless thing in life is change itself, as the ancient saying goes.
As such, how we relate to life and everything that is part of it (including ourselves) takes on great importance. If we over-identify with our persona, grasp for pleasurable outcomes, and fall victim to the restless egocentric mind, we'll miss out on life, in the truest sense of the word.
On the other hand, if we embrace what is, let go of what was, and become more selfless and service-driven in our actions, then contentment and fulfillment will be the natural rewards.
It sounds simple, but it's not always easy to integrate. The secret, I believe, lay in achieving integration in small steps.
Such as changing one small domain name...
-
Previous share: The bottomless pit of idealization
***
* If you're looking for more inspiration to help you on your personal development journey, you may want to check out my extensive list of SMART goals. This page is packed with thousands of different goal ideas that can help you set new aspirations and reach higher heights in your life. Personally, this page helped me to create my own 100 life goals list, which I pursued for over a decade.
Chief Editor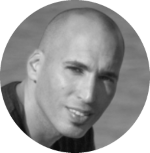 Tal Gur is an author, founder, and impact-driven entrepreneur at heart. After trading his daily grind for a life of his own daring design, he spent a decade pursuing 100 major life goals around the globe. His journey and most recent book, The Art of Fully Living, has led him to found Elevate Society.