Grit to Great: Summary Review
This is a summary review of Grit to Great containing key details about the book.
What is Grit to Great About?
In Grit to Great, the authors tackle a topic that is close to their hearts, one that they feel is the real secret to their own success in their careers--and in the careers of so many people they know and have met. And that is the incredible power of grit, perseverance, perspiration, determination, and sheer stick-to-it-tiveness.
Who is the author of Grit to Great?
Linda Kaplan Thaler is an American advertiser and author. She is currently the CEO & President of Kaplan Thaler Productions. As an advertiser she helped create advertising campaigns that are well known in American culture including the Aflac duck and the "Yes, Yes, Yes" campaign for Clairol Herbal Essence.
Robin Koval is a New York Times best-selling author and CEO and president of Truth Initiative , a nonprofit tobacco control organization best known for its Truth youth smoking prevention campaign.
How long is Grit to Great?
What genre is Grit to Great?
Nonfiction, Business, Self Help
What are good quotes from Grit to Great?
"Working just a little harder than someone else who might be just as talented (or even a bit more) is what will win the day."
"Talent is cheaper than table salt. What separates the talented individual from the successful one is a lot of hard work. —STEPHEN KING"
"I'm not the smartest guy, but I can outwork you. It's the one thing I can control."
"Failure is how we learn—it's how we develop and acquire grit."
"When confidence becomes a muscle memory, panic is replaced by peak performance."
"The difference between a successful person and others is not a lack of strength, not a lack of knowledge, but rather a lack of will."
"What this tells us is that children who are outperformed may give up rather than fight to improve, and those who do win may not feel compelled to keep trying as hard if even the losers get praise and a trophy."
"Aristotle, writing about the virtues of hard work, said, "We are what we repeatedly do. Excellence then is not an act but a habit."
"You have to treat everyone you meet as if they are the most important person in the world - because they are. If not to you, then to someone, and if not today, then perhaps tomorrow."
"Happiness is not the absence of problems. It's the ability to deal with them."
― Linda Kaplan Thaler & Robin Koval, Grit to Great
What are the chapters in Grit to Great?
Chapter 1: Why Grit Matters
Chapter 2: The Talent Myth
Chapter 3: Ditch the Dream
Chapter 4: Lose the Safety Net
Chapter 5: Get into Wait Training
Chapter 6: Ben Like Bamboo
Chapter 7: No Expiration Date
Chapter 8: Grit for Good
* The summary points above have been sourced and summarized from the book, Amazon, and other online publishers. The editor of this summary review made every effort to maintain the accuracy and completeness of any information, including the quotes, chapters, insights, lessons, and key takeaways.
Chief Editor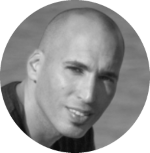 Tal Gur is an impact-driven entrepreneur, author, and investor. After trading his daily grind for a life of his own daring design, he spent a decade pursuing 100 major life goals around the globe. His journey and most recent book, The Art of Fully Living - 1 Man, 10 Years, 100 Life Goals Around the World, has led him to found Elevate Society.