Simple Influencer Marketing Strategies
You've probably heard the phrase, "Content is king," but not all content is created equal – different content will get you different results.
Your content needs to be written with specific qualities in mind; it needs to spark interest and be compelling enough to be shared. (This is particularly true in the early stages of your journey, when your audience is just beginning to notice you.)
Now, while there are a multitude of content-marketing strategies that can be used to garner attention, our focus is to write content that fosters relationships with online influencers.
Here are the primary reasons again:
1. Influencers have thousands — sometimes tens of thousands — of engaged and targeted followers. By leveraging with their audience, you'll grow your own much quicker.
2. Influencers can lend credibility to your business — People tend to follow influencers because they know they will get real, honest information from them. Building strong relationships with credible influencers means gaining the inherent trust of their audience.
3. Influencers' opinions and authority drive sales – It's much better to get quality traffic from someone who can recommend your offers than random traffic of people who are not 100% invested in what you have to say.
So, in this blog post, I'm going to share a couple of strategies for fostering and leveraging solid relationships with online influencers through content generated on your site.
Let's begin with the first strategy: sharing lessons learned from your favorite influencers.
1. Sharing lessons learned from influencers
Your goal with this strategy is to find valuable one-paragraph lessons that can benefit your target audience and then share these lessons on your own blog.
The best way to do this is to go through the influencer's blog from start to finish, and each time you notice a valuable lesson, simply copy and paste the paragraph into a temporary document.
Browsing through their entire blog might take some time, but once you get enough lessons, the content creation piece is very easy.
You simply number them sequentially (1,2,3,4…) and put each lesson in quotes. The only writing you need to do is to include a short introduction at the beginning of your post, explaining who is the influencer and why the reader should care.
Make sure you make it extremely compelling and don't forget to include a link to their site. The influencer will appreciate both the recognition and the link to their site and might reciprocate later, bringing you traffic as well.
Finally, write your post's title and publish your post on your blog. Your title should be in a format like, "XX Lessons Learned from YY," where XX is the number of lessons, and YY is the name of the influencer — for example, "15 Smart Fitness Lessons Learned from John Doe."
2. The "People You Need to Know" Strategy
In the previous stratgey, we learned an effective content-marketing and relationship-building strategy that is focused on sharing lessons learned from a specific key influencer. In this section, we'll learn a similar strategy, this time involving multiple key influencers in one post.
I call it the "People You Need to Know" blog post strategy.
Here is how it works:
You pick a few key influencers who share a common theme and then feature them in a single blog post, telling how great they are and why the world needs to know about them.
We'll get into the details in a moment, but first, let's look at two primary reasons why this is such an effective content-marketing and relationship-building strategy.
1. People LOVE to be recognized and appreciated for what they do, especially online influencers who put their work out there for the public to view.
2. People absolutely LOVE when their name is associated with other successful people in their industry. The more it happens, the more successful their brand is perceived.
This means that not only will you be appreciated by influencers, but also that your post will most likely be shared with their large fan base.
So, now that you understand the WHY, let's dive into the HOW.
First, pick a few key influencers who share a common theme and come up with an enticing title for the list-style post you're going to write about them.
Here are some good ideas:
- "Top 15 Internet Marketers You Need to Know About"
- "25 Women Whose Branding Strategies Could Impact Your Biz"
- "Top 10 Fitness Bloggers to Watch for 2015"
- "20 Up-and-Coming Entrepreneurs You Want to Meet"
Second, write your post in a way that makes each influencer on your list feel special. You can take details from their "About" page and/or recent blog posts. Also, make sure you include a photo for each influencer as well as links to their sites.
Next, share your new post on social media. Tag each influencer on Facebook (for example, "Top 10 Fitness Bloggers to Watch for 2015, featuring NAME1, NAME2, NAME3") and mention their Twitter usernames in your tweets so they get notified through those channels. (Note: You might have to type up a few tweets due to Twitter's 140-character limit.)
Finally, send each influencer an email notifying them of your post and thanking them for the inspiration. Here's an example: "Hi John, Just wanted to let you know I mentioned you on my list of the Top 10 Fitness Bloggers to Watch for 2015. Thanks for the continuous inspiration and keep up the great work! Cheers."
One last thing before we wrap up with this stragey: In your email to each influencer, do not offer anything and ask for nothing in return. We are all bombarded by offers and advertising everyday, so be different from the average marketer.
***
Looking for more powerful strategies? Check out my 500-page One Year to Freedom roadmap where I share dozens of easy-to-follow action plans.
***
* If you're seeking extra motivation and inspiration on your journey of personal growth, I recommend taking a look at my SMART growth goals page, This page offers thousands of goal ideas that can assist in the establishment of new aspirations and the attainment of greater heights in one's life. In fact, it was instrumental in my creation of a list of 100 goals, which I pursued for a decade.
Chief Editor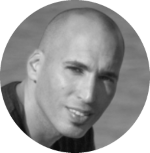 Tal Gur is an author, founder, and impact-driven entrepreneur at heart. After trading his daily grind for a life of his own daring design, he spent a decade pursuing 100 major life goals around the globe. His journey and most recent book, The Art of Fully Living, has led him to found Elevate Society.