How to Simplify, Organize, and be Money wise
What have you heard about simplicity lately? Is it enough to say you want to simplify your life without taking any action to actually make it happen? Maybe you just don't know how to get started. Well Joel Zaslofsky, the man behind Value of Simple, is on a mission to help people simplify.
Zaslofsky, a once-upon-a-time corporate cubicle resident, realized one day in 2010, just before the birth of his baby boy, that his work life was missing meaning and purpose. Why was he spending so much time on something he felt wasn't meaningful? He wanted something more from life – something valuable. He had a great paying job, but he didn't want the proverbial 'good life.' He wanted a truly great life filled with purpose!
After leaving his corporate job in March of 2012, Zaslofsky figured out what he was good at and passionate about to map out a new life's vision: he would help people simplify, organize, and be more money wise.
Check out my interview with this inspiring, great-spirited man and learn what it means to live a more simple and free life.
Enjoy!
1. Hi Joel, you wrote on Value of Simple that realizing your wife was pregnant and that you were about to be a father prompted a major soul searching campaign. Why then? What about being a father prompted you to start pursuing your dream?
Joel: Getting ready for the birth of my first son, Grant, sparked the hard realization that I was a thirty-year-old with no legacy. I was outwardly successful, but internally? I was a total mess.
I was addicted to video games, limited by my terrible memory, and worried that I wasn't going to leave anything valuable to future generations. I've found that nothing has ignited my self-awareness as much as making the world less about me and more about others. So I have the deep desire to avoid being a deadbeat dad and to start doing something truly useful to thank for starting my personal renaissance (along with Grant and my wife Melinda, of course).
2. It was two years after Melinda told you that she was pregnant that you quit your job, did the first Continuous Creation Challenge (that led to starting Value of Simple), and began the journey that you now share with others. Why did it take two years? What were the factors that made you take that final leap?
Joel: It took me about a year to figure out what post-corporate work could look like, let alone what I actually wanted it to look like. And it took about eighteen months to get Melinda to buy into me quitting my job for an uncertain (but certainly less lucrative) future.
While Melinda and I had some tough conversations, I was working on drumming up internal resilience and external support. I needed some time to internalize the guidance and resources of amazing folks like Scott Dinsmore of Live Your Legend or Joshua Becker of Becoming Minimalist. It also took a while for my family and friends to understand why I needed to give up the "good life" for a shot at a great life.
The ultimate factor that led to my entrepreneurial leap was the leap of faith by Melinda. Without her support - emotional, financial, logistical, or otherwise - I'd still be living an American Dream that I no longer believe.
3. During your Continuous Creation Challenge, you figured out that you are passionate about and talented in the areas of simplicity, organization, and personal finance. How did you realize these were your talents?
Joel: I spent two days in mid-April 2012 mind mapping everything I was good at or jazzed about. Topics like sports and technology popped up, but they were tiny bubbles compared to the big ones for simplifying, organizing, and personal finance. The trick was - and still is - how to combine all three topics together without losing people in the process.
The appeal of and skills in personal finance have been a long time coming. In fact, I've had a knack for numbers since I started multiplying in pre-school. It was easy to combine my math savvy, my mom's money management guidance (she's a total pro), and an innate drive to rock at the unsexy side of life.
Identifying my organizing skills wasn't as easy. But it actually shined brightly as I was mind mapping. I was categorizing, sub-categorizing, using literal labels, building logic into the mind map, and tying together the relationships between seemingly unrelated passions. I didn't understand the level of detail and structure I was giving my mind map until after a full day of doing it. Before that day, organizing was just something I did. After that day, I began to think, "Um … maybe I should add organizing to the list of my passions."
Last to manifest was my penchant for simplifying. Daily money management and organizing my environment were ingrained within me, but simplicity took years to cultivate. I credit reading blogs like Be More with Less, Exile Lifestyle, or RaamDev.com for planting the simplicity seed. For example, I started to experiment with simplicity by stripping away the excess preventing me from leading an intentional life.
I shed toxic relationships, built a better relationship with money, and developed a needs-based mindset. I didn't realize it immediately, but I was teaching friends and family how to simplify as well during my personal renaissance. Now, simplifying is at the core of who I am and what I do. I'm finally respecting my ancestral heritage as a simple being with simple needs for fulfillment.
4. Would you do anything differently if you had to do it all over again?
Joel: Oh, heck yes! I would have taken bigger risks much earlier in my life. I would have asked more questions like, "Why do I have to do what everyone else is doing?" I would have started my gratitude rituals much sooner. I would have explored alternate ways to think, feel, and act than what social norms and conventional wisdom dictated.
I could go on and on and on …
5. Did you use your organizational abilities to map out your business plan? How?
Joel: I used a combination of Excel spreadsheets and mind maps to put together my business model. It's made up hundreds of fragments carefully curated through years of experience. For instance, I've taken a dash of Pat Flynn's passive income model here and a pinch of Colin Wright's ethical framework there. I add each ingredient to a huge pot, stir, wonder what the heck I'm doing, and then throw in a heavy dose of podcasts, videos, and live events.
My business plan, ethics, and approach is a total hodge-podge. But getting the components into my best tools - and then being able to slice-and-dice them for trends, importance, and significance - made all the difference. Side note: spreadsheets can organize just about anything!
6. Who does Value of Simple typically serve? Do you mostly find it is people in business looking for your help? Entrepreneurs? Housewives?
Joel: My website and its products or services primarily serve individuals. But each person that experiences my blog posts or emails, podcasts, or videos is unique. My appeal is wider than it is deep right now because I don't market around one topic and I love multiple mediums, especially the spoken word.
One day I'll help a young college grad learn how to take control of his or her investing future. The next day I'll get an email from a grandma in Australia who changed her daily routine to have more "nothing" after hearing my podcast episode on the topic. And the following day I'll show someone on a Google Hangout how to curate their existence in spreadsheets.
I have no typical demographic or psychographic. And I love it that way (most of the time).
7. Would you say your offerings are helpful to most anyone regardless of their personal goal, or are they more aligned to specific challenges?
Joel: My resources are only useful for a small portion of any population. I frequently filter out mainstream thinkers with my approach, the language I use (I'm a pretty casual dude), and the topics I cover.
Most people don't want to live by the words of wisdom that I do. For example, it was Gail Sheehy that wrote in Passages: "The prizes of our society are reserved for outer, not inner, achievements. Scant are the trophies given for reconciling all the forces that compete to direct our development."
I target the people that want inner achievements. I value the people that focus on experiences over "stuff." Fortunately, the pool is expanding, but it's still pretty small.
8. Do you recommend any books, products or websites that helped you along the way? Also, what people inspired you the most on your journey?
Joel: Oh my goodness! I have hundreds of resources that have helped me along the way. They range from one minute blog posts to intense four day live events like the World Domination Summit.
I highly recommend books like Seneca's Letters from a Stoic, Keith Ferrazzi's Never Eat Alone, and Tim Ferriss's The 4-Hour Workweek (among many others). I strongly suggest podcasts like Dan and Vanessa Hayes Simple Life Together or Pat Flynn's Smart Passive Income Podcast. And I couldn't run my life or business without tools like WordPress (for websites), Feedly (for RSS), or Excel (for everything).
These are the kinds of people, resources, and tools that have empowered me to be who I am. As a curator, I'm happy to share my best resources and experiences on any topic I care about. Just ask!
9. You are planning a 200 person conference in Minneapolis, Minnesota on October 3-4 called SimpleRev. What is that going to be about? What can people expect to see, hear, learn there? Also, if people are interested in being involved in your conference, whether as a conference goer or a speaker/provider of some sort, how can they best contact you?
Joel: SimpleRev is a two-day event where the international simple-living community will gather for action, collaboration, and fun. We'll cultivate deep relationships, build individual and collective influence, identify problems, use diverse workshops to form new habits, and spread the mission of simplicity.
SimpleRevvers will have different experiences depending on which of three tracks they are most interested in. Some will get a hands-on master class on the intersection of simple parenting and permaculture. Others will learn how to finally go paperless or structure their life to move into the tiny house of their dreams. You can simplify anything. So SimpleRev is a big tent with a diverse set of people, topics, and goals.
SimpleRev.com is a work in progress. But it will be the primary place for everything starting in March 2014. Until then, the Value of Simple newsletter is the best place to get your simplicity fix. Don't be shy to contact me directly about it, either.
10. Now that you are almost 2 years into your current lifestyle/work, what would you say to someone that is interested in doing something similar in his/her life? What would you recommend as first step?
Joel: Consume less, create more.
Continuing to read, watch, and listen to everything you can without acting on it is a waste of your talent and time. I never thought I had a creative bone in my body until four years ago. But just in the past two years, I've created a website, podcast, products, services, amazing relationships, a book, a soon-to-be national event, and have participated in a movement's foundation that is changing the world: 21st century simplicity.
I only proved my worth, found my greater purpose, and started to build a meaningful legacy because I committed to creating. I recommend that others shift to a creation- and generosity-centric mindset, too.
11. Lastly, what is your best advice for someone who's about to embark on his dream?
Joel: Surround yourself with people that don't think your dream is crazy. Because you'll probably never fulfill your dreams if the people around you are constantly holding you back and making you conform to their values or beliefs.
--------------
Joel Zaslofsky wants you to download the free tools that he and countless others use to simplify, organize, and be money wise. When he's not enjoying nature, putting on simplicity events like SimpleRev, working on his Smart and Simple Matters show, or chasing his sons around the house, he's cranking out useful stuff at Value of Simple. You can also find him on Twitter at @joelzaslofsky
Chief Editor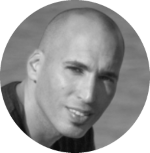 Tal Gur is an author, founder, and impact-driven entrepreneur at heart. After trading his daily grind for a life of his own daring design, he spent a decade pursuing 100 major life goals around the globe. His journey and most recent book, The Art of Fully Living, has led him to found Elevate Society.