"What is your favorite place you've traveled to?"
This one question always seems to be standing out. At first, it seemed hard to answer, as I liked so many places and each one for its own reason; however, with a bit more thought, the same winner is always crowned: more than 2 blissful months in the land of football and samba made me a lifelong fan.
In the beginning, on the contrary, I was ridiculously cautious. I'd been fed so many stories of violence and crime by other travelers that when I landed in Rio de Janeiro a few days before New Year's Eve, I checked every single face and held my backpack tightly on my way out of the airport terminal.
It was quite late and my taxi driver left me on the far side of the road of my hostel, situated in the famous Ipanema beach suburb. There was no one else on the streets besides 3 Brazilian guys who kept staring at me. I crossed the road as fast as I could and rang the hostel's doorbell. When I turned my head again, those 3 guys were still staring at me.
The door finally opened.
"Ipanema seems like a dangerous spot at night," I pointed out to the hostel's receptionist.
"Why, what happened?," he calmly replied.
"3 guys across the street have been staring at me since my taxi left," I answered.
"Oh…," he laughed. "They were probably checking you out. Ipanema is Rio's largest gay area…"
As funny as it was, I still didn't know what to expect. I vividly remembered a story my friend told me of how someone stole his clothes in broad daylight. That was 10 years ago, but somehow my mind kept bringing up those stories.
The next day, I went to the Copacabana and Ipanema beaches, Rio's famous and breathtakingly beautiful landmarks. I was holding my camera so that no one could see it while I took some quick photos, looking around to see if anyone was staring at me.
Yes, this is how ridiculous I was… if you've visited Brazil in the last few years, you're probably shaking your head right now in disbelief.
8 weeks later, in comparison, while celebrating Rio's carnival, I was wrapping one hand around strangers, while the other was taking photos of both of us. I had zero fear and no doubts: Brazilians are surely one of the friendliest and most fun-loving people on earth.
The beauty of staying in one country for more than a month is that familiarity starts to breed and takes over doubts and uncertainty. In Brazil, this breeding process started for me almost immediately.
New Year's Eve, Rio de Janeiro. Around two million people, all in white, crammed Copacabana Beach in Rio to celebrate the new year with probably the same number of champagne bottles.
I only had one new year's resolution: not to get too drunk and actually remember the whole night. Free caipirinhas at my hostel, full of Vodka and a bit of sugar, made this commitment quite challenging already from the beginning.
An hour later, 20 of us were all marching toward the beach with big smiles on our faces and champagne bottles in our hands. Two hours later, I was totally wet and not from water, dancing barefoot in the sand to a Brazilian beat. Everyone had the same huge, beaming grin on their faces that just wouldn't go away.
At the end of the night, I was walking home, blissfully tired, still barefoot, carrying only one shoe with me. A night to remember and a great start for what would be one of the most memorable trips I've ever had.
Rio's New Year's Eve, fun-loving spirit kept me energized for the next 2 months, which were all about beaches and nature: surfing and partying in Florianopolis, the Ibiza of Brazil; breathing nature in Ilha Grande, a paradise island with no cars, roads or airports; swimming and chilling out in Buzios, the playground of famous Brazilians, with its wealth of secluded beaches, bars and surf; taking lessons in Capoeira on the beach of beautiful Jericoacoara, a small hippie mecca on the north coast of Brazil; hiking in the Amazon Rainforest, where exotic animals and amazing plants are everywhere; exploring tiny indigenous communities along the river and relaxing on the pristine white sands of Alter De Chao, the Caribbean of the Amazon.
Nothing could prepare me, though, for experiencing Brazil's one week carnival celebrations at the end of February. The biggest party in the world, they say – and they are right. Where else can you find millions of people dancing in the streets of every Brazilian city to the sounds of non-stop samba from early morning till late at night, every day for 6 days in a row?
I decided to spend most of my carnival time in Rio, where literally hundreds of local bands (blocos) took over the streets in different sections of the city. They had been rehearsing intensively for months for this one moment, and you could see the excitement hanging in the air before the drums started to kick in and the street exploded.
Surprisingly enough, the official samba schools parade in the Sambadrome (a special stadium built just for this march), which is still a fantastic visual spectacle, but it's not even close to the sheer enjoyment I got from the local blocos spread all over the city. If you really want to participate and dance, you have to join the street parades!
A typical carnival day:
6:30 – Recovering from last night with a cold shower and a strong coffee
7:30 – Drinking an Acai juice
8:00 – Joining hundreds of thousands of people in downtown Rio for a mad, colorful, 4-hour street party
12:00 – Catching a packed subway to Copacabana beach for lunch and a "bloco" march all the way to Ipanema beach
15:30 – Acai
16:00 – Ipanema beach street party dancing until exhaustion or starvation or both
19:00 – Food & Acai
20:30 – Night party in St. Teresa or Lapa or Copacabana or Sambadrome
On the last day of carnival, I flew to Salvador de Bahía to experience a bit of the madness over there. I could only join some small street parades and enjoy a last day of perfect-sounding drums in my ear. My body was tired, though, so I left Salvador rather early and spent my last days in Brazil in amazing Chapada Diamantina National Park surrounded only by the sound of nature.
Live your dreams.
Chief Editor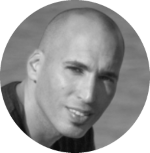 Tal Gur is an author, founder, and impact-driven entrepreneur at heart. After trading his daily grind for a life of his own daring design, he spent a decade pursuing 100 major life goals around the globe. His journey and most recent book, The Art of Fully Living, has led him to found Elevate Society.