As men, we hardly ever express vulnerability. We learned to hide feelings of insecurities and keep up the pretense that things are always fine.
But they aren't.
80% of all suicides are men
76% of problem drinkers are men
Men make up 93% of work fatalities.
The majority of the homeless are men.
Men have a higher rate of depression and heart attacks.
It almost doesn't make sense...Typically, in our society, men are usually portrayed as strong, successful, heroic...
And perhaps, that's the problem.
Society's expectation of men to be "tough guy".. cool dude.. hard-worker.. self-reliant.. alpha male... the breadwinner.. a romantic hero.. and the list goes on and on and on.
It's time to realize that these perceptions are harmful - even deadly.
It's time to redefine what it means to "be a man".
And its starts by admitting we have a problem.
-
Previous share: From Me to We
***
*To obtain more inspiration and motivation to achieve your goals, you definitely want to check out my extensive list of growth goals. This page contains SMART goal ideas that can help you establish new aspirations and attain greater heights in your personal growth journey. I utilized this page myself to create my own list of 100 life goals, which I dedicated a decade to pursuing.
Chief Editor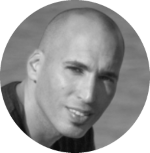 Tal Gur is an author, founder, and impact-driven entrepreneur at heart. After trading his daily grind for a life of his own daring design, he spent a decade pursuing 100 major life goals around the globe. His journey and most recent book, The Art of Fully Living, has led him to found Elevate Society.