Leveraging the Power of Social Skills
How important are social skills in the world of business? Networking has been a buzz phrase for some time now, but can such skills really take you from nowhere to somewhere and how exactly do you do that? Mike "Ambassador" Bruny has made a living out of just that skill.
The author of "Move the Crowd: 30 Days of Hip Hop Affirmations to Change Your Life", Ambassador Bruny provides a fresh voice to the world of motivation. He also offers very practical advice in his series The New Art of Network Conferencing Course.
So how did Ambassador Bruny become an entrepreneur, making his living off of doing something he enjoys and appears to have a natural talent for? How did he know that teaching others the skills of networking were his true calling?
Find out in our interview below.
1. Mike "Ambassador" Bruny - Where did the "Ambassador" come from and how does that represent you?
Ambassador comes from a branding session I had with a mentor, Andre Taylor. We were going through words that resonates with who I am and Ambassador came up. He thought of it after attending a vision board party I held for my birthday a few years back. I asked people to come dressed as they wish to be in 10yrs. My mentor saw how everyone was waiting on move / direction and the word Ambassador came up. As I thought about it, it really fit as my goal is to be an Ambassador to the highest vision people have of themselves. I want to represent that and hold it for them as a reminder when they are feeling less than their brightest.
2. There are motivational books out there on the market today and yet your "Move the Crowd: 30 Days of Hip Hop Affirmations to Change Your Life" stands out as something unique and more specifically, something that will attract and perhaps resonate with a younger audience in particular. How did you come up with the idea for this book? What was your motivation there?
Great question; most people don't ask me about that book :). It's honestly where my heart is. It is one of those visceral things. When I hear a lyric that moves me, I get goosebumps. I thought that I couldn't be the only one so I thought I would do something with it. I didn't just want to use others lyrics so I added my Affirmation piece to it. To me it was the difference between just listening and actually having an interpretation on how you could use the lyric.
I started with the idea of doing 101 Motivational Lyrics and quickly found that many of the people I spoke with have a favorite song but not a favorite lyrics. I slowly found different resources to help me find lyrics and the book was born. I was actually thinking about young professionals when I created that book. I've since used it in various settings for speaking engagements and created a blog with over 365 days of hip hop affirmations (there is still one book in me called, "The Ultimate Mash-up." That's all I'll say for now. I'll put it out there for the first time you and your audience. 2014 is the year that it will be created using Kickstarter. There, I said it.
3. You don't just offer motivational advice to people, but you also offer practical advice such as in your The New Art of Network Conferencing Course where you have motivational aspects, but also real how-tos. Would you say that network conferencing is a specialty of yours and how important is networking in the world of business?
I would say networking overall is a specialty of mine; conferences present a very unique opportunity to connect with a lot of people at once and decide who you wanna stay in touch with.
I would absolutely say networking or relationship building is important in business and life. The mindset to begin with is, "giving," and being around long enough to see an opportunity to help the other person. I could probably write a book on the number of opportunities that were possible because of the people I've connected with (that's both the opportunities where I was on the receiving end and on the giving end).
4. How has networking personally made an impact on your life and career?
Every single job that I've ever held was through networking. That includes working at Cornell as a camp counselor during my college years, becoming the Marketing Manager of College Athletics at UConn, being the first Team Sports marketing manager at New Balance and being an Operations Manager at Intel. It's also provided me the opportunity to give back with my Bow Tie line (www.TheBowTieFlow.com) where I raised money for a local org in Brooklyn where I first started learned to play football and this year to give to Charity Water. It's allowed me to connect people and watch them get things done. Would you consider yourself as having a natural talent at networking? I love people, I love watching social dynamics and being sensitive to what's going on. I like to give everyone a voice and I love getting to know people. I don't know if I would call it natural, but it's something I enjoy doing and actively work on--reading and practicing different things; which also means I've made some pretty stupid mistakes as well. Since you are a networking specialist, what one piece of advice would you give to people who are worried they can't
network successfully? I would tell them to make a list of the things they are good at, a list of the things they enjoy talking about and remind themselves that they have something to offer in every situation. Get grounded in the fact that building a relationship is not a transaction. It's not a wham bam thank you mam or sir. It takes time...so learn to put yourself in a position where you can follow-up when you meeting someone; play it cool.
5. On your website you mention that you have a particular focus on young professionals. How do these young professionals find you and your advice/coaching?
Most find me through groups I belong to or referrals. My actual focus has been shifting towards my conference networking work which seems to be leading me to conference organizers. Do you ever
work with others who wouldn't define themselves as young professionals? I'm worked with people who wouldn't define themselves as young professionals--execs, directors and the like.
6. You grew up in Brooklyn, New York to Haitan parents and eventually went to Hartwick College for a degree in psychology and then to the University of Massachusetts, Amherst for a master's degree in sports management. So how did you end up being a life coach, conference speaker, author, etc?
I actually just kept finding different aspects of myself. I like to tell people when I found life coaching I just found a label for what I already was. I'm one of those multipotential folks (shout out to Emilie Wapnick for the term and her great work at www.PuttyLike.com) What drew you to pursuing this entrepreneurial lifestyle? One thing I want to make sure is very clear which isn't always very clear when folks ready my bio. I also have a job...gasp. I work as an ambassador and operations manager at Intel. In all of the positions that I've held, I've always been Entre or Intra-preneurial. I love looking at different ways of getting things done and taking from different disciplines. What I love about Entrepreneurialship is taking ideas and turning them into things that are actually helpful to people. I love creating, I love speaking, I love the process (drives my wife crazy).
7. Has being an entrepreneur come with any costs? Have you had to make sacrifices along the way? How do you know it is the lifestyle for you?
As mentioned above I'm balancing the corporate work and the outside of corporate work. What I'm seeing is that the work I have been doing on the outside is allowing me to be more of an intra-preneur and call my own shots on the inside. I think a little bit different from folks who think the job owes them something and their are hard rules to follow. I like to look for opportunities where others see challenge.
The biggest thing I'm seeing is my on the outside and inside becoming one; that to me is very exciting.
8. Do you have any advice to anyone who might be interested in pursuing an entrepreneurial career such as yours?
Get to know thyself. Do the necessary work to know yourself and the direction you want to go. There is a lot of advice out there and if you aren't careful you can be really discouraged because the way someone else says it has to be done isn't working with who you be.
9. Another offering you have on your website is a Seth Godin book club where you mention your personal goal of reading all of Seth Godin's books. You also have some blog posts where you mention inspiration you have gotten from Seth Godin's writing. How big of an influence has he been on you and your career?
Seth has really been a big influence. The guy is just so profound in my opinion. Interestingly enough I only heard about him about 3 years ago at a leadership retreat. I read tribes an thought it was really dope. I checked out Linchpin and loved the idea of (paraphrasing) having to be good first before you get an opportunity. Too many people get stuck in, "as soon as the job changes their ways, then I will change mine;" it doesn't work that way. It's the same thing where people say, "I'll believe it when I see it," instead of "When I believe it, I'll see it." You gotta move first man, you gotta move first. Would you say you aspire to be as influential as Seth Godin yourself ? Wow, man I can't even see that far. I do want my presence to inspire greatness. I'm talking about the kind of thing where people see me and say, "I'd love to hangout but I have to go get something started."
10. You can be seen always sporting a bow tie. You even have a project titled The Bow Tie Flow that is linked to a charity, the Brooklyn Skyhawks youth football program. What is that all about and how does it fit into your life commitments?
The Bow Tie flow is all about style, sustainability and charity. Every bow tie is made from clothing that I (or my wife now) has owned. We give 20% of the proceeds to charity. We are about to kick off our 2nd collection in June and we are giving to Charity Water this year. Charity Water was selected after I had an experience camping and ran out of water. If it wasn't for my buddy's filter, which allowed us to get clean water, I don't know what would have happened.
The bow tie flow fits into my life commitment or should I say, it's part of the Ambassador's Creed principle, "Reciprocity." How awesome is it that people (including myself) get to look good and do good. It really blows my mind as I could not have seen this coming 2 years ago.
11. What is next for you? Do you have any ideas for your future brewing at the moment?
I got a couple of things brewing, but the vision is the 7 principals of "The Ambassador's Creed," guide everything that I'm working on. The principles are:
1. Run the Point = Take Action from where you are, with what you have.
2. The Wounded Healer = We all have limitations, but we also have a mission
3. Superman's Superman = No matter how how we climb we all need help or a place where we can be weak
4. The Books You Read = Knowledge with have a huge impact on your life
5. The People You Meet = This is where my Conference Networking work lives; it's all about connection and building community
6. Reciprocity = Giving back and being open to receiving (Where The Bow Tie Flow Lives)
7. Don't Die With Your Music Inside = Find a way to express that thing that you cannot not do (this is where my hip hop work lives.
Thank You
------
Ambassador Bruny is a conference networking speaker, author, and basically the how-to guy of making connections to help others developing thir career. With a focus on young professionals, he also helps people learn to be more marketable, gain clarity, and focus on their most important goals. Visit him on his personal website at ambassadorbruny.com or on Twitter @ambassadorbruny
Chief Editor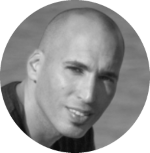 Tal Gur is an author, founder, and impact-driven entrepreneur at heart. After trading his daily grind for a life of his own daring design, he spent a decade pursuing 100 major life goals around the globe. His journey and most recent book, The Art of Fully Living, has led him to found Elevate Society.