Nate Damm: Traveling Across the US Solely on Foot
Why in the world would anyone want to walk from Delaware in the east coast all the way to California clear across the middle of the United States?
For Nate Damm the answer was an internal longing that kept nagging until he hit the road. Eight and a half months later Nate reached California with a love for the road, walking, and the opportunity to see and experience the world up close. He had succeeded in facing the challenges of physical survival, psychological development that only comes in solitude, and discovering the open and giving nature of people.
The walk across the United States continues to impact Nate's life in many ways. He continues to take advantage of every opportunity to travel the back roads (sometimes more like paths) often pulling over to walk and hike experiencing the gifts of the earth. He encourages others to get on their feet wherever they are and start walking their own neighborhood attentive to all that is too easy to overlook and take for granted.
For those who are feeling a longing to walk across America (or some other corner of the world), Nate freely offers the wisdom he has accumulated. Nate shares his experience and knowledge on his website. It includes "How to Walk Across America Guide" and a blog sharing his current travels, experiences, and insight.
As I read his blog and see the images of places I have never seen before, I'm really looking forward to read his new book, Life On Foot: My Walk Across America. It is not quite ready for release, yet, so in the meantime, I am delighted to have the opportunity to ask Nate some questions.
So grab a cup of tea or coffee and enjoy the journey as we get to spend some time with this adventurer.
1. Nate, thanks for taking time to share with us. I have so many questions but I will try to keep it to a reasonable number. First, let's start with the "why"- Why did you walk across America?
Thanks for the opportunity! As far as why, there were a few reasons, the first being that it was just a crazy idea that wouldn't leave me alone. I read about a guy who had done it before in a magazine and instantly knew I had to do it. Aside from that, I had always known I wanted to travel, just didn't quite know how I would. The walk fit my situation perfectly. I wanted to backpack slowly around America and had very little money, so the walk just worked. As I started walking I began learning other reasons why I wanted to keep going, such as seeing America in a way that is sort of unique (though lots more people walk across than you'd think!) through small, mostly ignored towns, and to get myself lost in some of the beautiful landscapes the country has to offer. I am from Maine and had never been west of Pennsylvania before the walk, so that part was very exciting.
2. Was there a single moment when you decided you were definitely going to walk across America? How much did you doubt your decision? Did you question your ability to do it?
Definitely. When I read that article I just mentioned, which was in Backpacker Magazine and written about a man named John Francis, I knew immediately. I'd been waiting for some idea to just click with what I saw myself doing, and that was it. That said, it was certainly tough to actually make it happen. I doubted myself a lot, for sure. It's a hard thing to do for anyone, let alone someone who had never traveled before. So yeah, I was scared. But I also had an inkling that it would all be worth it, which I held on to tightly. I sacrificed everything to hit the road -- job, apartment, girlfriend, etc. -- so I just sort of went all in and didn't give myself much of an exit strategy. It was hard at the time, but it worked.
3. What was your financial plan? Did you have the journey financed before you left or did you plan to earn funds to support yourself along the way?
I had saved up most of the money I needed for the trip, but also survived much of the time on the kindness of others. I had a small donation button on my website, which I never even mentioned at all, but it brought in quite a bit. People were unbelievably supportive from day one, it blew my mind. People I met along the way were also very helpful, from people who pulled over to give me a bottle of water to families who took me in and fed me for multiple days at a time. There are a lot of great, kind people out there.
4. What techie equipment do you take with you on your travels? Do you have a routine for writing and filming? What are a few things you cannot live without?
Not too much. I had a small netbook laptop and a digital camera, that's about it. I recorded videos whenever I felt like it and took quite a few photos. I did daily video updates for a while, but those sort of tailed off by the end of the walk. I was just kind of tired of doing them 🙂 I'd usually upload videos, photos and do little blog posts wherever I could manage to find Internet once I got into towns.
5. Your Walk across America Guide is available for free on your website. How does your site generate income? Do you have other work to support your nomadic lifestyle?
My site doesn't generate any income at the moment. For the last couple of years I've been funding my travels with a variety of freelance work, mostly writing website content for businesses. I've never made too much, but it's been enough to keep me on the road. I feel very fortunate to get to earn a living in such a way, but it also helps that I keep expenses at a bare minimum. Everything I release in terms of books, guides, etc. through my site (first book coming very soon) will be available in pay-what-you-want format, which I think is a really neat way to distribute art.
6. You have been hard at work on a book about your journey across the United States. What has been the biggest challenge with the project? Do you have an agent and publisher working with you or do you intend to self- publish the book? Are you nervous about its publication?
I'm going the self publishing route with this book. It has been a challenge and has taken me quite a while, but it's very close to being done. It turns out that it's sort of hard to write a book 🙂 I'm very excited about it though. More excited than nervous, for sure.
7. You have a TEDx Talk of a presentation you did at Claremont College. How often are you invited to speak? How do you decide which invitations to accept?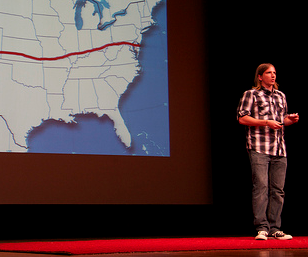 That was the first speaking engagement I was invited to do, and still the only one I've done! It was a blast, such a new thing for me. I'm so glad I had the opportunity to do it. I'm always open to new opportunities though. I don't seek out that sort of stuff on my own typically, but like I said, always up for new things to do and speak about.
8. In the original walk, how often did you think about quitting? What kind of things brought those thoughts? How did you keep yourself going?
There was really only one day when I gave it a serious thought. It was near the beginning in West Virginia. I was just plain old exhausted and getting used to being on the road. I'd never really traveled long-term before, so it was all just a part of the adjustment process. I kept myself going during the tough times by just trying to be as mindful as possible wherever I was. Thinking about the walk across the country as a whole thing was much too daunting and intimidating. I tried to keep my thoughts focused on just one day, even one step, at a time.
9. How has the walk changed how you think about yourself? Has it changed how you think about other people and the world?
It made me more confident in my ability to make the best of pretty much any situation. On the walk I had to just sort of power through a lot of tough situations, because there was nothing else to do. So it forced me to find a way to stay positive and find something, anything to enjoy. It certainly changed how I see people, too. I was amazed at how kind and caring people were to me along the way. I found that the vast majority of people are really good and want to just feel like they are helpful to others.
10. What advice do you have for readers who have a soul longing but haven't acted on it? When a nagging challenge presents itself how does someone get started?
The timing will never be right, so just go! It can be easy to just delay your dreams waiting for some ideal time to come along, but you'll often find that your worst case scenario if you fail (which you won't if you stick with it) is often right back where you are to begin with. It's not easy, but if it was everyone would do it. That's what makes an adventure fun!
11. You are close to finishing your new book. What is the next challenge for you? Do you have a long term vision of your future?
Writing more books and continuing to explore are my main goals, will be for the foreseeable future!
Thank you
---
Nate Damm is a young overland adventurer who completed an epic journey walking across America. You can read more about him on his website, natedamm.com, or find him on Twitter @whereisnate
Chief Editor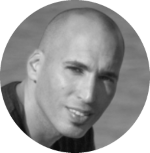 Tal Gur is an author, founder, and impact-driven entrepreneur at heart. After trading his daily grind for a life of his own daring design, he spent a decade pursuing 100 major life goals around the globe. His journey and most recent book, The Art of Fully Living, has led him to found Elevate Society.