Adam Shepard: One Year Lived
Have you ever left a movie or read a book that left you with the feeling that you could take on the world?
Adam Shepard exudes that kind of energy. Adam dedicated a year to accomplishing as many of the things on his "List O' Good Times" he created during a snow storm in college. During that year, Shepard bungee jumped in Slovakia, worked in a day camp for kids in Honduras, fought bulls in Nicaragua, mended barbed wire fence in Australia, rode an elephant in Thailand, went wakeboarding in the Philippians, hiked the Abel Tasman in New Zealand. Along the way he met a number of interesting people, visited 11 countries and maybe found his Eve. The book recording his adventures, One Year Lived, is available now at Amazon.
(Adam was kind enough to share his book with me and the readers of this blog. If you would like a FREE copy of the book, simply press the big LIKE button at the bottom of this post and the book will be instantly available to download to your device)
The trip comes only a few years after he made national headlines for taking a year to test the idea of the American Dream . With less than $25, a sleeping bag, and the clothes on his back, he settled in a homeless shelter in strange city to seek his fortune. His book about the experience, Scratch Beginnings: Me, $25, and the Search for the American Dream , was originally self-published and then picked up by HarperCollins. Before long he was being interviewed by major news organizations and being invited to do motivational speaking in a variety of venues. His book is part of the curriculum at a number of colleges and universities.
Shepard's energy to live life to the fullest springs forth as he shares the stories of his adventures and lessons learned. As you share this interview with Adam Shepard, you may well find yourself working toward the adventures of your dreams!
Enjoy.
1. Hey Adam, Can you please tell us a bit about yourself. What was the biggest dream that you went after?
Born and bred in North Carolina, I went off to college in Massachusetts. Basketball was long my dream, from age nine until I finished off my very (very!) brief professional basketball career in Germany.
You have come a long way from your days in a homeless shelter. Where did the idea of setting out with basically nothing come from? How did your friends and family react?
The idea for Scratch Beginnings came from reading a book called Nickel and Dimed by Barbara Ehrenreich. She wrote on the death of the American Dream, and I thought, "No, no. This can't be right." It wasn't the politics or social issues or financial issues that I was attacking (though she and I would disagree on those, too, likely), rather her tone was so discouraging that I found myself kind of crawling through the book wishing she would stop complaining. And then, after I finished, I said, "I'm going to write the rebuttal to this crap.
3. How did you choose Charleston as the place to attempt the American dream? Did you know anyone in the city? Did you do anything to prepare yourself for the move to Charleston?
I had twelve southeastern cities in a hat. I picked Charleston on a Monday and was on a train on Tuesday. (My mom was SUPER pumped to get me off the couch.) No, I did not know anyone, and those were two of the parameters: I couldn't have ever been to the city I chose and I couldn't know anybody.
I literally did nothing to prepare. I had the clothes on my back, a sleeping bag, a tarp, $25 cash, and my journal.
4. What did you miss the most from your old life? Did you ever doubt your ability to accomplish the goals you had set? Was there any point at which you just wanted to go home?
I missed Ma's cheesy hashbrowns more than anything. I never did doubt my ability to succeed but only because I was able to draw inspiration from the guys around me; I thought, "If this dude can have a good attitude, and he comes from a far, far worse situation than me, then there is no excuse for me to give up or not achieve what I set out to achieve."
5. Your book, Scratch Beginnings, is currently being used in a number of colleges and universities. How did that come about? Did you write with the intention of appealing to that audience? At what point did you create the book guide and other study materials?
The interesting thing is that when I wrote Scratch Beginnings, my first book, I didn't have a target audience. I was younger and new to the writing game, and I didn't even understand that one was supposed to have a target audience.
This ultimately worked in my favor, because an audience—high school and college students—emerged who was attracted to my facile writing style.
Now, here with my new book, I've tried to maintain my same writing style while hoping to create the vivid scenes that don't really exist in my first book.
After I got the first offer to speak to a college for an hour for about 6 times what I was making in a week, I dropped everything and started to strategize how I could more effectively target the school market. The first thing on the list was a study/reading guide.
6. Your first book was self-published. What was that process like? How was the book discovered by the media? How long was it before it you were approached by HarperCollins?
If you do it right, the process of self-publishing is a brutal one, and not something I recommend for everyone. (Of course, it's easy to just put your book on Amazon for about $100, but to self-publish right takes time and money.)
The story of my first book is the story of rejection. I couldn't get any media attention (even locally), and so I got a list of the top 100 newspapers in the country and started emailing each editor/journalist I could find. I got rejected all the way up to number 11, and Andrea Peyser, at the New York Post, said she would love to write the article.
And that article opened a floodgate of national media.
Interestingly, though, as I approached agents at that point, all 70 rejected me. Still. Even with all of my forthcoming media.
I was having lunch with my boy Dave, and his golfing buddy Steve was with us. I gave him a couple of books and he passed one along to his neighbor. His neighbor knew Shelly, who was a music agent in New York. And Shelly knew Dan, who is presently my agent. So, I kind of fed through the system there after getting rejected by so many other agents.
And then Dan did a number of great things with the book: sold it to HarperCollins, sold the Chinese rights, optioned the movie writes, etc.
7. Your second book, One Year Lived, will be released shortly. Can you tell us a bit about it? What inspired you to write it?
One Year Lived is the account of the year I spent traveling abroad. I went to 17 countries on 4 continents over the year and spent $19,420.68. Just a wonderful, wonderful year.
I was inspired to live the experience in high school when I read an essay in one of those (too many!) Chicken Soup for the Soul books. This guy had made a to-do list of his own, and then actually spent his life doing them. I thought that was pretty neat.
As for the book, I was inspired to write it after living through some crazy times.
8. How did the process for the writing and publishing of One Year Lived differ from your first book? Was it easier? Or more difficult? How much material did not make it into the final book?
This book was definitely much more difficult to write than my first book. My first book was easy to write: nobody respected me and nobody had ever read my work, so I had no expectations to meet. No pressure.
The publication of this book is a way different experience. It is important that I recognize that I'm held to a higher standard now, and so I must spent the time (and money) to do the publication right: editing thoroughly, sheek design concepts, a bulky publicity campaign.
9. How difficult was it to adjust to being back in the States? Are there things you miss about being on the road? Are you planning another foreign adventure?
Adjusting back to the States was super easy, but I knew that was going to happen. When I left to take the trip, I knew I would be back; and when you have that attitude, you miss everything a little less.
I love the life of being on the road. The food, the culture, the conversations, the nature, and the dude who has DVDs for sale of movies that just came out last weekend.
Travel is in my blood, but I'm not going to go abroad again until after I've effectively pushed One Year Lived out there.
10. How much writing did you do on the road? Did you keep a journal? What technological devices did take with you?
I did all of the writing of the manuscript on the road. (So when I got home, I was done and ready to move forward with editing.) This was important—VERY important—because you cannot write with complete integrity if you're writing about something from late 2009.
The only technological device I had was a little Asus notebook computer. That baby has smoked a lot of cigars in a lot of countries.
11. You seem to be internally motivated to challenge yourself. Do you think that is true? Tell us more about that internal process.
My internal motivation has been nurtured by my parents, no question. And I think the way that they have been able to inspire both my brother and me to be internally motivated is by allowing us our independence. Since we were children, they have allowed us to carve out our own path in the world, and the confidence that comes with that builds internal motivation.
When you fend for yourself (whether by force or by choice), you really have no other choice than to be internally motivated.
12. As you have undertaken the many challenges you have confronted, you had to have faced your own fears countless times. What is or are some of the scariest parts for you?
Fighting bulls in Nicaragua were by far the scariest moments of my life. Video is here and the full essay is here.
13. How much motivational and inspirational speaking do you do? How often do you travel? Popular speakers are often requested to do presentations pro bono. How do you handle those kinds of requests?
I do quite a bit of speaking. The summer is a slower time for me this year because I've been abroad and haven't been in the game, but I'll do forty paid gigs in the fall based on the success (or not) of One Year Lived.
For the next three years, my travel will revolve around my speaking gigs. My wife knew that after the year was done, "We're going home to the United States, and we're going to work," though I'd say speaking in front of audiences is a very loose definition of the word "work."
I never do pro bono gigs. I will negotiate with places where I can see that they clearly can't afford it. I love speaking to high school students, for example, but high schools don't have big budgets to just write checks to a speaker. I get that.
I don't do pro bono gigs, because that is how you get taken advantage of in the speaking world. Anyone and everyone has the means to get some money together, and if they are at least making the effort, if they clearly want it, I'll consider doing the gig.
So, I handle pro bono requests by making a note of the various ways that money can be raised.
14. What kind of marketing strategies have you developed for your books and speaking engagements? Were there any approaches that you did not find helpful? What has worked well?
I will say this to any aspiring author or speaker: present quality work. Scratch Beginnings was a good story, and it got media attention, but the reason its Amazon ranking is so devastatingly low now, is because it isn't a high-quality book. (It's not terrible; it's just average.)
And so I learned from that experience. Now, whenever I speak about One Year Lived, I solicit immediate feedback on how I can improve, no matter how much I might think I killed it on stage. When I write a book, I have four editors going over it over four different drafts. And I listen to them. This is important.
So, you can send out postcards and emails and everything else, but in the end, if you are a great speaker, people will hire you. And if you're a great writer, people will tell their friends about your book. So, focus on the quality of the content first.
15. Many writers advocate the use of a blog, and I noticed that you do not have one. What is your view of the use of blogs?
A blog is a GREAT resource for keeping in touch with fans of your work, to exchange different ideas with them.
I just simply do not have the time to maintain one!
16. What does "living the dream" mean to you? Is there a specific formula someone needs to use to live his or her dreams?
"Living the dream" to me is a matter of moving forward on an endeavor (or two, but not three, for me) with every little bit of soul I have inside of me. To give everything I've got without regard for what success might look like on the back end. To inspire and be inspired. To hold a product in your hand to which you know you could not have dedicated another touch of energy.
My endeavours, at present, are One Year Lived and maintaining a wonderful relationship with my wife.
17. Adam, you have done some amazing things. What is next? Before you left for the year, you said you wanted to do it before you had job and family responsibilities. Are you thinking about settling down or are there more adventures calling to you?
I'm just waiting on my ticket to the moon. What year are they supposed to do that again? I'd volunteer in a second.
I am married now—I met my wife Ivana on my trip around the world—though children aren't coming for another 7 years and 2 months.
So yes, travel plans in the future. She and I have both pretty much decided that South America is next on our list.
18. Finally, What is your message to someone who's about to embark on his dream?
Bloody well get on with it, and stop second guessing yourself.
Amen.
Thank you Adam
------
* As mentioned above, Adam was kind enough to share his book with me and the readers of this blog. If you would like a free copy of the book, simply press the big LIKE button below and the book will be instantly available to download to your device.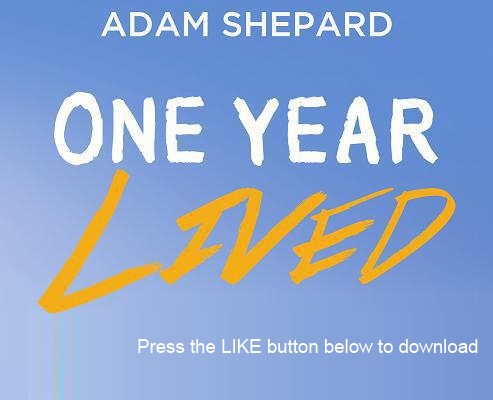 * If you cannot seem to get the above LIKE button to work for you, just contact me and I will take care of it..
Chief Editor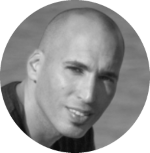 Tal Gur is an author, founder, and impact-driven entrepreneur at heart. After trading his daily grind for a life of his own daring design, he spent a decade pursuing 100 major life goals around the globe. His journey and most recent book, The Art of Fully Living, has led him to found Elevate Society.