Ozioma Egwuonwu: Unlocking the Power of a Dream
Ozioma Egwuonwu has a mission in life - to empower dreamers around the world. She has a deep drive to inspire, empower and ignite individuals to rise up and take a stand for the lives they truly desire. Not only for themselves, but for their families, their communities and our world.
In order to fulfill her mission she launched an evolutionary coaching program and also created the first ever International Day For Dreamers event. DreamDay is an event where people carve out time to co-create future possibilities. Held within each dream is hope for the future and held within each dreamer is a wealth of potential. DreamDay seeks to unlock that potential and by doing so, transform the world.
Read the interview below to find out more about her coaching approach and special projects that are inspiring people around the world to reach for the stars.
1. Please share with us some of the personal challenges you have worked through in your own life that inform your coaching practice.
I grew up in environments where it wasn't necessarily safe to succeed, because if you were perceived to be too smart, too happy, or too anything for that matter, you risked being ostracized. I was always conscious of this risk and that many people were unwilling to take the risk of not only showing up in their full totality, but also operating their businesses or living their lives from that stance. As a result of it, I saw many people falling into lives, companies and living communally in ways that were too small for them. Ways that could only be described as mediocre.
I always yearned to support people on the quest to be their best and
brightest selves. After having had a successful career as a commercial producer and having finished my second masters degree, this inner yearning to support people to shine fully, emerged at full intensity and I founded BurnBright Lifeworks, Inc. at the age of 25.
I coach, teach, and lead from a perspective that seeks to honors each
individuals desire to emerge from their challenges and step onto a path where their inner excellence can emerge completely.
2. When did you start BurnBright Lifeworks coaching, and what led you to name it that?
I started BurnBright in March 2006. In Nigeria culture, as with many cultures, to name something is to endow it with a certain type of future. It is believed that what you name something plays a major role in what it becomes.
I was led to a name in a flash of inspiration. The name is quite
significant, because it speaks to the core mission of the company, which is to ignite human potential. When an individual, an initiative, a company, a community is "Burning Bright" They are operating at the top of their game. The LifeWorks portion of the name speaks to the three levels at which we serve.
1. Products and services that support people on their personal journey (Life), as well as the professional/business one (work).
2. Specializing in tailored strategies that help people make their lives work, which is all about helping clients establish systems and structures and emotional states that restore efficiency and effectiveness from day-to-day.
3. Guiding people around the creation of their life's work, which is all about legacy. The work that is yet to be conceived, whether it be a business, a creative piece or your life story.
3. What tools and approaches have you found to be most successful in igniting people's passion and potential?
There are many tools that I believe ignite potential.
The corner stone BurnBright method is rooted in MasterPlans, which is a technique I developed even before the company was running fill steam. It entails a comprehensive plan that supports you in 10 areas of your life.
I also offer an approach called the Art of Breakthrough that guides people through a deeper exploration of how they have created powerful shifts in their lives and/ or businesses before and how they can use many of those same techniques to create that same shift in a desired area.
The newest transformational framework that I have developed is one that I launched publicly at TEDxBrooklyn. It's geared towards individuals who would like to lead a more inspired life or run a more inspired company. It's called Inspired Excellence and it is a simple 5-part framework that contains the essential core principles to helping you live inspired and achieve more excellence in your life and work. I believe creative professionals will find it particularly beneficial.
4. You've taught a course at Columbia University called Developing and Implementing Ideas. How has teaching that course affected your life and coaching approach?
I try my best to allow all areas of my life to inform each other. Teaching that course has definitely allowed me to create a fluid bridge between my business and my life. I believe in cohesion and integration. The creation of the course has enabled me to take some of the innovative concepts I tackle with my business clients and allow it to inform not only the way my graduate students currently see potential client problems, but how they will approach their careers moving forward.
The course provides an overview, as well as in depth practicum on classical, as well as innovative approaches to how to develop and implement ideas within the context of today's complex communication environments. During the course, I weave in elements of Strategic Planning, Cultural Strategy, Design Thinking, Digital Strategy and Social Innovation.
5. Many of your clients have pretty major "a-ha" moments in their very first session or consultation - what's the secret to making that happen for people?
I would say that I am quite a specialist at helping clients achieve breakthroughs in their personal lives as well as in their businesses. I believe it is due to the wide variety of techniques I employ. I am an experienced strategic planner from a business standpoint, but I am also a Certified Master Practictioner of NLP and Life/Motivational Coaching. In addition I have studied with wonderful teachers like Jean Houston and Debbie Ford.
I believe those flashes during their first session are impactful because of the approach. I am able to help clients view their personal and or business challenges from a vantage point that they were perhaps unable to see before working with me.
Many of us get blocked, but once we see a larger story and a bigger possibility for ourselves, we get inspired and as we get filled with that inspiration, oftentimes, a breakthrough occurs. Breakthroughs occur when we are so inspired by a possible reality, that we get fully committed to doing whatever it takes to achieve that desired result.
6. Can you explain a bit more about your concept of the Radiant Self and why it's so powerful?
Each of us has something inside that is waiting to emerge. The challenge is that we have allowed ourselves to be held back through painful past experiences or through fear.
I believe that each of us have a responsibility to bring forth the most radiant version of ourselves forward and allow it to SHINE completely.
The radiant self-I also call this concept the "FutureFlame" is who you really are inside. It's also the person you are always in the process of becoming; the version of ourselves that when we tap into it with a higher degree of frequency, phenomenal things begin to happen in our lives, in our businesses, and in our communities.
7. Is it really possible to walk away from a former version of yourself and how do you help clients do that?
I don't believe we "walk away" from a former version of ourselves. We evolve out of the fears, pain, past hurt, etc that that younger, less equipped version of you had. Overtime, you begin to develop a "taste" and acumen for a different way of being in the world, and it is that desire for a different kind of personal life, a different type of business strategy, a different type of community engagement that creates the energetic pull that draws us closer to a more brilliant version of reality. It is all based on energy. Falling passionately in love with inspired energetic ideas about your life could be, about how your business could function...that is what its all about. Life itself is energy.
8. Let's switch gears a bit here and talk about your newer project - DreamDay. When and why did you first get the idea for it?
The kernel of the idea came to me when I was inspired by a quote from Sara Ban Breathnach that said: The world needs Dreamer and the world need doers, but above all the world needs dreamers that do. This was the creative spark of ignition that set me on the path to empowering dreamers to DO. The idea for a DreamDay, which is officially known as the International Day for Dreamers emerged organically.
9. How did you take the initial idea and make it into an actual functioning project?
After the idea was sitting within me for a couple of months collecting dust, I had a conversation with a woman by the name of Juby Phillips from Albany Georgia that reinvigorated me. She was so inspired by the idea that she expressed a desire to host the idea in Georgia along with Jean Houston's local Social Artists.
After Juby, I decided to take the idea one step further and make it a global experience. I took on the role of "Dream Activist" and began my recruitment phase. I started to openly invite anyone who was interested in hosting their own DreamDay event. From then on, I started to host Monday evening global calls to create deeper alignment and synergy within the team. As a VP of Strategy, I have run networks across North America and have also built strong global alliances, so it wasn't completely unfamiliar territory. However, doing it without corporate resources was quite challenging. It was fun to be inventive.
There are many parts to the DreamDay experience, but core to the experience is:
1. The Dream Declaration where people share their dreams through
taking a picture of themselves with it written on a piece of paper or using one our downloadable forms.
2. The Dream Dialogue where people select the role of giver or receiver and support each other to achieve their goals. It's a 20 minute conversation and we provide scripts to guide the conversation. These conversations happen all over the world, in person or via, Skype, instant messenger, google+, etc.
3. The Dream Celebration: an inspired event that someone hosts to honor the power of dreams in action. It can range from simple to elaborate: Meaning it can be a house party, a picnic, a poetry reading or even a gala.
10. DreamDay 2012 was the first one - are you pleased with the impact it has had?
I am a big fan of people setting their own metrics of success. That being said, the impact of DreamDay 2012 completely blew me away. The experience was launched in little over 6 weeks and during that time, we were able garner participation from over 21 locations around the world. What humbled me most is that many individuals created their own unique experience, tailored for their own life and to serve the need of their particular community. For example, one community used the filter of dreams to re-envision what is possible for Albany, Georgia. I also hosted a live streamed Dream Strategy workshop which was also well received and helped equip many people with how to create a menu of actions to make their dreams real.
11. What went into the choice of August 25th to be DreamDay?
The selection of that date was intentional. Every year, many countries around the world honor their ability to labor with labor holidays, I selected the Saturday of the weekend before Labor Day because I wanted to highlight a simple truth, that before one labors, one must dream.
12. How important is it for participants to engage in the Dream Dialogue part of the project and what does it do for people?
The Dream Dialogue to me is one of the most essential elements of DreamDay and I encourage individuals to participate in one every year, because not only does it allow you to receive support on your dreams, but you also have the option of giving support. A perfect balance of selfishness and altruism!
Most people report LOVING the Dream Dialogue because it really connects them to a larger experience of what it means to give and receive. It's a Dreamers version of Birthday/Christmas!
13. Are planning on keeping DreamDay going for 2013 and if so, any new ideas for expanding or enhancing it?
I am currently in the process of planning 2013 and all I can say is that it's going to be even more amazing experience. My dream is for the International day for Dreamers to continue to gain momentum and do it's part in transform lives, businesses and communities globally.
We are definitely also opening up ways for corporate and individuals to support this powerful cause and host conversations to empower transformation in areas that need it most.
My team and I are always looking for ways to evolve how this experience can serve more individuals and countries around the world.
Thank You!
--------
Ozioma Egwuonwu is a consultant, coach, and the creator of Day For Dreamers event. You can also find her on Twitter @bblifeworks
Chief Editor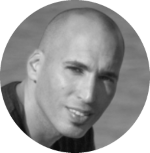 Tal Gur is an author, founder, and impact-driven entrepreneur at heart. After trading his daily grind for a life of his own daring design, he spent a decade pursuing 100 major life goals around the globe. His journey and most recent book, The Art of Fully Living, has led him to found Elevate Society.