There are many factors that constitute a successful journey. But perhaps the biggest secret of success is one's mental toughness and his or her ability to move beyond pain.
You see, eventually, we all reach a threshold, the point at which we just can't go further. This is where our ability to withstand discomfort becomes vital.
My friend and fellow entrepreneur Joel Reunion, founder of Impossible HQ, believes this attitude can make us invincible. Joel has been taking cold showers first thing in the morning for a few years now. As soon as he gets up, he jumps in the shower, close his eyes and turn the temperature to ice cold.
Why? Because it helps him to tackle any challenge life might pose.
As he puts it in his empowering Ted talk, "If you're not willing or able to be the type of person that's willing to be uncomfortable for five minutes alone in the shower, where the only negative outcome is you being cold, then how will you ever have the strength or courage to be uncomfortable in a situation where the outcomes are much, much greater?.."
Being invincible means that no matter how grueling the circumstances - whether it's running your last mile in a triathlon or taking a cold shower in the morning - you're able to withstand the pain and triumph over it
I personally mastered this lesson on one particularly grueling two-hour uphill cycle during my Ironman journey.
The following is taken from my best-selling book, The Art of Fully Living:
My Two Hours of Hell
...The enchanted mountain road was lined with green trees and flourishing blossoms but I hardly enjoyed the view. After 30 minutes, my legs were burning, my stomach icy cold from dread and extreme strain. I was struggling to keep up with the group. If I'd been alone, I would have turned around, given in. But somehow I dug down and pedaled faster.
That was the day I discovered a level beyond pain. Instead of resisting the anguish or pretending it didn't exist, I climbed into myself… I consciously decided that my body could handle it. I accepted the pain, relaxed around it.
After all, I reassured myself, it's all in my head. I chuckled at the whiny voice in my brain shouting "Stop!" Not yet, buddy. We've got this.
As I continued pushing, following my triathlon teammates, I welcomed the pain, thanked it for making me better- even loved it. Then that same wave of love revitalized me deep inside, and just like alchemy, the suffering transformed itself into pure momentum, fueling me up the final steep ascent. I ate the pain. Time slowed as I experienced perfect flow: a sensation of wholeness, inner strength, focus, control, ease, fearlessness. Peak performance, the ultimate "high" in human functioning, as it's described in the world of sports. I'd call it magic.
At the top of the mountain, I stood tall aside my exhausted companions, our bikes waiting against the nearby guardrail. Endorphins rushed through my veins; my lungs expanded to their fullest with every satisfied breath. A cloud engulfed us, then passed along so that the spectacular valley floor and surrounding mountains shone again.
So *this* is the other side of pain, I mused inwardly.
Not bad.
How to Embrace Discomfort
You don't have to train to an Ironman or take cold showers in the morning to get used to discomfort. You can challenge yourself in any way you like, but you do want to do it consistently for a considerable period of time. Otherwise, you're at risk losing momentum and falling back into old patterns.
I mean, we've all been there at some point in our life. We stay on track with our plan for a week or two, but then life just gets busy and, before we know it, we lose touch with our intentions.
This is where daily rituals really come into play. They support us when willpower fails and help us to continue working toward our dreams even when we are not motivated. My fitness and Ironman journey taught me that without the ability to maintain consistency, I can never fulfill my potential and my mission. It was a lesson I carried with me throughout my life.
Take a minute now, and think of a ritual you want to form, one key ritual that if done on a daily basis for a period of time would make a massive difference in your journey towards your dreams. This may be waking up at sunrise, working out every day, or quitting facebook for a period of time. Whatever it may be, make sure it's challenging enough so you can embrace discomfort and grow as a result of it.
Personally, I like 30 day challenges, because they are long enough to make significant behavioural changes and short enough to keep me excited about it. Once I hit the end of my 30-day challenge, I can decide if I want to instill my new behaviour as a new habit or stop altogether.
The possibilities are endless so pick something meaningful - something that inspires you and correlates with your big aspirations.
Final Words
Your ability to withstand discomfort and go beyond your pain threshold may be the defining factor between reaching your goals and giving up - be it in sport or in life.
It is what allowed me to survive a very grueling Ironman journey where I would go for 6-hour long bike rides or jump into freezing ocean water in the middle of winter. And it is what allowed me to take on my other big goals on my list.
Someone once said that life begins where your comfort zone ends. So the next time you feel uncomfortable, don't make the easy choice and flee from it. Instead, do the opposite - embrace it. Choose to be uncomfortable in the pursuit of greater reward.
It's all in your head.
Founder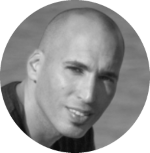 Tal Gur is a location independent entrepreneur, author, and impact investor. After trading his daily grind for a life of his own daring design, he spent a decade pursuing 100 major life goals around the globe. His most recent book and bestseller, The Art of Fully Living - 1 Man, 10 Years, 100 Life Goals Around the World, has set the stage for his new mission: elevating society to its abundance potential.