Pat Flynn: Income The Smart Way
When you find yourself taking a hard blow from life, you have the power to choose from two options – to get up and make the most of what you have, or to wallow in self-pity and slip down a few paces. It is the choice that you make, and you always have the power to choose, even if it may seem like you have been trapped in a room sans doors and windows.
You should be able to put yourself in an objective frame of mind and take stock of your situation. For example, if you lose your job, you will want to be slightly flexible with the alternatives you browse through. The alternative may not be able to pay you the salary you are accustomed to or give you the flexibility of your previous job. Taking it to be a temporary discomfiture will help you deal with the situation better. Consider it the initial investment to steer your boat into less choppy waters.
Pat Flynn is an example of what results from positive thinking, keeping your faith intact and daring to venture out without sitting back and licking your wounds. He epitomizes smart thinking and showcases true entrepreneurial and leadership qualities. What places him on a pedestal elevated over his peers is his selflessness. Flynn is the founder of the blog Smart Passive Income, where he shares all the methods and techniques he employs and every action that he takes to make stunning passive income, allowing readers to pick a leaf out of his book and profit themselves.
Pat Flynn's current lifestyle, which is the source of much inspiration for thousands, kick started in 2008 when the still prevalent bout of economic recession snatched his job away from him. A Job Captain in an architecture company, Flynn loved his nine to five job and had no regrets, grumbles or any plans of leaving his line of work. When he thought all was fine, fate reintroduced itself to Flynn in the form of walking papers served by his firm.
Flynn was passively interested in online businesses even when working as an architect. He used to spend substantial amounts of time reading up on startups online and about all the technical and content creation and marketing aspects of creating a business on the Internet and keeping it afloat. His first tryst with creating a blog came about when he created an informational blog to accumulate the material he referred to when studying for his LEED exams, so that he could study even when on the move. It was much later that he learnt that his blog space had evolved into a much sought after reservoir of information that was helping thousands prepare for their LEEDs. His blog, he found out, ranked high on Google for relevant search terms, a vied position in the cyber world.
When Flynn was faced with unemployment, he lost no time reviewing his position and decided to test waters at online businesses. Flynn decided that he wanted to work such that he could earn his bread but could also spend more time with his family. "Practicality" is a dangerous term – it is what hinders you from doing what your heart desires and forces you to lead a half-hearted life. It is thus important to remember that success has always embraced those who have been wholehearted about their work, and this is a feeling that accompanies your efforts only when you are able to fit your work into the bigger picture of your life.
Flynn was no stranger to the ropes of cyber space as he did fortify himself with functional knowledge regarding Internet business. When he realized that he had an impressive readers base and attracted considerable traffic, he employed Google AdSense to make his blog rewarding. He then went on to sell ad space on his blog, and he began earning without investing any effort. This income was not sufficient for him to support his lifestyle, and so he expanded.
The Smart Passive Income Blog is a platform though which Flynn shares with netizens about how he earns his income. Both his victories and achievements are transparently posted online so that others can learn from his peaks and troughs and make informed choices themselves. Flynn also compiled an e-book, apart from podcasts, with the same content (90% similar, he claims) from his blog, albeit in a more organized manner, and he raked in a small fortune from the sales of the book. He even posts the actual figures of his monthly income so as to remove any doubts in the minds of his readers regarding the efficiency of his work. Flynn also works on creating iPhone apps, creating the concept and designs while his team takes over the completion of the project.
Flynn claims that he is today a happy man who has all the time in the world to spend with his one-year-old son and his wife, even as he earns enough to lead a comfortable lifestyle. In fact, his online business picked up such an extent that he refused an opportunity to return to architecture as his new work was bringing in more cash for comparatively lesser effort.
Flynn asserts that genuineness is the key behind his success. Those who are truly passionate about their work and intend to leave a mark behind do not opt for shortcuts like "make thousands from home" offers that essentially amount to nothing of value. Online success comes even in the face of staunch competition if you deliver original content, be it informational or entertaining. Respecting audiences by not supplying jargon to them.
Pat Flynn candidly tells his readers on his blog that he is only promoting products created by him, and sometimes others, that he has used and experienced and deems will be useful for him readers. This enables him to establish a trusting relationship with his readers, and this is a factor that is vital for the success of a venture like this. You must be genuine and go with methods that boost your performance to be successful.
Photo Source: smartpassiveincome.com
Chief Editor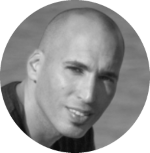 Tal Gur is an author, founder, and impact-driven entrepreneur at heart. After trading his daily grind for a life of his own daring design, he spent a decade pursuing 100 major life goals around the globe. His journey and most recent book, The Art of Fully Living, has led him to found Elevate Society.