New Year's Eve doesn't have to be about who can shout the loudest and drink the most. It can be about quiet reflection, making heartfelt resolutions for the year ahead.
This year, I decided to spend my New Year in a remote place in nature. No big party, no fancy celebration, no bells and whistles - just nature, me, and my dreams.
The past year was another defining year for me, a chance for me to realign my proprieties and the deeper layers of my soul.
Somewhere along the path, I became distracted and lost the vital connection with my truest desires. I ended up reacting to circumstances, meeting other people's expectations.
But then, as it often does, life decided to throw me another curve-ball: another unexpected snake encounter.
This time, not one, but three snakes appeared and nearly bit me, all within 24 hours, and, portentously, almost exactly one year after my life-changing snakebite.
I could not let this pass as a coincidence. I took these new snake encounters as a message, telling me it was time to make a much deeper mindset shift.
And I did. Immediately after, I spent time and got back in touch with my innermost dreams and devised a route to fulfill them.
My year has not been the same since then.
What about you?
Are you planning to face your wildest dreams in 2019?
I use the word "wildest" for a reason. Small dreams have no power to drive your heart to its desire. There is no magic in small dreams—no fuel for inspiration.
So my main message to you is this:
In 2019, dream big.
Don't limit yourself and try to be practical with your choice of dreams. Allow yourself to be free of boundaries and truly follow your heart.
Possibilities are unlimited and more realistic than you think.
Happy New Year!
-
Previous share: Men, We Have a Problem.
***
* To gain more inspiration and motivation for your personal growth journey, I recommend visiting my SMART goals page, which offers a wide range of goal ideas to help you establish new aspirations and achieve greater success in life. This list was crucial in the development of my own life goals list, consisting of 100 goals that I pursued for ten years.
Chief Editor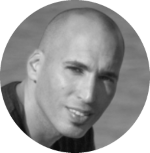 Tal Gur is an author, founder, and impact-driven entrepreneur at heart. After trading his daily grind for a life of his own daring design, he spent a decade pursuing 100 major life goals around the globe. His journey and most recent book, The Art of Fully Living, has led him to found Elevate Society.