My beautiful partner and I have recently completed a 12,000 km journey around Australia. Our adventure started from Melbourne up the East Coast to the golden beaches of North Queensland. From there, we crossed the continent back to Melbourne driving straight through the middle of the outback.
It was a wonderful 3 months road trip that produced lasting memories for both of us. It was also a good way to deepen our relationship as we saw each other at our most raw, basic form.

ELEVATE
Free Resource: A step-by-step blueprint to help you set and realize big dreams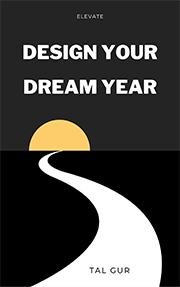 In this post I'd like to share a few of my favorite spots and experiences during the trip, some of which have increased my affection to this wonderful country.

My ultimate home base
(Melbourne, Victoria)
This is my 2nd long trip around Australia. The first one took place almost 15 years ago, when fresh out of the Israeli army, I decided to go across the country on a motorcycle.
About 4 months into that trip I injured my leg after slamming into a tree and chose to fly to Melbourne for recovery. In Melbourne I was just a backpacker working as a restaurant dishwasher, but it was one of the happiest, most fun, periods of my life. It was also the reason why I got back to the city a few years later to do my masters degree.
There's something about Melbourne that is so warm and welcoming. Whether it's the cosmopolitan vibrancy of the city or its relaxed lifestyle, Melbourne has found a special place in my heart.
After living there for more than 5 great years, I can honestly say that Melbourne is one the best places in the world to live in and, no less important, have fun.
Best of all, some of my closest friends live in Melbourne, which makes this city my ultimate home base. Kyle, who was visiting the country for the first time, had the luxury of being hosted like a family by people I love dearly. It also served as an opportunity for her to experience the lively atmosphere of the city and the welcoming spirit of my friends.
I rented an apartment near the south bank of the Yarra River, a few minutes walk from the famous botanical gardens. Visiting this lush floral heaven soon became our daily routine.
The 40 hectares of Melbourne's gardens with their relaxing and serene landscape is a great place to unwind and reinvigorate. There's nothing like a long brisk walk or a leisurely stroll through the tranquil beauty to clear the mind and satisfy the senses. The endless fields of green and the multitude of colorful flowers leave one feeling balanced and peaceful.
Personally, Melbourne was a great place to unwind from a long 18 months trip so I arrived to the city a few months before Kyle and set the goal of completing an Olympic distance triathlon. It was a great to way to regain my fitness and, in the same time, enjoy the benefits of a structured training routine (or any routine for that matter).
After months of decompressing and slowing down in Melbourne, it wasn't long before I found myself back in the traveling mode, ready for some new explorations.

ELEVATE
Free Resource: 1000+ SMART goal ideas to inspire you create your life goals list.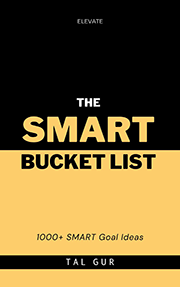 Running from Coogee to Bondi Beach
(Sydney, New South Wales)
The age-old argument of which is better, Melbourne or Sydney, continues to be a lively discussion among locals. For me, there is no competition between the two. Both are winners.
Sydney and Melbourne have different qualities and characteristics. Sydney is a more dynamic, fast-paced city with stunning natural beauty, while Melbourne is more laidback and artsy. I love them both and, in fact, in 2 different occasions I had plans to move and live in Sydney but somehow it never happened.
One thing I love about Sydney is how outdoorsy it is. The locals are passionate about fitness (others would say obsessed) and the streets are constantly busy with runners, bikers and power walkers, all keen to get their feet moving.
After a day of city exploration including the magnificent opera house and the local botanical gardens, we decided to explore Sydney's famous beaches by running.
We started from the beautiful Coogee beach in the South and ran all the way to Bondi Beach, perhaps the most celebrated beach in Australia. It takes less than an hour at a reasonable pace, but pausing to enjoy the spectacular views along the way make it longer.
Our favorite stop on the run was a secluded pocket-sized beach called Gordon Bay. We stopped there for yoga and meditation to the soothing sounds of water. The place reminded me an old Italian fishing village with its racks of fishermen's boats.
It was simply beautiful.
The last part of the run meanders through majestic cliffs, rocky coves and a number of pristine surfing beaches. There are only a small number of cities in the world with such beautiful landscaping and easy access to a surfing beach.
For this reason and others, living in Sydney during summer is still on our list of possibilities.

ELEVATE
Free Resource: A step-by-step process for a better relationship with social media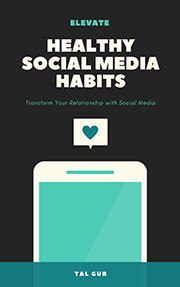 Spotting Koalas in the wild
(Raymond Island, Victoria)
From the first day Kyle landed in Australia, she wanted to see Koalas. I tried to explain her that it is extremely difficult to spot them snoozing in eucalyptus trees. In fact, in 6 years of living in Australia, I hadn't seen even one in the wild.
She didn't want to give up of course and on the first day of our trip, her head was constantly tilted back, alert to movements in the trees. I was laughing inside (well, mostly inside) and allowed her to keep dreaming.
While exploring Wilson's Promontory National Park on our 2nd day, we coincidentally passed a friendly guy with a telescopic-lens camera around his neck. He showed us some of his recent nature photos . A few of them were close up snapshots of Koalas. Needless to say, Kyle immediately wanted to know where the photos were taken.
"Raymond Island, 350KM East, Koalas guaranteed" he pronounced dramatically in his think French accent. The next day we found ourselves on Raymond Island with one mission in mind: To find Koalas.
After half an hour of walking, I heard a high-pitched scream right beside my ear. It sounded as if someone bumped into a ghost. It was just Kyle and yes, she had just spotted her first Koala.
I quickly reached down to get my camera out, and while doing so, I had a second look at my future wife. She just stood there, still as a statue, and as she blinked, a silent tear slid down her cheek.
Surfing off the golden beaches of Australia
(Byron Bay, New South Wales)
Byron Bay is the Mecca of surfing in Australia. It is known for its long surf breaks and the quality and consistency of the waves. And the best part for me, the water is noticeably warmer than the Southern beaches and is almost crystal clear. It was indeed a perfect place to continue my love affair with surfing.
We rented a house close to the beach, bought 2 surfing boards, and hit the beach as often as possible.
One day I remember in particular. It was a perfect blue sky day and I was sitting on my board waiting for a wave. I lifted my eyes toward the point where the flourishing green hills rise above the sandy beach, and thanked the universe for being alive on such a day. My heart filled with so much gratitude I thought it could explode.
I just I laid back down on my surfboard, closed my eyes, and let the gentle waves take me to the shore.
Getting to Heaven on a boat
(Whitsunday Islands, Queensland)
During our trip we had some kind of a reasonable daily budget, however, once we got to Airlie beach, the gateway to Whitsunday Islands, we decided to splurge a bit and took the more expensive sailing cruise option. We simply couldn't resist when we've heard that there would be 2 chefs on board.
Every evening, a delicious dinner was served on white linen-covered tables, underneath the stars and to the sound of little waves lapping against the boat. Hard to beat such a setup!
The boat and the food were indeed magnificent but the main attraction was the natural beauty that surrounded us on daily basis and evoked a sense of awe. We were cruising between uninhabited tropical islands, with green-forested hills, and to the backdrop of incredible bright red sunsets like I've never seen before.
On the last day we stopped Whitsunday Island, the largest of the 74 islands in the Whitsundays, and hiked down in the bush to a long strip of gleaming white beach called Whitehaven. Its pure silica sand and crystal clear aqua waters, made me think of only one word.
Heaven.
Skinny dipping in nature
(West MacDonnell Ranges, Australia's outback)
As I expected before starting this trip, Ayers Rock, or Uluru as it is more commonly known, was not my favorite outback experience. In fact, the swarms of tourists and the ubiquitous outback flies made it my least favorite activity.
For a more intimate and pleasant outback experience I highly recommend exploring MacDonnell Ranges on the west side of Alice Springs. The panoramic landscapes that stretch out for hundreds of miles offer some of the most spectacular nature settings that deserts can offer.
And what is more refreshing on a scorching day than a naked swim in a stunning natural gorge?
After a short nature hike, we could start hearing the flow of water in the distance, and soon came upon an oasis-type place where high red cliffs meet deep natural swimming holes.
We were alone, far away from other tourist hubs, and it was absolutely stunning. We didn't think twice, took our clothes off and spent an afternoon swimming and sunbathing naked on the rocks.
Heaven (II).
Last Words
Australia is sometimes referred to by locals as "The Lucky Country". This remark has been used, among other things, in reference to its richness, diversity, and the geographic isolation from world's major problems.
After living, working and traveling in the Southern continent, I couldn't agree more, and as someone who was born in Israel, I myself often refer to Australia as "The Real Holy Land".
Live Your Dreams!
Chief Editor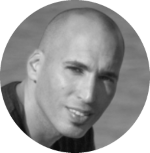 Tal Gur is an author, founder, and impact-driven entrepreneur at heart. After trading his daily grind for a life of his own daring design, he spent a decade pursuing 100 major life goals around the globe. His journey and most recent book, The Art of Fully Living, has led him to found Elevate Society.