Sales Copy Formula – 14 Simple Steps to Writing a Sales Page that Converts
You can have the best website and product in the world, but if you don't have a sales page that converts visitors into paying customers, you're simply wasting your time and energy.
In this post I'd like to walk through a sales page structure from start to finish, using my coaching service sales page as an example.
This one-page service offer alone helped me generate dozens of coaching clients in the last year.
So without further ado, let's get into it.
Step 1: Attention grabbing headline
Write a headline that catches attention and offers results to the reader. You can use something in the line of: (RESULT 1), (RESULT 2), and (RESULT 3) Without (MOST COMMON DRAWBACK)!.
For example, "Learn how to break out of the rut, get your biggest dream off the ground, and build a life of your own design - without burning out or fading away!"
Step 2: Open with an emotional hook
If you want to pull the reader into the content of your sales page,it's important to connect with your reader on a deep EMOTIONAL level right from the start.
One way to do that is to communicate the reader's current PAIN or future PLEASURE - The fact that all human behaviors are driven by either avoidance of pain or pursuit of pleasure makes this type of opening a powerful start.
For example, "Do you have a big dream that you can't get off the ground? Do you often feel stuck, unable to make the changes you want, like you're running a race you just can't win? The harsh reality is most people will walk through life without ever fulfilling their true desires."
Step 3: Vividly paint the problem
People buy solutions to problems, not features, skills or talents. If people don't know what problems you will solve for them, it's unlikely they will buy your service.
At this point you can describe the problem/s causing the pain or preventing the pleasure in more detail. Don't introduce your product yet, just vividly paint the problem.
For example, "You probably know the feeling... You start out on a journey, full of passion and excitement. Your make a good beginning and seem to be progressing towards your goals quite well, but as you go along the way, you lose sight of the destination. You feel fatigue and begin to procrastinate. Every step becomes harder to take and longer to complete..."
Step 4: Include yourself in the conversation
Show the reader you understand what they are experiencing and that you get it. Perhaps you even struggled with the problem yourself and/or tried different solutions with no results.
For example, "You're not alone. I was there myself, I still remember how stuck I felt... I tried countless "self-help" books, I read just about every blog out there and nothing worked..."
Step 5: Show credibility
People buy from people they trust and respect so it's important to come across as credible and trustworthy as possible.
Here are a few questions to help you formulate it into writing: Why should the reader listen to you, take you seriously, or believe you? What makes you an expert on this topic? Do you have any unique story that can contribute to the credibility of your service?
For example, "After building dozens of online businesses from the ground up and making enough online income to live life on my own terms, I have learned that it's less about puzzling through information and more about taking action"
* One important note about credibility: If you're new to online business, be prepared to accept that building credibility might take time. These days, It's often said that, on average, you'll have to connect with your prospective customer seven times before they will eventually buy from you.
Step 6: Reveal your solution
Introduce your product or service. Explain to the reader what it is, what it isn't, and what's in it...what can the reader expect after purchase? Communicate the unique trait that makes your solution special and better than alternatives.
For example, "Rather than passive absorption of large amounts of information you may have seen elsewhere, my product is built in a way that divides the information into manageable chunks".
Step 7: Include a list of key features
Spell out in a bullet point list the features of your offer. Remember, most people scan sales pages rather than read, so you want to emphasize the key points in a bullet-list format.
For example, "Here's what you'll get: Access to all my resources, past and present; A private Facebook group with great accountability and support; ..."
Step 8: Add a list of core benefits
Be sure to communicate not only features but also the underlying benefits of your offer.
For example, "The direct and immediate benefits to you: Change some of your limiting beliefs; Stay motivated throughout your journey..."
Step 9: Consider qualifying your prospect
Who is the product for? Qualify the reader by making statements about who it is for and who it is NOT for. Show that you understand your prospects and that you talk directly to them.
For example, "I want to ensure that we are the right fit for each other in order to not only have better results, but also an enjoyable experience. I'm looking for people who are excited about turning BIG dreams into reality and are willing to put in consistent effort.."
Step 10: Embed a well crafted Call to Action
Wrap up your sales page with a clear and compelling Call-to-Action, requesting the reader to take the next step - 'click the buy button', 'apply by email', 'share on social media', or whatever you want them to do To make your Call-to-Action more compelling, you can include one or two benefits to go with it.
For example, "Click on the 'Apply Here' button below and start achieving your big goals today!"
* Note: you can also weave this call to action into your offer in multiple places and not just in final part of your sales page. You can easily create buttons via the PayPal site (or Gumroad if preferred)
* Another important note regarding pricing: Don't worry about coming up with the perfect price. This will change as you discover new insights and perspectives. Just start somewhere, test your assumptions along the way, and perfect it over time.
Step 11: Make an offer hard to refuse!
While reading your copy, some prospects may be having doubts or second thoughts. One way to address those doubts is by making an irresistible offer that can help you seal the deal.
You can include free bonuses, give a free trial, or provide other motivators such as creating a sense of urgency or scarcity.
For example, "buy now because space is limited", "buy now before the price goes up" or "limited time offer! - Buy now and you'll get my other courses for Free."
Step 12: Guarantee your offer
Another way to handle objections or second thoughts is to include a solid guarantee on your product. Guarantees help build trust between you and your future clients. You can give a money back guarantee or some other satisfaction guarantee with your services.
For example, "This is a month by month program that can be canceled at any time so you have nothing to lose and everything to gain. If you feel you have not received significant value from my coaching, you can quit at anytime and you will not be contractually bound for the next session."
Step 13: Proof that your service actually works
A powerful way to to build more credibility with your offer is to offer some kind of proof that your business delivers. Written Testimonials and specific examples of how the product or service worked for others is key. Simply ask for short testimonials from anyone who has ever used your service and embed them at various places on your page.
TIP: Any headline put in quotes will get more attention. Also, potential customers are more likely to trust testimonials accompanied by a photo. Studies have proven that gazing into the eyes of another increases the 'trust factor'.
Step 14: Finally, wrap up with a positive note
It's beneficial to end your sales page on a positive and reassuring note. You can wrap your sales page with a line about being excited to work with them, get started or see them taking action.
For example, "I am both privileged and grateful to have the opportunity to work with you. I'm looking forward to seeing you inside."
That's it.
Check again the sales copy of my coaching page to get an idea of how these pieces fit together.
And don't worry about making your sales page perfect, flowing or full - you can improve later as you go along. Just make sure your offer has the most essential components, those that resonate with you and your business.
As always, TAKE ACTION.
Yours,
Tal Gur
P.S If you found this article helpful, please forward it to someone you love and click the sharing buttons below. The world is a better place when people actively follow their dreams.
***
* If you're seeking extra motivation and inspiration on your journey of personal growth, I recommend taking a look at my SMART growth goals page, This page offers thousands of goal ideas that can assist in the establishment of new aspirations and the attainment of greater heights in one's life. In fact, it was instrumental in my creation of a list of 100 goals, which I pursued for a decade.
Chief Editor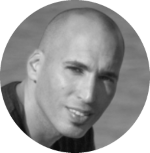 Tal Gur is an author, founder, and impact-driven entrepreneur at heart. After trading his daily grind for a life of his own daring design, he spent a decade pursuing 100 major life goals around the globe. His journey and most recent book, The Art of Fully Living, has led him to found Elevate Society.