Living Your Legend: Scott Dinsmore's Inspiring Story
Scott Dinsmor is the guy you run to if you need someone to slap you out of your stupor (figuratively speaking) and motivate you to take a leap of faith. If you are a person who hates waking up in the morning because that means you have to sign in for work in another two hours, congratulations – you are a part of one of the world's largest virtual communities. There are millions out there who, like you, develop cold feet at the suggestion of experimentation. You want to jump ship, but you want the security of a job to stay right there even if experimentation would mean you are unprotected for a couple of days or weeks.
Scott Dinsmor, the successful 29-year-old founder of Live Your Legend, was once a part of that very community, and he learnt enough from his adventures to know that the inspiration to take the leap of faith is profound. Speaking as he does from personal experiences, you know that he feels empathy and does not just throw "I know what you must be feeling / going through" in your face.
Scott's wake-up call to the concept of doing what you love came when his father presented him with the book What Color Is Your Parachute? when he was ten. He learnt that a person must work only when he is passionate about it, and in order to find out where your abilities lie, you must be willing to be pro-active and experiment fearlessly.
After earning his university degree, Dinsmor tasted his first rejection when he could not clinch his dream job. He went on a seven week vacation to Spain to take the sting off and enjoy all that the country has to offer, running with the bulls, etc. Little did he know that his seven week trip would evolve into a year-long stay wherein he would co-found a company that taught businessmen to communicate in English, and lead tours to Portugal and Morocco on weekends. Scott says that the most important thing that his stint in Spain taught him was prioritization of life – enjoying what they did was placed above making money for Spaniards.
Dismor went back to the United States of America a rejuvenated man with a sparks of passion in him, only to be entrapped by the corporate world, working a nine-to-five job for seven months before finally refusing to subject himself to the torture any more. He quit his job and soon took on a position with BioIQ, a preventive healthcare startup. He learned about staying in business and making an initiative tick as he worked as the head of the market validation team of the company for two years, an impressive period of staying employed that is linked to the fact that he really cared about this project.
Another detail that defines Scott is his emulation of the action plan of his personal legend, Warren Buffett. Dinsmor launched a value investment company that works along the same lines as Buffett's initiative for the people of Omaha, Nebraska.
He then launched his site "Read for Your Success", where he made a journal of his experiences and what he learnt. "Read For Your Success" has been replaced with Live Your Legend, and the latter website has been recognized as one of the sites that comprise the top 1% of the players in cyber space, placed alongside other self-help speakers and bloggers who inspired Scott himself.
Scott interacted with peers who were like-minded and cared about the same things he cared about. Tim Ferriss, Seth Godin, Tony Robins, Leo Babauta and Keith Ferrazzi are some of the people he worked with, simultaneously having fun and exchanging ideas.
Soon after "Read for Your Success" came about, Scott was approached to pen blogs for big and small websites, and his credibility and fan base steadily increased. His personal experiences, and his love for traveling and adventure sports, translate to a rich and diverse platter of stories, which his thousands of followers can learn from.
Dinsmor appreciates physical challenges with as must zest as mental and intellectual challenges. Swimming from Alcatraz to San Francisco, swimming the length of the Golden Gate, gaining ten pounds of muscle in 90 days without consuming meat or taking steroids, going vegan for a month, indulging in competitive Brazilian Jiu-Jitsu, scaling Mount Shasta, and embarking on a barefoot marathon are a couple of victories he has to his credit.
However, Scott states that his greatest achievement has been marrying his childhood sweetheart. He follows that one with the success of creating a career for himself that allows him to do what he pleases, when he pleases, and having enough time on his hands to cherish all those he cares about.
The life of Scott Dinsmor is by itself an inspirational one that tells you that you must be willing to let go of what you have to grab on to something more worthy. Those seeking a career change always find themselves second guessing their opinion once in a while, allowing self-doubt to creep in. You must learn to trust yourself and place faith in yourself for the rest of the world to believe in your project and assist you on your path.
Another important value to be imbibed is to be true to oneself. Do not go for a line of work if the pay is the only object that interests you. The field of self-help and motivation is teeming with players. What sets Scott Dinsmor and a few others above the rest is that they did not see their work as a short cut to accumulating wealth. They were genuine in their offer of helping out those in need, and this is what makes a difference. Others in the field may make more money than these elite few, but they will not be remembered for long.
Photo Credit: Peter Jensen
Chief Editor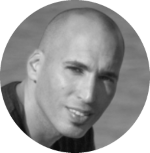 Tal Gur is an author, founder, and impact-driven entrepreneur at heart. After trading his daily grind for a life of his own daring design, he spent a decade pursuing 100 major life goals around the globe. His journey and most recent book, The Art of Fully Living, has led him to found Elevate Society.