Seth Godin: The Father of Permission Marketing
Versatility is a characteristic that is seldom found in people, and fewer still have gone down the hall of legends for being role models who lead by example in more than one field. Seth Godin is a rare gem who is renowned for his achievements as an entrepreneur and for his horde of informative, motivating and guiding books on a range of disciplines.
Giving back to the society is an important quality that most people overlook today, focused as they are wholly on enhancing their professional and commercial success. A person who reads the biography of Seth Godin is sure to be touched by the socially responsible entrepreneur that Godin is. Many may argue his books are products of their money-making abilities, but fact remains that he could have concentrated on different genres that guarantee success instead of working on writing books on motivation, taking initiative in one's personal and professional life and quitting, among other topics. Such books do not guarantee commercial success, but he was confident in writing them all the same.
Seth Godin is a man, an author, and public speaker who has inspired, and directly and indirectly helped millions pursue their dreams and attain success in their endeavors. Those who do a pendulum act between being completely commercial and being socially responsible have much to learn from this man.
Seth Godin was born on 10 July 1960, in Mount Vernon, New York. Little is known about his parents, the period of his childhood and adolescence, as his achievements overshadow his personal life. The tidbit of his personal life that has gained a little recognition to help readers all over the world understand his psyche is the fact that he pushed himself to hold a job, even as a MBA student at Stanford School of Business. For 3 years, he shuttled between California and Boston over weekends to do justice to his position as brand manager at Spinnaker Software.
At the age of 26, Godin invested a sum of $20,000 (from his hard earned savings) to set up Seth Godwin Productions, a book packaging house. Yoyodyne is a website he launched in 1995 wherein he used scavenger hunts, contests and online games to market the products and services of companies to users. American Express, America Online, Sony Music, Microsoft, Volvo, Sprint and Procter & Gamble were among its clientele. It was via this website that Godin launched with famous Permission Marketing concept. For various reasons, Yoyodyne was sold to Yahoo! for $30 million in 1998.
Seth Godin is a man of principles and though idealistic, his viewpoints are laudable and teach us more about the great person that he is. He believes in the conclusion of what he calls the "TV industrial complex" wherein marketers no longer enjoy the power of engaging users attention as and when they wish to. The seat of power has been passed over from the marketer's side to the consumers, he said. He promotes in the conveyance of respect for consumers from marketers. Spam, deceit, false promises and lack of respect are among the ways in which marketers insult customers, according to Godin. Giving a glimpse of the sort of man that Godin is, is his principle of allowing the buzz generated by excellent services and products of a company to be the only form of marketing. TV ads, he opines, interrupt what the consumer wishes to see and enjoy, and he calls this "interruption marketing."
Another entrepreneurial success of Godin is the website he launched in 2006, Squidoo. Squidoo is a platform where folks can create pages on any subject of interest, making a directory of sorts. 5% of the profits are used for charity and 50% is disseminated among lensmasters (each page is called a lens). Squidoo ranked among the top 500 websites visited by users, by traffic.
Godin is also among the most prolific writers today and his blog is often cited to be the most popular one written by a single person today. Linchpin is touted to be Godin's master piece and it was featured in Amazon's top 10 books list the day it was launched. Tribes is another much loved work by Godin that talks about leadership qualities and how any person can become a leader and create movements. New York Times, Amazon, Business Week and Wall Street Journal are a couple of the many authorities that listed Tribes as a bestseller.
Meatball Sundae, The Dip, Small is the New Big, All Marketers Are Liars, Free Prize Inside, The Big red Fez, Purple Cow, Unleashing the IdeaVirus, Survival Is Not Enough and Permission Marketing are among the other popular works of Seth Godin.
The illustrious list of Godin's achievements may make him appear like a born winner. Quite the contrary, Godin has his share of failed ideas and slammed works. What matters is that he did not let failures dampen his spirits or alter his outlook on life. The fall of a man is often caused by his readiness to accept that there are evil forces at work, and one failure is sufficient to push him into depression. Such an attitude must be consciously driven out of the system, and you must acknowledge the fact that success inevitably embraces the one who has been resilient and hard working.
Seth Godin is also an inspirational figure for his candid attitude, and he is as good an orator as he is a writer. His audiences often declare him to be the best public speaker they ever met. Such qualities are bred of reasonable self-confidence. An important lesson to be learnt is that your principle will be ridiculed only if you express doubt in it yourself. Though idealistic at first glance, Godin's ideas are lauded because of the confidence with which he practices and promotes. Had he expressed any self-doubt, his theories would have been shelved and millions would be bereft of the goodwill of this legendary man who leads the world by self-example.
Photo Source: https://commons.wikimedia.org/
Chief Editor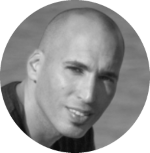 Tal Gur is an author, founder, and impact-driven entrepreneur at heart. After trading his daily grind for a life of his own daring design, he spent a decade pursuing 100 major life goals around the globe. His journey and most recent book, The Art of Fully Living, has led him to found Elevate Society.