Setting Up Your Email List
In this step, I'll review the most important elements in setting up an email list. (If you missed the first step, you can check it out here: How to choose an email service provider).
For the most part, we'll use Aweber's terminology since it is easy to set up, provides a clean interface, and the one that I personally use. If you're using a different email software, you'll still get the gist of this but you might have to refer to your own software documentation every once in awhile.
With this in mind, let's get to it.
Working in Lists
The first thing you need to be aware of when setting up an account is that both Aweber and Mailchimp offer the ability to have multiple lists per account and that each list in an account has its own messages, subscribers, and forms.
There are various reasons why you might need multiple lists. For instance, if you have multiple websites, you'll probably want to have a list for each. Or if you plan to launch a product in the future, you might want to separate your lists and have one list of general subscribers and another list of those who are interested in your product. Or maybe you just want a specific list for subscribers that come from each source of traffic. Whatever the reason may be, you always have the option of adding new lists as time goes by.
Now, there are some basic settings that need to be set as you create your first list. Here are the important ones:
- List Name: A unique name that identifies the list. (Even though your subscribers are very unlikely to see this name, it's advisable you choose a human-readable name).
- List Description: A few words that describes the subject of your list (Like the list name above, it will only appear in very limited places in your email campaign, such as on your unsubscribe page)
- "From" Name and email Address: The name and email address that you would like your subscribers to see when you send them an email. It's better you use a branded email address and avoid using a free hosted one such as Gmail or Yahoo since spammers frequently use these for their reply addresses - you don't want to get accidentally noted as a spammer.
- Contact Address: Your residential or business address - this will appear at the bottom of each email that you send.
- Notifications: If you want to receive an email notifying you of when a subscriber joins or unsubscribes, add your email address again. Otherwise, leave it blank.
- Company branding: This includes your company name, website address, email signature or logo. These fields are optional so you can skip over them in your initial setup.
Confirmed Opt-in, or Not...?
Your next task in the setup process is to decide if you want to use the confirmed opt-in subscription feature. With this feature, when visitors opt in to your list, they are sent an email with a link to click on. They become active subscribers only when they click on that link.
Confirmed opt-in ensures that only recipients who have specifically requested to be on your list are subscribed. It also protects you against false spam complaints and keeps your subscribers list clean of spoofed email addresses and unwilling signups.
In addition, confirmed opt-in subscribers have a higher conversion and response rate on email campaigns, which creates higher revenues from each active subscriber.
So if you want a higher quality list, I'd recommend you use this feature.
Your First Message
Next, you want to set a message that will be sent immediately when someone subscribes to your list.
For example, you could set up a message welcoming your subscribers, or you could include a link to a valuable resource you wrote, or you can invite your new subscribers to join you on social media. I like to do all of that.
In Aweber, it's the first follow up email (* A follow up email, or autoresponder as it's often called on other email service providers, is a message that is followed by a series of messages, each scheduled with a set amount of days in between. I'll cover more on that later in this book.)
Creating a message in your email service provider platform is very similar to writing it in your own email program. There are some additional options, such as templates and click tracking, but for now, simply write your message. You can always get back to this option later.
Publishing a Web Form
Your last task is to create web forms in your chosen email service provider and publish them on your site. (Don't worry - it's easier than it sounds!)
Web forms provide you with a means to automatically capture email subscribers so you can generate a responsive list to send your messages to.
Almost every email service provider provides you with pre-designed templates for your web form. All you have to do is to choose one of the existing templates and embed its code on your website.
You'll be able to edit your form later, either through your email service provider control panel or, if you have some programming skills, directly through the code.
Now, having a solid form design is important so you might want to hire someone to customize it to your overall website's look and feel.
Perhaps even more critical in the early stages, is to decide what information you should collect via your newly embedded web form. Collecting an email address is a must, of course, but you can go beyond that and collect almost any type of data about your subscriber.
My recommendation - keep it minimal. The less fields on your form, the higher the conversion rate. In fact, my forms often contain only the email address field. If I want to be more personal, I also collect the subscriber's first name. But that's it - anything more than that and you're at risk of hurting your conversion rate.
Take Action!
Create a new list (or multiple lists if you need to segment your subscribers in the future), write your first message, and publish a minimal web form on your site.
In the next step we're going to learn how to effectively use your email list. Stay tuned.
***
* To gain more inspiration and motivation for your personal growth journey, I recommend visiting my SMART goals page, which offers a wide range of goal ideas to help you establish new aspirations and achieve greater success in life. This list was crucial in the development of my own life goals list, consisting of 100 goals that I pursued for ten years.
Chief Editor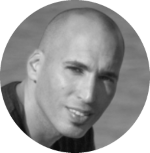 Tal Gur is an author, founder, and impact-driven entrepreneur at heart. After trading his daily grind for a life of his own daring design, he spent a decade pursuing 100 major life goals around the globe. His journey and most recent book, The Art of Fully Living, has led him to found Elevate Society.