Writers Helping Writers: A writer's Journey to Support Another
Shanna Trenholm has never eaten an omelet, a lobster, or sushi. Despite missing out on those essential human experiences, she has managed to become, by all accounts, an extraordinarily gifted writer. Writing may be a service you need or a skill that frustrates you. Either way, Shanna can help.
For her, it's all about freedom and self-expression, whether she's writing for you or helping you unlock your own creative potential on the hand-written or digital page. Read our interview below to see her approach and how she got where she is today.
1. You earned your BA in English at the age of 40 – what was it like going back to school at that point in your life and what made you want to do that?
I was desperate to quit the work that I was doing (fashion/retail) and to finish, once and for all, the degree. I can't stand having unfinished business. It certainly wasn't for any perceived benefit that a degree might hold for me. I had been chugging along, taking classes here and there, at a variety of schools for almost twenty years. When I realized that I had enough credits to be a senior, I decided to just finish, which I did in 5 credit-heavy and intense semesters.
Also, part of it was proving to myself that I could finish, to be the first person in my family to graduate from college. I didn't have any college-going role models so I had to carve my own way. Plus, it's fun to tell people that I graduated with high honors…and that I'm a high-school dropout.
2. Were you a writer before that? When did you know writing would be your vocation?
I have always been a writer. I entered contests as a kid and won several accolades. Even during the periods when I wasn't writing, I always felt at my core that I was a writer first and foremost.
I knew I'd write, just not sure how that would look as a livelihood. When I was in school, and all throughout my earlier career, I wrote resumés, newsletters, and such as a sideline. My first love is poetry, especially spare, crisp verse, so I use that aesthetic as an inspiration when I work on web copy and branding projects.
3. There's a strong coaching and personal development slant to everything on your website. How did that develop?
Ha! Yes, call me the accidental coach, I guess. Coaching, teaching, guiding—whatever one calls it—is something that I have been doing most of my life, too. Some of my earliest memories are of being taken out of kindergarten to tutor first-graders in reading! So, yes, coaching is in my blood.
I have always been a seeker. Driven to know more about the world around me, other people, and about myself. I have coached or guided many people informally throughout my life. I just thought this is what people did. When I noticed in my business that people would hire me for my writing skills, but then would later tell me I did more for their business or creative development than their actual coaches were doing for them, I realized that I had better pay attention to this. So, recently, I added coaching to my service offerings. I love working with creatives, other writers, and motivated business owners. People who are ready to dig in, do the work, and make good stuff happen!
4.Many of the testimonials mention how brand-savvy you are. Where did that come from and what do you see as the key to breathing new life into a brand?
Wow, you really did your homework! I have always loved design, personal style, architecture, art, etc. Working in the fashion world helped me hone my aesthetic sensibility and that's a skill I use when idea-storming for a brand, product, or individual. Unlike others who help to shape brands and brand messaging, I don't overly consume media. I don't own a television, so I don't have that influence, that bombardment, of constant advertising messages and such and I don't really read print magazines, either. So, I think that I bring a fresh sensibility to branding—that, and a healthy sense of humor helps me envision branding identity and messaging in new ways.
5. When did you launch your website and how did you decide on the look of it?
I think it was 2009. I can't remember. I was one of the early bloggers. Started back in 2004 or 2005. Just capturing my thoughts, photos, and publishing my essays. When I started to think about creating a bona fide website, one that would support my business and showcase my writing, I mucked about a bit with the look and feel. It took on many iterations. I knew I wanted a very clean, minimal look. I didn't want the design to overshadow the content, but to enhance it. But I didn't want it so stripped down that it was flat and dull. Of course, big credit for the look and feel goes to Sophia Daly, designer, business partner, and best friend.
6. At what point and why did you decide that a blog would be an essential element in the mix on your website?
Well, as a writer it's important to showcase my chops and to highlight my breadth, depth, and diverse interests. And, as a brander, I know the importance of dynamic content, it has to be fresh to keep one's audience intrigued. There's nothing worse than making a return visit to a site and find that's nothing has changed.
7. When did you decide it was time to create a team and how did you go about finding people that you could work with?
From the early days of my business, I have worked with Jessie. Her official title is right-hand woman. She's a grounding force and she's a great writer, too. She is instrumental in helping me keep my nonprofit clients happy. But, it took time. Time to find her, and time to find the others with whom I work. In the first year of my business I thought I could do it all—and I wanted to—not so much from a control standpoint, but from the idea that I wanted to stay small, human-scale, and nimble.
Soon, my business was growing so much that I just couldn't do it all. I still do too much, and nothing goes past my desk without my eyes and hands on it. My team helps with the heavy lifting—I have found great people who excel at certain things and that frees me up to do the things I am good at.
8. Switching from largely solo work to teamwork can be challenging – what were the challenging aspects of that for you and how did you deal with them?
Oh, it's still challenging. What to let go of, what to take on, and then there are the occasional snafus. They happen, and my team, every one of the women with whom I work, have the best intentions and integrity, but stuff happens and that leaves me, as the one ultimately responsible, to soothe ruffled feathers—whether they be a client's or a colleague's. Fortunately, these situations are infrequent. And, all the work I do is not all teamwork. I still handle many projects on my own.
The people, my colleagues, who work with me know that they're signing on to work with someone who is direct. I call it as I see it, and my standards are very high. It's a dance that I have yet to perfect, but the power of a team cannot be understated.
9. You mention on your site that you make a killer green smoothie, which leads me to wonder about the more physical side of writing. How important is that to you and why?
Physical well-being is very important. I wrote a post called The Care and Feeding of the Writer's Body, so it's definitely a crucial aspect. Writers sit way too long at the computer, pounding away at the keyboard, and we don't get outside enough. Writing is a solitary pursuit. It's important to find a support network. Others with whom you can get out with, walk with, and that, along with healthful eating habits, supports a writer's well-being.
I am very conscious of what I put in my body; the many years of yoga practice and my formal training as a yoga teacher have shaped my view of the necessity and importance of self-care and good habits (like an ergonomic work station, standing desks, regular breaks, etc.).
10. I'd like to hear more about your conventional business experience and how that has shaped what you do now, and especially your fashion experience.
It's funny, because when I left the fashion world, I was so glad to get out and so convinced that I would never use anything that I learned during my time in the business. How silly that was! I use my fashion background all the time! Event/fashion show production, styling, working as a buyer, and retail management are all translatable skills. Sales and marketing are key to any business's success, as is customer service, and I have got that stuff down! And the other skills come in handy with branding—my eye for color, line, style, and conceptual/visioning have all been tools in my kit.
I also worked in the nonprofit world for a few years after I graduated. I spent a year in a downtown San Diego homeless shelter teaching core curricula classes, poetry workshops, and tutoring adults in reading in the adult literacy center that I co-created. So much good stuff there. So many things I took away from that experience. All that went before is all in me now and informs what I do today.
11. Of all the services you offer, what seems to be the one that more clients are looking to get help with?
Well, I think people come to me as a writer, first and foremost. Typically web copy or other communication need, but then they realize that I offer a bigger vision and a broader set of skills, so web copy or branding clients will often retain me for business development or coaching. I love it when clients want to break out from behind the three-piece suit facade and let their true personality shine. I love coaxing budding risk-takers to show up in an honest and genuine way. I guess all that previous business management experience was good for something!
12. Let's talk about the Merry Inksters. What made you think this was something that people would want to be part of?
Amy and I created The Merry Inksters out of a desire to fill a need. Amy's an editor, and, as a writer, we would hear people comment on how much they'd like support and accountability for their writing. It's that solitary pursuit thing. After a while, most writers start to search for community. Without that, it's hard to stay on track with your writing goals. The Merry Inksters offers community, accountability, and more to writers of all stripes, shapes, colors, and sizes.
13. How did you decide that you needed a partner for it and how did you find Amy?
A: Amy and I first met in Marie Forleo's B-School two years ago. We had similar interests—travel, especially creating a portable business, living life on one's own terms, and, of course, writing. The Merry Inksters came out of many conversations. She and I spent nearly a year chatting and brainstorming business ideas. We wanted to pursue things that excited us both and that served a need. We have other things in the pipeline, too.
14. It was a fairly recent launch – how did the first "semester" go? Were you pleased with the response and results? How is the new iteration different, if at all?
The Merry Inksters is an ongoing support community, so people can join at any time. Our first full month, in June, was a testing ground to tweak and refine our content and methods. It's going well, and we intentionally have keep the group small to preserve the intimacy and manageability , although we do have room for a few more writers.
Originally, we were very focused on nonfiction writers only (bloggers, authors, entrepreneurs, etc.), but again, demand for inclusion of all writers has led us to open the door to all writers, so we now welcome fiction writers, too!
15. Do you have another venture in mind that we might see in the future?
Oh, I have several things in the works! I am working on a few book/e-book ideas and I am always on the look-out for creative partnerships. I am winding down my work with nonprofits, only taking on one new retainer client in that area in 2013, and focusing more on the creative visioning, writing, and branding, plus coaching for writers. And, of course, there's always workshops and retreats—I am looking forward to offering workshops for writers that include health and wellness aspects like yoga, good food, etc.
Thank You!
-------
Shanna Trenholm is a writer, traveler, and dyed-in-the-wool nonconformist. You can find here at shannatrenholm.com or on twitter at @shannatrenholm
Chief Editor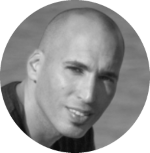 Tal Gur is an author, founder, and impact-driven entrepreneur at heart. After trading his daily grind for a life of his own daring design, he spent a decade pursuing 100 major life goals around the globe. His journey and most recent book, The Art of Fully Living, has led him to found Elevate Society.