All my life, I've been taught to look outward, to be interested in what's happening outside, to check what's popular, to be updated with technology and other worldly news; I have rarely taken any time to look within and examine my mind on a deeper level. I'd just explored the highest mountains of Nepal. It was time to go into the deepest layers within myself, so I chose India and Mcleod Ganj, home of the Dali Lama, to be the center of my new spiritual adventure.
It's May and most of India's cities, including Delhi, are all above the 40 degree mark, so I decided to go up north as quickly as I could. My taxi from the airport had broken down in the middle of downtown Delhi, and I had a chance to stop for a moment and observe Delhi's crazy scenery once again.

ELEVATE
Free Resource: A step-by-step blueprint to help you set and realize big dreams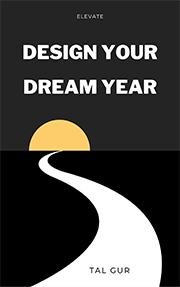 It felt like watching a cartoon in a cinema filled with black smoke: entire families on motorcycles without helmets, cycle rickshaws moving in different directions, Indian men proudly piss beside the road, huge cows stand in middle of busy intersections, and in the background of all of it, a symphony of car horns…
As with my last visit to India, a variety of feelings about this place got stirred up. Like Melbourne's weather, you get all seasons in one day: it is pretty and repulsive, spiritual and fake, mad and peaceful.
Perhaps a reflection of life itself…
Mcleod Ganj – Spirituality for Sale
After an overnight train journey and a few hours' hilly road drive, I arrived in Mcleod Ganj, a peaceful mountain town (by India's standards) and the administrative center of old Tibet.
The streets were crowded with travelers who came to breathe Buddhism, Tibetan Monks in red robes slowly making their way around beeping cars, Indian shopkeepers sitting outside their shops staring down Western women, monkeys hanging on telephone and electricity wires, fazed-out dogs sleeping near piles of garbage. I said hello to my new home for the next couple of weeks.
I was living in a place called "Ladies Venture" (men are welcome as well), a few minutes from the main market. My new place had views of stunning snowy mountains, surrounded by big green trees. It was a pink room… but besides that, it was just perfect!
It didn't take too long to make friends in McLeod. People are just happy to socialize and open themselves up to you naturally. I met people of all ethnic groups and they were all very welcoming. We went to dinners together, watched movies, played chess, practiced yoga, and just enjoyed wandering around the city mixing with the locals. After a month of constant moving, staying in one spot was definitely rewarding.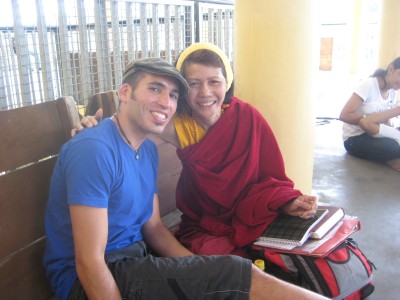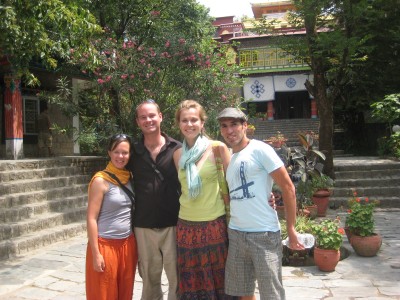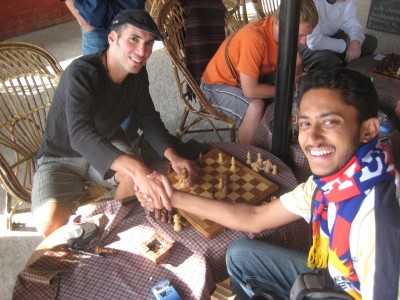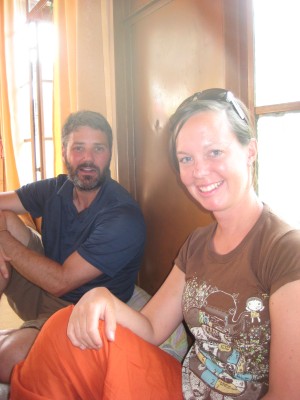 Besides socializing, I still had a spiritual journey to experience, so I decided to expose myself to a few courses being held on a regular basis in McLeod. One of them was a Reiki course with a wonderful young teacher; it turned out to be quite a memorable experience. It was just amazing to feel the energy inside and outside my body so strongly.

ELEVATE
Free Resource: 1000+ SMART goal ideas to inspire you create your life goals list.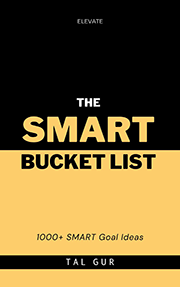 In some stage during the course, I felt my hands burning from warmth. If I had doubts about channeling energy, they vanished then and there.
Just before my 10-day Vipassana meditation course, I spoiled myself with an Indian massage. Sandrine, a beautiful French girl who spent the last few years working with Indian gurus, approached me at the end of the treatment, pointing to the right side of my body, saying:
"You are imbalanced. Your right side is very strong. It takes over and dominates your body."
"What do you mean?," I say, a bit surprised.
"I feel tremendous hunger in you."
"Mmm…," I reply. We started going deeper and I told her about my past – Everest Base Camp, my Ironman journey, Australia – and other future desires and dreams. Perhaps it was my hunger to achieve that she meant.
"This is not your destiny, you will not be a champion," she then says.
"You are strong man, but your heart is stronger. You must express and share this heart of love of yours."
There were a few moments of silence after her words, and I was busy with my own thoughts. I decided to thank her and left a bit confused. Maybe she's right, I thought to myself on the way back. I could definitely see the hunger for accomplishments as a continuous thread in my life.
In the last few weeks, however, my hunger to see another temple or mountain or city surprisingly evaporated. Maybe it's happening now, I thought.
Time will tell …
Indian Experience – Aftermath
After close to two months without coffee, meat, or alcohol, I found myself sitting in a restaurant, waiting for my sizzling non-veg meal and chilled beer to arrive, wondering about my Indian journey.

ELEVATE
Free Resource: A step-by-step process for a better relationship with social media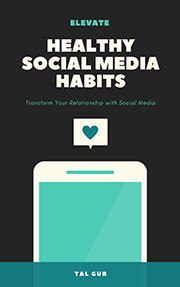 I remember my first day in India, cautious and suspicious of everyone. I also remember the last day in the country, leaving my bags with a local in total trust. People here never failed to amaze me with their kindness, openness, and honesty. I left the country with deep respect and admiration for the people of India.
I also left the country with a better view of my fortunate life in Australia: breathing fresh air, driving on wide roads, drinking clean water, having so much space and freedom. It made me feel more appreciative of privileges taken for granted.
All in all, and especially after my Vipassana experience, I feel that I have a more realistic perspective on life and how to live life. I just hope this spiritual journey increased my capacity to open my heart and do more good.
Amen.
Chief Editor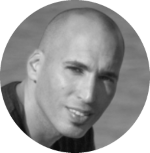 Tal Gur is an author, founder, and impact-driven entrepreneur at heart. After trading his daily grind for a life of his own daring design, he spent a decade pursuing 100 major life goals around the globe. His journey and most recent book, The Art of Fully Living, has led him to found Elevate Society.