Steve Pavlina: Personal Development For Smart People
When you hit a low, you are faced with two options: you can either choose to be depressed or rebellious and waste yourself, or you can choose to pull up your socks and work on yourself, climbing out of the pits and emerging victorious. What makes all the difference is how you respond to a situation.
The story of Steve Pavlina shows the resilient nature of human life and the unpredictability of the same. One can't accurately gauge the future course of a person's life based on the actions of a child. Often, the formative period of kids is considered to be the indicator that points out at the direction that the child will head towards as an adult, and nothing could be farther from the truth than this assumption as a lot of development takes placed between the juvenile and adult stages in life. There is always room for improvement.
Steve Pavlina is among the most respected motivational speakers around who inspires millions across the world, winning their admiration and respect by leading by example. Thumbing through the life of Steve will re-instill faith in humanity, and remind you that no human being is worthless and that every person has his strengths and weaknesses. Making a mistake is not the end of the world, and you can always salvage your life.
Born on 14 April 1971 in Santa Monica, California, Steve was a deviant youngster who was never far from trouble. This reckless and irresponsible behavior continued until he got a wake-up call in the form of a prison term for being involved in a grand theft. Arrested on 4 February 1991 in Sacramento and sentenced to 60 hours of community service, he is reported to have admitted later that a legal flaw saved him from a worse fate. This prison term jerked him and he realized that he was wasting away.
The sanction and prison term left Steve a changed person, leaving him a 19-year-old on a mission. He began working on himself, devoting time and effort into making himself a better human being and nourishing personal growth. Hereon began his active participation in the field of personal development. He proceeded on a hairpin bend, metamorphosing into a completely different person with strong growth-oriented goals. He worked hard to earn degrees in the subjects of computer science and mathematics. He also participated in a wide range of marathons, including the Los Angeles marathon, turning over a completely new leaf even in terms of health care. Steve chose to go vegan in 1997, and has been 100% vegan ever since.
Pavlina initiated his professional career by founding and acting as the CEO of Dexterity Software. He also worked as a software developer in the company, and Dexterity's accolade-winning video game Dweep is chalked up to Steve's list of achievements. Dweep bagged the Shareware Industry Award in 2000 and its sequel Dweep Gold bagged the same award in 2001 for being elected the best action/arcade game.
Pavlina also worked as the Vice President of the Association of Shareware Professional in 1999, and was promoted to the President of the same in 2000. Steve's contribution to the software world was significant and his published papers were a subject of interest. He was seen as having "a significant, lasting influence on others via his articles and postings."
It was only in 2004 that Steve turned his attention to the art and science of personal development. Stevepavlina.com is a site that is dedicated to personal development. Struck by the journey of his life, Steve designed his website to be a guide that will help readers make conscious efforts to improve themselves.
Steve garnered being laudable soon after he started blogging and stevepavlina.com evolved to be one of the most popular websites in cyber space that did not require any marketing or promotions. It has been recorded that the blogs of Pavlina have been translated to numerous languages and made available to the residents of more than 150 nations. Another admirable deed of Steve is that he un-copyrighted all his blogs and articles, thereby making his knowledge public and aiding in the lessons of his experiences educate many more.
Personal Development for Smart People is a book penned by Steve that was released in markets by Hay House in 2008. Topping bookseller lists, this book received brilliant reviews from general audiences and critics. Pavlina is truly dedicated to promoting personal development demonstrated by the boundaries he pushes in the name of experiments. He once embarked on a polyphasic sleep test, sleeping for just 2 hours a day for 5 ½ months. He recorded his thoughts and actions to aid research purposes.
Today, Steve Pavlina is a globally recognized person who is best known for founding stevepavlina.com that enjoys more than 2 million monthly returns. With about a 1,000 articles to his name and audio programs on an array of self-help topics, including productivity, spirituality and relationships, to name a few. The New York Times, USA Today, World Repot, Los Angeles Daily News, The Guardian and Self Magazine are a few of the publications that have proclaimed Steve to be an expert in his field.
Just as a beautiful butterfly develops from an ugly caterpillar in a cocoon, an exemplary human being can be chiseled out if time, patience and faith are on your side. Had Steve given up on himself when he was put behind bars as a youngster, his life would have progressed quite differently, unflatteringly so.
Introspection is the beginning of the game wherein you encounter your own image and discover your strengths and weaknesses. If you have succumbed to a weakness before does nothing to reduce your intrinsic value as a person. Acknowledging that there is an issue plaguing you and actively seeking out a solution is the behavior that makes you a good manager of your own life. Allow yourself to fill into that room for change, and keep the faith you have in yourself to proceed through the process.
Photo Source: StevePavlina.com
Chief Editor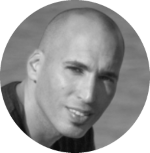 Tal Gur is an author, founder, and impact-driven entrepreneur at heart. After trading his daily grind for a life of his own daring design, he spent a decade pursuing 100 major life goals around the globe. His journey and most recent book, The Art of Fully Living, has led him to found Elevate Society.