Supporting Your Big Dream
Sometimes you just can't get your big dream off the ground.
It's not a matter of lack of knowledge; you've read just about every blog out there. You've tried countless "self-help" books and you're still where you are.
This happens to the best of us.
Yet some people seem to almost magically advance their big dreams forward again, and again, and again.
So what is the secret?
Perhaps the following story can shed a light,
Six Months to Glory
"What have I done?" I thought to myself, starting at my laptop.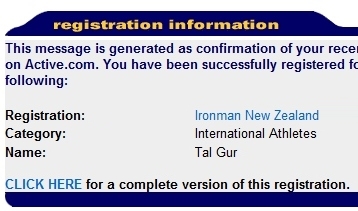 The message on the screen read "Congratulations. You have been successfully registered for the following event: Ironman New Zealand".
The date was September 17th. That was less than six months to race start.
Saying I was ill prepared was an understatement. Not only I was out of shape, I also had a demanding full time job and a busy social life.
So, what had I signed up for? What is this "Ironman"?
2.4 mile swim, 112 mile cycle and a 26.2 mile (marathon) run all on the same day, making it the most grueling one day endurance event in the world.
I felt excitement and fear rolled into one. After all, this was going to be my first ever Ironman.
A bunch of training books were piled high on my desk. I read a few of them throughout the week but felt so overwhelmed that I didn't know where to start.
I began to question myself, "Can I really do this? Is this even possible?"
I'd been training for a few weeks but couldn't feel or see any improvement. The only thing that increased was my fear. I was worried that I would get injured.
I mentally ran through a list of options that included everything from quitting to gathering more information, and finally settled on one viable option:
I would need regular, focused support throughout my journey.
Big Dreams = Big Support
Big Dreams, by their very nature, are inherently complex. That's just part of the deal.
Similar to how large buildings require strong foundational structure, your big dream requires a strong support system too.
And when I say "support", I'm not referring to family encouragements or a random friend's advice. I'm referring to a well structured support system from an objective person that will enable you to regularly and systematically progress towards your goals.
Are you committed to your life goals?
LEARN MORE
The decision to seek help was the best decision I've made during my Ironman journey. Within two weeks of hiring a coach and joining a group of liked minded people, I felt like I had finally mapped out a plan to make my dream a reality.
During the interceding weeks, we took my fitness and mental toughness to the next level. My coach helped me to focus only on the critical aspects of the final task and ignore the rest.
I was finally talking to someone who knew what was required, who spoke my new "Ironman language", and who could hold me accountable to the highest standards.
Perhaps even more importantly, I received regular feedback and guidance from an objective person who could see solutions to the problems I had as clear as day.
My confidence grew with each passing day. On 1st of March, 2008, I managed to cross the finish line, injury free, and happy as I could ever be 🙂
Building your own Support System
Since 2008, I've created support systems for almost every big journey I had, from surfing, to doing SEO, to blogging and writing. I've been also a support system for others.
Over time I began to see clear patterns of what makes a good support system. Here are the most significant ones:
Your support system:
is extremely passionate about your journey and about the art of turning dreams into reality
sees problems as opportunities in disguise and will keep encouraging you when things get tough.
is open to learn from you
truly believes in you and your cause.
deeply cares about you as a person.
is not focused solely on financial gains but rather on making a meaningful impact.
does not only share knowledge but also fully lives what is preached.
uses a systematic and well defined processes that get results.
is someone who inspires you.
is highly responsive and can be reached fairly easily.
is a good listener and nonjudgmental
challenges you to step outside your comfort zone and break through conventional boundaries.
is someone that you hand selected, rather than randomly recruited.
asks powerful questions, not assuming that all the answers are going to be readily available.
is flexible enough to adapt to meet your circumstances
enables you to eventually walk without him or her or need of support
Reflecting back on my younger years, I realize that I was too casual in my choice of support. I now know that the lack of adequate support slowed down and often halted the process of attaining my dreams.
I hope the above list proves useful in your own journey. Be picky.
Last words
A hero's journey is often seen an independent quest but in reality it is a shared victory and the result of a combined effort.
No matter how independent or self-reliant we consider ourselves to be, we are better off with a strong and reliable support system.
Big dreams are rarely achieved without the enthusiastic help and support of others.
In our "instant gratification" culture we seem to have forgotten that some goals are more challenging than others and therefore require a more elaborate setup.
A setup that involves the best people you can get on your side. People who will motivate you, encourage you, guide you, support you, and hold you accountable for your commitments.
The equation is simple: The greater the support system you have, the greater the likelihood of achieving your big goals.
Live Out The Dream!
Tal
* If you want me to be part of your support team along your journey, apply here or press the "Learn More" button below. I do take on one-on-one clients from time to time as long as there's a good match.
***
* If you're seeking extra motivation and inspiration on your journey of personal growth, I recommend taking a look at my SMART growth goals page, This page offers thousands of goal ideas that can assist in the establishment of new aspirations and the attainment of greater heights in one's life. In fact, it was instrumental in my creation of a list of 100 goals, which I pursued for a decade.
Chief Editor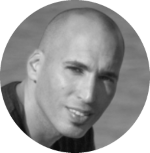 Tal Gur is an author, founder, and impact-driven entrepreneur at heart. After trading his daily grind for a life of his own daring design, he spent a decade pursuing 100 major life goals around the globe. His journey and most recent book, The Art of Fully Living, has led him to found Elevate Society.