Getting Things Done: Summary Review & Takeaways
This is a summary review of Getting Things Done containing key details about the book.
What is Getting Things Done About?
In Getting Things Done (GTD), veteran coach and management consultant David Allen shares methods for stress-free performance. Allen's premise is simple: our productivity is directly proportional to our ability to relax. GTD is based on storing, tracking, and retrieving the information related to the things that need to get done. Only when our minds are clear and our thoughts are organized can we achieve effective productivity and unleash our creative potential.
Who is the author of Getting Things Done?

ELEVATE
Free Resource: A step-by-step blueprint to help you set and realize big dreams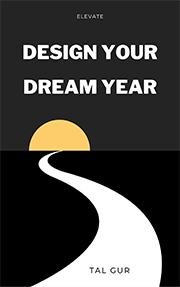 David Allen is president of The David Allen Company and has more than twenty years of experience as a consultant and executive coach for such organizations as Microsoft, the Ford Foundation, L.L.Bean, and the World Bank. His work has been featured in Fast Company, Fortune, Atlantic Monthly, O, and many other publications.
Book Detials
Print length: 267 pages
Audiobook: 10 hrs and 23 mins
Genre: Self-Help, Personal Growth, Business, Economics, Time Management, Career Success
What are key takeaways from Getting Things Done?
Takeaway #1 The GTD System
GTD stands for Getting Things Done. It's a system for stress-free productivity that doesn't allow for overwhelm when you have a to do list as long as your arm. At its simplest, the 5 step GTD system teaches you how to do more whilst staying focused across both your personal and professional life.
Takeaway #2 Taking The Weight Off Your Mind
Do you try to juggle multiple tasks each and every day but get sidetracked by more tasks coming in, your brain chock full of information for your 'to do list' yet it not uncommon for you to forget something? The problem is that you're relying on your brain to remember everything. Take a weight off your mind literally by setting up your cockpit or control centre and making notes of everything.
Takeaway #3 Setting Up Your Cockpit
You need to create workspaces at home and at work for the GTD system to work, commuters benefiting from a mobile setup that goes with them. Your workspace (aka your cockpit!) needs to be solely for your use and large enough for you to write whilst holding a physical in-tray and out-tray, a diary, and stationery supplies such as post-it notes and folders. This physical space may also contain your PC or laptop where you'll have a digital version of your filing system.
Takeaway #4 The 5 Step GTD System
1. Record all of your ideas, important information, and to-do list items in a notebook or digitally. Everything you need and want to do, everything you need to remember, and everything that requires a decision, planning, or an action gets recorded. This might include writing a speech, a business idea, a gift you need to buy, a reminder to make a dentist appointment, vacation ideas, books you want to read and so on.
2. Get clear by going through your lists/notes once a week and clarifying what each item is, the desired end result, and whether it's actionable. Some tasks may take several actions to complete making it a task that you keep working at ie 'organise birthday party' but other times the action steps will be one time ie 'phone dentist'. If the action step can be done instantly and will take less than 2 minutes, get it done now! If the action will take more than 2 minutes, and you cannot delegate it, defer it (step 3). Any non actionable tasks you come across should mean that it's something that is no longer needed (cross it out or trash it), no action is needed right now (defer it), or it's important information that you may need later (file it).
3. Organize the action steps into 3 lists - A 'projects list', a 'delegation list', and a 'next action list' for all non date/time specific items (all appointments and date/time specific tasks go straight into your diary).You can separate these long lists further by creating a 'to phone' list, a 'to buy' list' and even a 'to watch/read' list and a 'for the future' list etc.
4. Prioritize the list daily or weekly to action the most important tasks first as well as the most feasible first. It's not just about completing your immediate to do list - you should also be looking at tasks that take you closer to both your short and long term life goals.
5. Select a top action item and do it! Make sure your to do list is always on you so you can start ticking things off based on importance, time available, and energy levels.
Getting Things Done Chapters
Chapter One - A New Practice for a New Reality
Chapter Two - Getting Control fo Your Life: The Five Steps of Mastering Workflow
Chapter Three - Getting Project Creatively Under Way: The Five Phases of Project Planning
Chapter Four - Getting Started: Setting Up the Time, Space, and Tools
Chapter Five - Capturing: Corralling Your "Stuff"
Chapter Six - Clarifying: Getting "In" to Empty
Chapter Seven - Organizing: Setting Up the Right Buckets
Chapter Eight - Reflecting: Keeping It All Fresh and Functional
Chapter Nine - Engaging: Making the Best Action Choices
Chapter Ten - Getting Projects Under Control
Chapter Eleven - The Power of Capturing Habit
Chapter Twelve - The Power of the Next-Action Decision
Chapter Thirteen - The Power of Outcome Focusing
Chapter Fourteen - GTD and Cognitive Science
Chapter Fifteen - The Path of GTD Mastery
What are some of the main summary points from the book?
Here are some key summary points from the book:
Capture everything: The GTD system emphasizes the importance of capturing all your tasks, ideas, and commitments in a trusted system. This means writing down everything that comes to mind, whether it's a new project, a random thought, or a mundane task.
Clarify and process: Once you've captured everything, you need to process each item. This involves clarifying what each item means and deciding what needs to be done about it. Is it actionable? If so, what's the next action required? If not actionable, is it something you can discard, delegate, or defer for later?
Organize using lists and categories: GTD advocates organizing your tasks and commitments into lists and categories. Create a list for different contexts, such as work, home, or specific projects. Use categories like "Next Actions," "Waiting For," and "Someday/Maybe" to keep track of different types of tasks.
Use the two-minute rule: If an action takes less than two minutes, do it immediately instead of adding it to a task list. This helps you quickly handle small tasks and prevents them from piling up.
Maintain a trusted system: Having a reliable system to track and manage your tasks is crucial. This can be a physical notebook, a digital tool, or a combination of both. The important thing is to have a system that you trust and regularly review.
Regularly review and update: Set aside regular time to review and update your task lists and commitments. This allows you to stay on top of your workload, reassess priorities, and ensure nothing falls through the cracks.
Focus on outcomes: Instead of just working on tasks, GTD encourages focusing on desired outcomes and defining what success looks like. This helps you clarify your goals and ensures that your actions are aligned with achieving those outcomes.
Reduce mental clutter: By capturing, clarifying, and organizing your commitments, you free up mental space. This reduces the mental clutter and stress caused by trying to remember everything, allowing you to focus on the present moment and the task at hand.
Embrace the "mind like water" state: GTD promotes achieving a state of mental clarity and focus by processing your commitments effectively. Like a still pond that remains calm even when disturbed, strive to maintain a clear mind that can quickly adapt and respond to new inputs.
Continuous improvement: GTD is not a one-time fix; it's a continuous practice. Regularly refine and optimize your system to suit your needs and evolving circumstances. Experiment with different tools and techniques to find what works best for you.
What are some top quotes from Getting Things Done?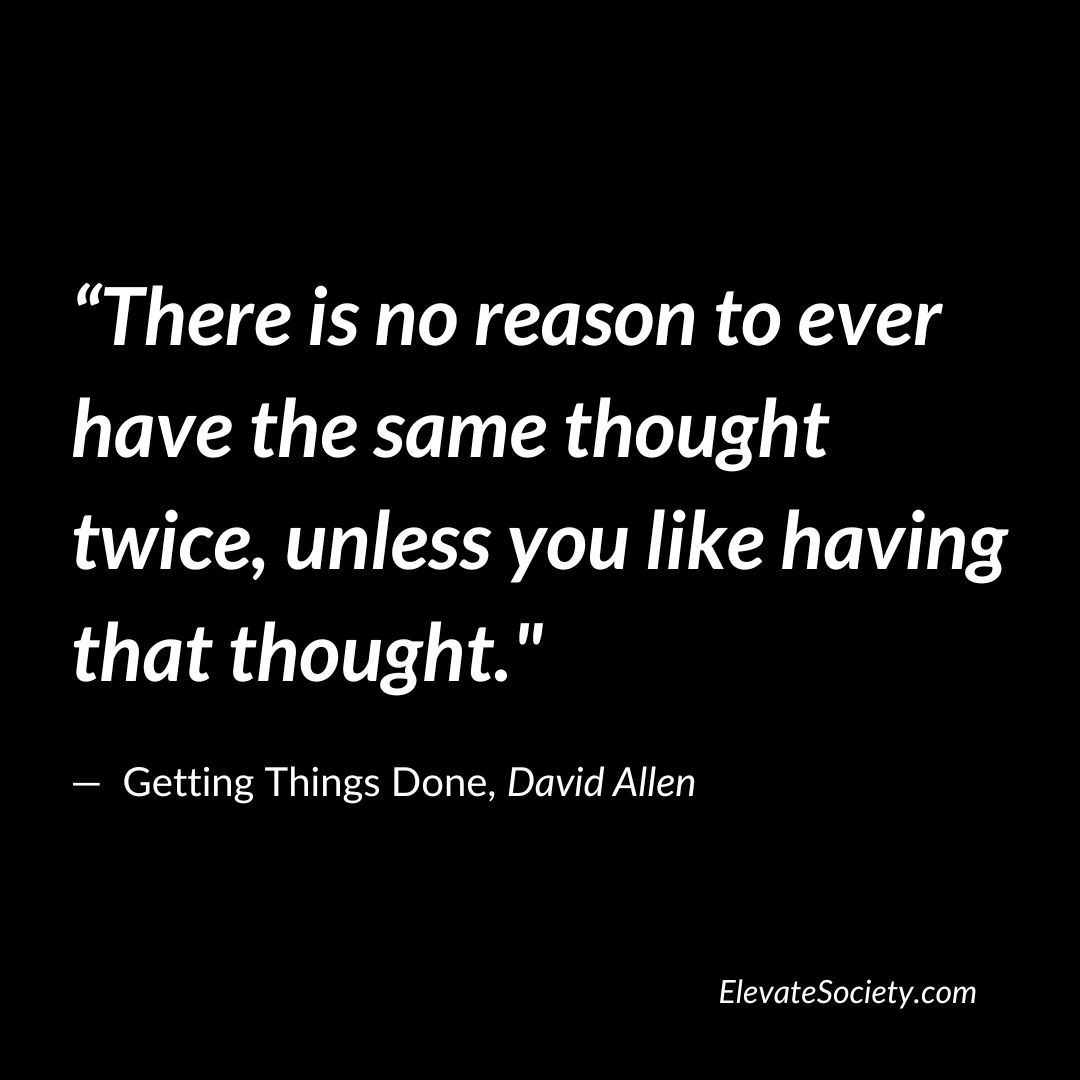 [Favorite Quote]: "There is no reason to ever have the same thought twice, unless you like having that thought." (Meaning)

ELEVATE
Free Resource: 1000+ SMART goal ideas to inspire you create your life goals list.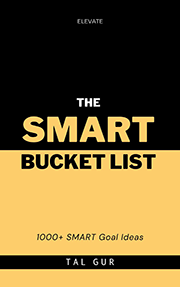 "If you don't pay appropriate attention to what has your attention, it will take more of your attention than it deserves."
"You don't actually do a project; you can only do action steps related to it. "
"Every now and then go away and have a little relaxation. To remain constantly at work will diminish your judgment"
― David Allen, Getting Things Done Quotes
What do critics say?
Here's what one of the prominent reviewers had to say about the book: "Getting Things Done describes an incredibly practical process that can help busy people regain control of their lives. It can help you be more successful. Even more important, it can help you have a happier life!" —Marshall Goldsmith, coeditor, The Leader of the Future and Coaching for Leadership
What is the Getting Things Done (GTD) Method?
The GTD method rests on the idea of moving all items of interest, relevant information, issues, tasks and projects out of one's mind by recording them externally and then breaking them into actionable work items with known time limits. This allows one's attention to focus on taking action on each task listed in an external record, instead of recalling them intuitively.
Allen first demonstrates stress reduction from the method with the following exercise, centered on a task that has an unclear outcome or whose next action is not defined. Allen calls these sources of stress "open loops", "incompletes", or "stuff".
He claims stress can be reduced and productivity increased by putting reminders about everything one is not working on into a trusted system external to one's mind. In this way, one can work on the task at hand without distraction from the "incomplete".
What is the Getting Things Done (GTD) Workflow?
The GTD workflow consists of five stages: capture, clarify, organize, reflect, and engage. Once all the material ("stuff") is captured in the inbox, each item is clarified and organized. Next, reflection occurs. Finally, a task from one's task list is worked on ("engage") unless the calendar dictates otherwise.
Allen emphasizes two key elements of GTD—control and perspective. The workflow is the center of the control aspect. The goal of the control processes in GTD is to get everything except the current task out of one's head and into this trusted system external to one's mind.
Allen recommends reflection from six levels, called "Horizons of Focus":
Horizon 5: Life
Horizon 4: Long-term visions
Horizon 3: 1–2 year goals
Horizon 2: Areas of focus and accountability
Horizon 1: Current projects
Ground: Current actions

ELEVATE
Free Resource: A step-by-step process for a better relationship with social media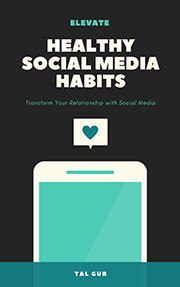 Allen recommends scheduling a weekly review, reflecting on the six different levels. The perspective gained from these reviews should drive one's priorities at the project level.
* The summary points above have been concluded from the book and other public sources. The editor of this summary review made every effort to maintain information accuracy, including any published quotes, chapters, or takeaways
Chief Editor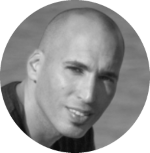 Tal Gur is an author, founder, and impact-driven entrepreneur at heart. After trading his daily grind for a life of his own daring design, he spent a decade pursuing 100 major life goals around the globe. His journey and most recent book, The Art of Fully Living, has led him to found Elevate Society.